Florence and the Machine : How Big How Blue How Beautiful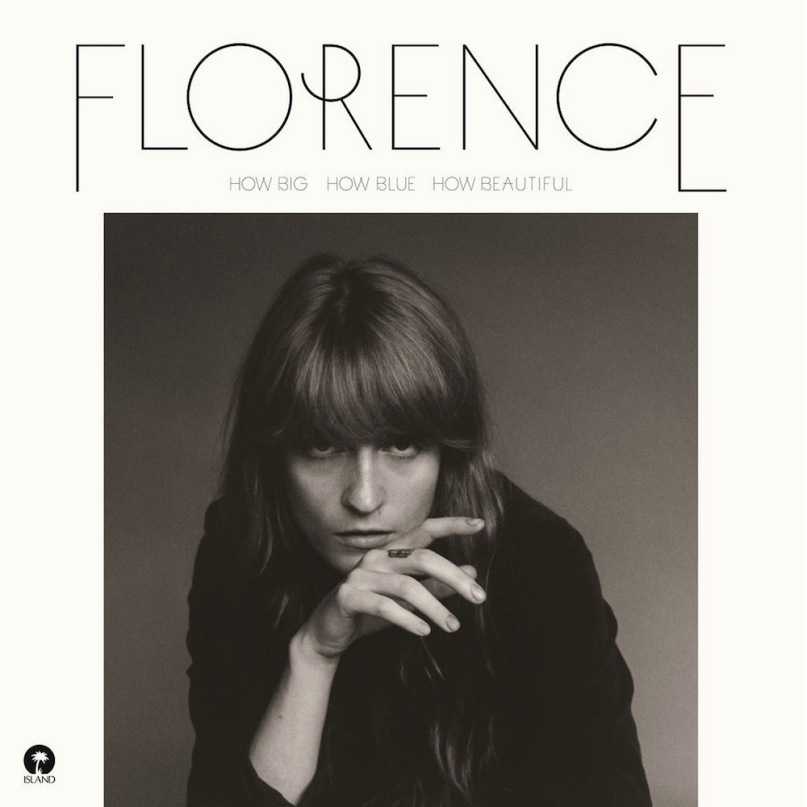 Florence Welch boasts the sort of pipes that are sometimes referred to in specific terms of wonder, like That Voice. Voices like hers floor people—they inspire awe. Florence can certainly do that. Her forceful instrument often takes the form of an alto, with occasional falsetto interjections and a vibrato at its base that's typically most pronounced in the colossal, dramatic choruses she and her band do so well. It's inevitable, then, that her voice surpasses the songs containing it with some regularity.
This shouldn't suggest that Florence and the Machine's third album, How Big How Blue How Beautiful, is in any way lackluster and only redeemed by Welch's vocals. In fact, one could reasonably argue that it's the band's best work, though more than a few might reserve that honor for the Machine's idiosyncratically charming debut, Lungs. While certainly flawed, How Big How Blue adds some wrinkles and variances to a sound that was at risk of becoming repetitive.
Interestingly, for an album that only has Florence's name on the front cover, "the Machine" part of the band's name does more noticeable, diverse work than ever before. Robert Ackroyd's lead guitar is prominent throughout the majority of the album, which hasn't really been true of the other two Florence releases. Whether laying down hard riffs like "What Kind of Man?" or being a slow-picked accompaniment on the ballads "Various Storms & Saints" and "Long & Lost," it fuels the record in a way that grants How Big How Blue a different kind of momentum. On a few tracks, most notably "Caught" and "Mother," he adopts a sound that's downright Muscle Shoals soul—a welcome surprise.
Isabella Summers' keyboards and Christopher Hayden's pounding percussion—the foundation of many Florence songs—are still very much present, just not consistently dominant. It wouldn't be one of this band's albums without some symphonic horn arrangements and other chamber-pop bells and whistles, but they're not a crutch as they sometimes have been in the past. For a band so often accused of excess, How Big How Blue shows a sharper knowledge of when to deploy it and when to dial it back. The sequence of the album's tracks reflects this, breaking for slower, more meditative tracks at optimal points and forming something of a three-act structure.
Welch's voice is also more varied here than ever before, and no less accomplished. If you love it when she turns it up to 11,000 (approximate figure), there's plenty of that here on songs like "Queen of Peace," lead single "What Kind of Man?", "Third Eye" and "Ship to Wreck." On the other end of the spectrum, the aforementioned ballads and "St. Jude" offer all the expressiveness Welch is known for without the melisma and multitracking that some undoubtedly consider over the top. (I've always been fine with turnt-up-to-11,000 Flo, but it's still cool to see her use different settings.)
The biggest weakness of How Big How Blue is definitely its lyrics, which have always been an issue for Florence and the Machine. Not because they're abjectly bad by any means, but rarely are they particularly noteworthy. They are Things Florence Welch Makes Sound Really Beautiful: typically outsized pronouncements of love and rage, sadness and joy often communicated via nature/cosmos metaphors. As repeatedly stated in this album's promo cycle, Welch is being more specifically personal in her motivations but still using her old signifiers to describe them—storms, biblical myths, roiling fog, old bridges and the like. She's clearly going for a sort of operatic Kate Bush melancholy, but lacks the subtlety or acute detail to express that mood in the lyrics themselves; it only comes through in her vocalizations.
While there isn't the sort of earth-shaking single in the mode of "Cosmic Love" or "Shake It Out" here, these might be the best melodies Florence and the Machine have ever come up with, and there's little to no question that this'll be just as successful a record as the last two. Even with Welch's clear room for improvement, lyrically speaking, How Big How Blue How Beautiful is a step in the right direction for this band if it's looking to prove it has more than one trick in its bag.
Similar Albums:


Marina and the Diamonds – Electra Heart


Feist – Metals


Bat for Lashes – The Haunted Man