Ghostface Killah and Adrian Younge : Twelve Reasons to Die II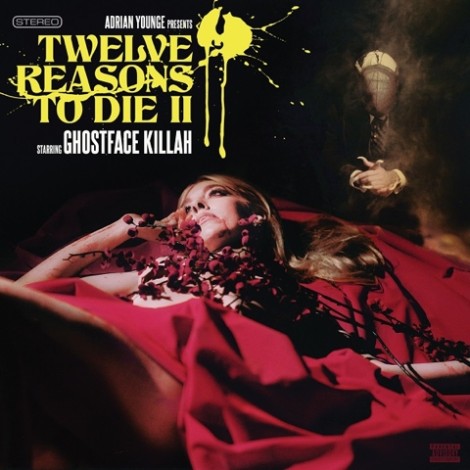 Approaching new Ghostface Killah work in 2015—in this case, his second Adrian Younge collaboration, Twelve Reasons to Die II—requires a recalibration of expectations. On the one hand, clamoring that his new stuff isn't up to his classic standards would involve the fools' game of expecting the musical past to be reconstituted at our ears' beckon call. On the other, there is a certain tangible disappointment in how lackluster some of his work has been ever since the mid-aughts Pretty Toney/Fishscale/Big Doe Rehab run of good-to-great Ghostface. I mean, remember Ghostdini: The Wizard of Poetry in Emerald City, everyone?
This may seem like I'm setting the table for a bad review of Twelve Reasons to Die II, which isn't the case. It's more to establish that no, Ghostface Killah isn't ever going to be as great as his peak Wu-Tang Clan work, or even as great as Ironman, Supreme Clientele or Fishscale. But while he isn't the lyrical abstract expressionist he once was, he's become more musically adventurous and stylistically ambitious than ever.
The first Twelve Reasons to Die album is arguably the best of the lion-in-winter Ghostface works. It was an unexpected fusion of Ghost's operatic, over-the-top crime narratives and bandleader Adrian Younge's funk-by-way-of-John-Carpenter arrangements. It's a reliably batshit story—black gangster Tony Starks takes on the DeLuca mob family in New York, gets killed, his body gets melted into 12 vinyl records that contain his spirit, which comes back to kill the bosses later. (There was also a comic book series. It's convoluted and ultraviolent, as you might expect. But not a bad read.)
So now we have the sequel, and if you liked the first this won't disappoint. Once again we've got a blaxploitation-type narrative, this time driven by the efforts of mobster Lester Kane to fill the void left by the presumably dead Starks (who is now the demonic Ghostface Killah, trapped in the records and unleashed whenever they're played) and fight the DeLucas. There's also some shit about a secret Starks son, and body-switching or snatching. Like I said, it's nuts, but it proves that even if Ghost can't summon the levels of novelistic detail he once could and often defaults to literalism, he's still a creative and ballsy storyteller on a macro scale.
Twelve Reasons to Die II boasts more guest appearances than its predecessor, which ends up being a double-edged sword. Raekwon does all the Lester Kane verses and shows how integral he's been to the effectiveness of so much Ghostface Killah material (and vice versa)—the best Ghost verses are on the Rae-assisted "King of New York" and "Let the Record Spin." The ascendant Vince Staples absolutely blows up the spot when he shows up on "Get The Money," a perfect example of the student becoming the teacher if ever there was one. But there's also "Death's Invitation," which features Scarub, Lyrics Born (a long way from conscious Bay Area rap) and Chino XL inexplicably rapping so far off the beat laid down by Younge and his band as to be embarrassing.
Clearly, Younge's stylings aren't compatible with every rapper, and by all accounts they weren't that compatible with Ghostface early on—their chemistry came with practice. But they certainly have it now. Younge and his band members know when to show off a bit with an organ riff or drum fill and when to be strictly backup. On the sequel, "backup" is the default setting more often—a breakbeat, a keys/piano melody and the occasional funk guitar lick is most typical—and while this corrects how the band would sometimes be too obtrusive on the first album, it also makes Ghost's shortcomings more obvious.
Look, the man is 45, and as far as rappers in their forties go, Ghost isn't fading into a dad-rock-of-rap role like Jay-Z or using dizzying lyrical technique to mask a lack of fresh ideas like Eminem. He's not embarrassing himself by hiring a coterie of currently-hot producers to grasp onto fleeting trends. These are simply his twilight years, and he's lost some of his spark. But he's still trying genuinely new things on his terms on all of his recent albums, whether it's working with Younge and crafting a mixed-media narrative or doing a joint recording with avant-funk band BADBADNOTGOOD. Even when they fail (like the disastrously awkward sex-jam nightmare of Ghostdini), the experimentation is promising.
I'm not sure quite where Twelve Reasons to Die II falls in terms of late Ghostface. It's so similar to its predecessor, which is a pretty good album but one whose success depended on its singularity. Yet it's also a more enjoyable listen than almost all of his other recent work except the first Twelve Reasons to Die. Ultimately, shit, if he wants to keep doing chapters in this series it wouldn't even be the worst thing, given how solid the first two are. While I do think Ghostface Killah might have one final classic in him, the blood and guts and rhymes of these records will keep loyal fans sated in the interim.
Similar Albums:


Raekwon – Only Built 4 Cuban Linx II


Ghostface Killah – 36 Seasons


Pusha T – My Name Is My Name