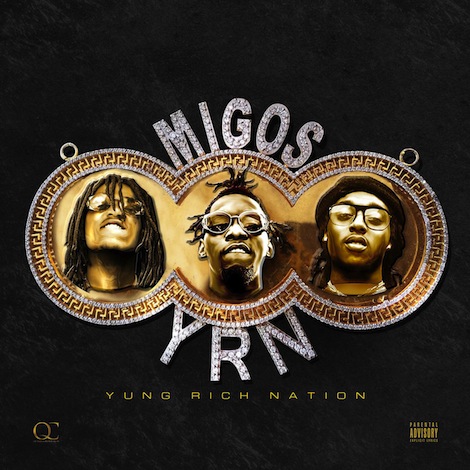 Within the rap world, the album is having a funny moment. A mixtape is more likely to launch an artist into the stratosphere than an album backed by a label. And yet some albums blur the lines so well some fans will swear that they're technically mixtapes. Future released a concessionary album (Honest) that seemed neutered, muddied by too many different hands and inadequate at showing the depth of his talent. He responded to the less than stellar reviews with a string of mixtapes, each the better than the last and culminating with DS2, an album that made good on the promise and expectation ladled on Honest. Some take the album form and excel at it, using it as an opportunity to create a cohesive statement or narrative, or at the very least, a collection of well-considered tracks. As a rap fan, it's hard to privilege one form over the other because both have their merits. The tape is often blisteringly fresh, free to follow the rabbit holes of inspiration. Or the mixtape can be a DJ-riddled mess of lower quality productions, low-resolution MP3s, too many songs, and remixes that go nowhere. The album can flesh out a concept; create a lush and vibrant story that can be transportive. Or it can be weighed down by too many producers and studio heads, an artist's style cleaned up and muzzled leaving the music a shell of what it should be. There's no telling which way it'll go until you actually sit down to listen.
Atlanta-based trio Migos have been releasing mixtapes since 2011. Their 2013 tape, Y.R.N. (Young Rich Niggas) found them hitting their stride with singles that gained them recognition beyond the Atlanta scene. Their infectious rhyme patterns were quickly aped by many (perhaps most hilariously by Puff Daddy on "I Want the Love") but remained singularly theirs. Yet with each new tape it became increasingly clear that Quavo, Takeoff and Offset desired more than to be stars of Atlanta. They pushed their signature style, tried other flows, and kept finding new collaborators. The simplicity and catchiness of Y.R.N.'s "Versace" gave way to the bombastic and melodic "Fight Night" from 2014's No Label 2. Each tape found the trio attempting new avenues for their respective flows, to varying degrees of success.
And so we come to Yung Rich Nation, Migos' first proper studio album. Rife with ambition and strenuous effort, Yung Rich Nation sounds like it is trying to grab the brass ring but falling short. To be clear, Yung Rich Nation is not a disaster. As an introduction to Migos, it does a fine job displaying their strengths as emcees—how well Quavo, Takeoff and Offset play off of each other, accentuating each person's unique ability and proving themselves to be generous collaborators. What is disappointing however is that the fun and effortlessness of their mixtape productions has been weighed down by a concentrated desire to go big. The griminess, the off-the-cuff feeling that each of their tapes had have been scrubbed clean, trimmed and presented on neat platters. The music lumbers and lacks the snap and ingenuity of past tracks. They harp on motifs from other songs ("Highway 85"), but instead of elevating them or infusing them with a new take, they lazily sit there; a not bad half-thought lacking follow-through. Worse yet, some tracks fall completely flat, such as "Just for the Night,"  featuring an insipid guest appearance by Chris Brown with a clumsy hook that feels dropped in from another song.
Where in the past Migos' lyrics spoke to their past slinging drugs, the songs on Yung Rich Nation focus on their desire for recognition ("Recognition") and boasts about their increasingly high profile. This element of self-awareness is not unwelcome. Their knowing nods to Twitter memes (one about Migos being better than The Beatles gets a nod in "Street Nigga Sacrifice"), their blatant desires for fame and proper dues are honest and fair. These guys aren't selling drugs out of abandoned buildings in Atlanta anymore, so why would they still be rapping about it?
Yet as well as Migos does as rappers here, Yung Rich Nation is definitely missing something. The easy exuberance of Y.R.N. and even No Label 2 seemed to have been funneled elsewhere. After repeated listenings there had yet to be revealed a "Fight Night" or "Versace" or "Hannah Montana" or, my personal favorite, "Chirpin'." If the album was meant as a statement of purpose or a victory lap, I'm not feeling it. Migos is an inherently likeable group. They're funny, they have an easy chemistry with each other and they prone to unexpected and welcome surprises—well, usually. Perhaps the biggest fault of Yung Rich Nation is that it failed to capture all of this dynamic groups best qualities in an attempt for broader success. What Yung Rich Nation lacks is an understanding of what propelled Migos to success in the first place: the rough edges, most of which seem to have been polished away.
Similar Albums:


Curren$y – The Stoned Immaculate


Pusha T – My Name Is My Name


A$AP Rocky – At.Long.Last.A$AP