Amalie Bruun is the rare musician to have recorded with both a mainstream alt-rock legend and an icon of cult (or, rather, "kvlt") black metal—and she ticked off both bucket-list boxes in less than a year. At the end of 2014, Bruun released Daggers with her indie pop outfit Ex Cops, which was produced by Smashing Pumpkins head honcho Billy Corgan, and for that matter featured prolific indie rock trash-talker Ariel Pink. Less than a year later, Bruun re-emerges under her black metal alter ego, Myrkur, with a debut full-length album, M, produced by Kristoffer Rygg of atmospheric black metal innovators Ulver, and featuring members of Mayhem and Nidingr—an impressive feather in the spiked cap of any black metal artist. These two facts don't quite square on paper, a fact that has blown the top of more than a few "No Girls Allowed" basement dwellers. So it's a delicious bit of irony that the recording of hers that has yielded so much scrutiny is, in fact, her best work to date.
Bruun more than proved her black metal aptitude on last year's self-titled release, a 20-plus minute EP of sorts that found the Danish-born musician playing a raw and gritty style of metal juxtaposed with elements of shoegaze and choral music. The elements were most certainly there, if not necessarily the fidelity (Rygg apparently told Bruun, "All these bands today, they go into the studios and they spend all this time trying to make it sound like shit. But yours sounded genuinely like shit"), and it seemed only a matter of time before Bruun made good on delivering a true tour-de-force. That album, M, has arrived a mere 11 months later, and it's a marvel of classic black metal, juxtaposed with some of the most beautiful sounds to ever be called as such. Her self-titled debut mini-album was a strong start; M is the full realization of that promise.
In mood and aesthetics, M is cut from the same cloth as Myrkur's debut, interwoven with both devastatingly guttural metal and heavenly flights of ethereal transcendence. It treads a crooked and darkened path between the darkwave surrealism of Dead Can Dance or Cocteau Twins and two to three waves of black metal, from Celtic Frost to Agalloch. M even features one track that appeared on Bruun's debut release: The haunting, surprisingly catchy "Dybt I Skoven." Here, the song booms with a more commanding production, its re-imagined metal-edged dream pop mirroring the difference between Isn't Anything and Loveless.
The deeper that Bruun dives into the nuances of black metal, however, the more she showcases just how strong her songwriting chops are. The slow-burn and blackened doom of "Haevnen" is steeped in the hellish underworld fanfare of Bathory, creeping with a sinister lurch before erupting into a blast-beat beatdown, and eventually, a stunning gothic waltz. It's terrifying and beautiful all at once, as are all of the best tracks on the album. Opener "Skøgen Skulle Dø" is darkened Pagan folk, laced with violins, horns, more breathtaking choral voices, and a powerful scream from Bruun to signify a transformation from medieval chant to Satanic carol. And the densely layered "Jeg er Guden, I er Tjenere" does a fine service to the legacy of Tom G. Warrior with a doomy downward descent, complete with ominously clanging bells.
Myrkur slays; this isn't surprising really, but what further emphasizes how impressively she adapts several decades of black metal into something truly new is those parts on M that aren't metal. The aforementioned "Dybt I Skoven" is a show-stopper, as is the muscular metalgaze of "Onde Børn," and even more unexpectedly, the gentle piano ballad "Nordlys," the spacious artfulness of which is akin to Kate Bush at her starkest. It's the juxtaposition of Bruun's prettiest and most atmospheric songs that make M's harshest or most driving sound all the more crushing. As satisfying as black metal is when it's a blurred sequence of lo-fi litanies to darkness, it's even stronger when presented in the context of a more carefully crafted album of conflicts and contrasts. M is that very album, steeped in tradition, but delivered by an artist confident enough to risk leaving it behind when she sees fit.
Similar Albums:


Triptykon – Melana Chasmata


Agalloch – Marrow of the Spirit


Alcest – Les Voyages de L'Âme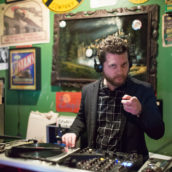 Jeff Terich
Jeff Terich is the founder and editor of Treble. He's been writing about music for 20 years and has been published at American Songwriter, Bandcamp Daily, Reverb, Spin, Stereogum, uDiscoverMusic, VinylMePlease and some others that he's forgetting right now. He's still not tired of it.