Festival Report: Psycho Las Vegas 2017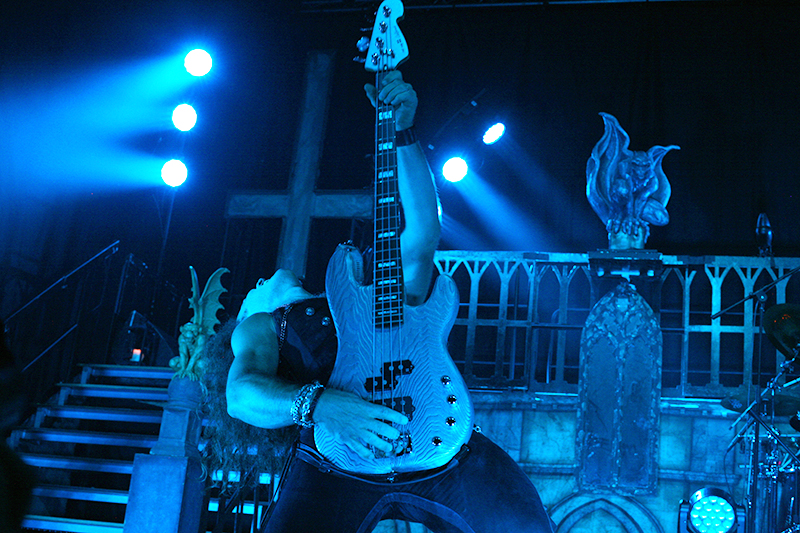 Psycho Las Vegas is, ostensibly, a metal festival. Throughout the casino floor of the Hard Rock Hotel in Las Vegas, which housed the festival's three stages, metalheads from all walks of life roamed the grounds in patch-covered vests, shirts with badass logos and—as one Cockney accented fan put it—"fuckin' mint beards." From the outside looking in, there was no mistaking the character of the festival.
But that's just it—Psycho Las Vegas is much more than a metal festival. Back when the festival began in Southern California, promoter Thief Presents brought together a highly impressive list of bands with fuzz and solos to spare. But it's evolved a lot in two years, not just relocating to a bigger, more hedonistic locale, but also bringing in a wider array of artists, which this year included The Brian Jonestown Massacre, Psychic TV and Ethio-jazz pioneer Mulatu Astatke. An eclectic bunch, to be sure.
Part of what makes Psycho such an interesting festival is that its curators are willing to take risks. And part of it is also that it feels casual, despite being housed in a venue with excellent sound, that just happens to be surrounded by slot machines. You just might see Sleep's Matt Pike roaming the grounds, and he just might take a selfie with you. I did my best to document everything I saw, good, bad or otherwise. I didn't love everything, but that doesn't mean it wasn't an absolute blast.
Gallery: Take a look at our complete photo set from the festival.
Psycho Las Vegas 2017: From worst to best
Whoever was responsible for pulling the curtain on Mulatu Astatke before the last song.
Second-hand smoke.
One-hundred-degree heat. (A reminder of why everything is indoors in Vegas.)
$15 beers.
The existential malaise of knowing your vest game will simply never be as good as some heshers'.
Blood Ceremony: I'm not one to make any blanket declarations about how metal is meant to be made. I firmly believe that rules are meant to be broken, dogma has a way of ruining most things, and metal only gets better as it evolves and is given the space to innovate. But I also firmly believe that flute solos have no place in metal. It's a contradiction I can live with.
Slo Burn: I'm a Kyuss fan, but I've always found John Garcia's band following the breakup to be kind of schlocky. And that's perhaps part of the appeal. I won't deny that "Pilot the Dune" is a catchy song, but it also feels a little over the top in a way that maybe feels a little too natural in a Las Vegas atmosphere. And that's not necessarily a good thing.
Toke: I mean, they're a stoner metal band called Toke. They lived up to their name.
The guy who kept shouting "Cirith Ungol! Fuck yeah!" between each of their songs.
Cirith Ungol: It's a little surreal to consider that Cirith Ungol formed in 1972. That's 45 years ago, almost as long ago as Black Sabbath(!). And the California band sounded great—particularly vocalist Tim Baker, who can still shriek mightily. They still have the heaviness and power that made their '80s releases great. A solid afternoon set.
The dude who air-guitared his way across the room while Kansas' "Carry On My Wayward Son" played between sets.
Winning $20 in blackjack.
Sleep: The Bay Area stoner metal titans got off to a late start, not necessarily any fault of their own, though Matt Pike fine tuning his 11 amp cabinets (!) probably added a few minutes to an already nearly hour-late schedule on Friday night. But then when the curtain opened, they made up for it by introducing a stoned astronaut character who kept hilariously imposing on their set while they tore through "Dopesmoker"—a 30-minute version of it anyway, rather than the full hour. Had they stopped there, they'd be a lot higher, but the material they played from Holy Mountain felt a bit tedious following their titanic monster of an album-length composition.
Melvins: The Melvins are loud, rock hard and have been at it for longer than most bands at any festival, let alone this one. (Although, there were lots of veterans on the line-up.) King Buzzo brought the riffs, but also some kind of wizard robe, which deserves some special recognition.
Mutual t-shirt admiration among fans. Game recognize game.
Corrosion of Conformity: The North Carolina/New Orleans sludge-metal vets worked their way up from some slower, jam-heavy numbers to the "heavy shit!" as Pepper Keenan enthusiastically exclaimed. And that shit was heavy! Particularly standouts such as "Albatross" and "Vote With a Bullet." Nothing necessarily any more complicated than some long-time badasses letting the heavy shit fly, and sometimes that's all you need.
Celeste: French blackened sludge metal band Celeste are an abstract, conceptual bunch, so it probably shouldn't have come as much of a surprise that their live presence was, likewise, also pretty conceptual. Right before starting their set, vocalist Johan asked to have all of the stage lights and projection screens turned off so that they were performing in total darkness. In place of stage lighting, they wore red headlamps, so that unless anyone was right in front of them, the only visible element were these bouncing red lights. It made the set feel more visceral as a result, but also pretty weird. I'm still sorting it out on my own, but it was definitely a cool experiment.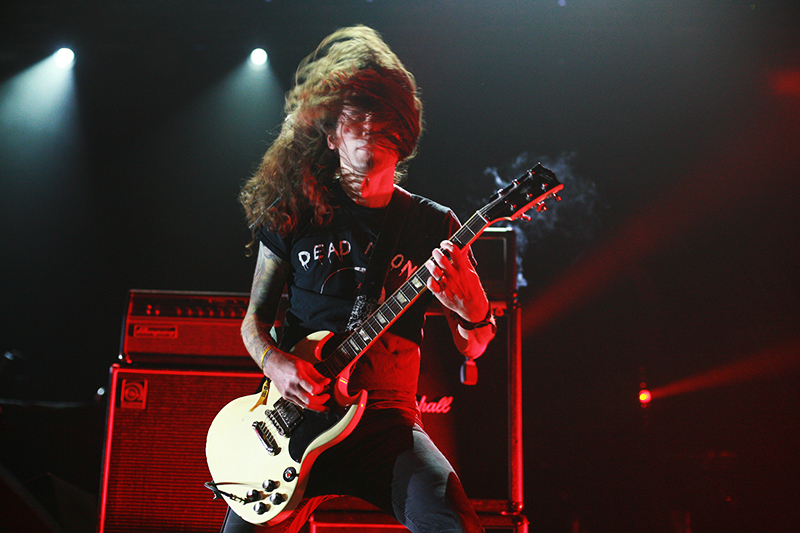 Windhand: My god, that guitar tone is just nasty. Windhand's doom metal is somewhat slow moving, making their live set more of a slow burn than a sprint, but what a burn it is. With a set heavy on standouts from their 2015 album Grief's Infernal Flower, the Richmond band unleashed some noxious, positively carcinogenic fuzz upon the crowd. It's a hell of a thing to hear, even with earplugs.
Magma: This wasn't my first time seeing Magma, so I was fully prepared for the jazz-prog-meets-conceptual-minimalism of the French zeuhl group's performance. Easily one of the weirdest bands at the festival, not to mention one of the longest running, Magma has decades of history behind them, both innovating and building up a pretty powerful stage presence. Definitely not the most obvious fit with a metal festival, but also one that somehow makes sense amid all the fuzz and hellfire.
Minsk: Considering how lengthy and atmospheric Minsk's tracks tend to be, it turned out to be impressively refreshing to hear them play a set that was pretty much all fury. Not that the group cut out some of their more ambitious material, but that material also aimed straight for the gut. It's complex, stimulating stuff, but it kicks ass.
Inter Arma: Regrettably, I wasn't able to see all of Inter Arma's set, and if I had I might have bumped them even higher. Having seen their live show before, I'm already convinced of their taut, yet destructive power onstage. They also began their set with a brief section of Van Halen's "Hot For Teacher," which adds a spectacular layer of showmanship to their already kickass live show. (I mean, come on, how great is that?) But mind you, at this point in the ranking we're merely separating A material from A-minus. The curve always ends up dropping someone else's score.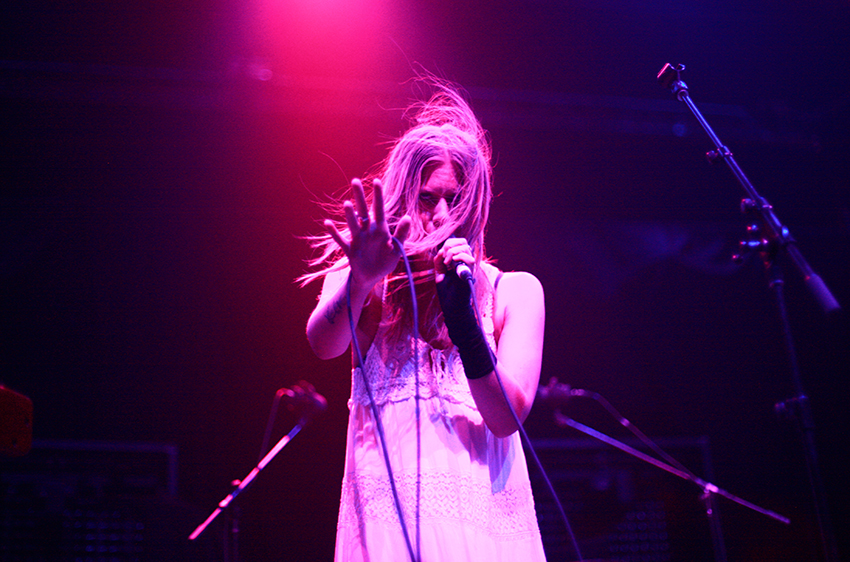 Myrkur: Amalie Bruun lamented that she didn't have her girls' choir along with her to perform all of her material properly, but it didn't diminish Myrkur's set a bit. Blending a handful of new tracks in with a set heavy on standouts from 2015's M, Myrkur's early afternoon set brought a wintry chill to the Hard Rock Hotel Las Vegas stage, made all the more mystical via Bruun's ethereal vocals and an opening number that found her grasping and then violently casting away some branches. Coupled with her white gown (bold color choice), it brought some mystery and magic to a set of black metal standouts.
Zeal and Ardor: Zeal and Ardor caught some major buzz when they released their debut album Devil is Fine, which was more or less an awesome EP with a handful of weird electronic interludes. But the experimentation behind it—blending slave narrative iconography, spirituals and black metal—is what made it so thrilling, not to mention a short but great batch of songs. The band unleashed the fury of that album's best songs ("Come on Down," "In Ashes") while introducing a handful of impressive new ones. They're a vital band in metal now, offering a radically different approach while circling back to the bluesy roots that formed early metal in the first place. Their sound offers a radical reinterpretation of black metal's makeup, and it's some of the most exciting heavy music right now.
Khemmis: There are a lot of reasons to celebrate Khemmis, from their embrace of (powerful) clean vocals and their knack for melody to the fact that they unleash some harmonized riffs via two guitarists with parallel Flying Vs. The band tore through highlights from recent album Hunted, which remains one of the strongest metal albums in recent years for the very fact that Khemmis is a songs-first kind of band. Those songs are simply outstanding, and yet when the band performs them live, the energy and presence brings them even more force and immediacy.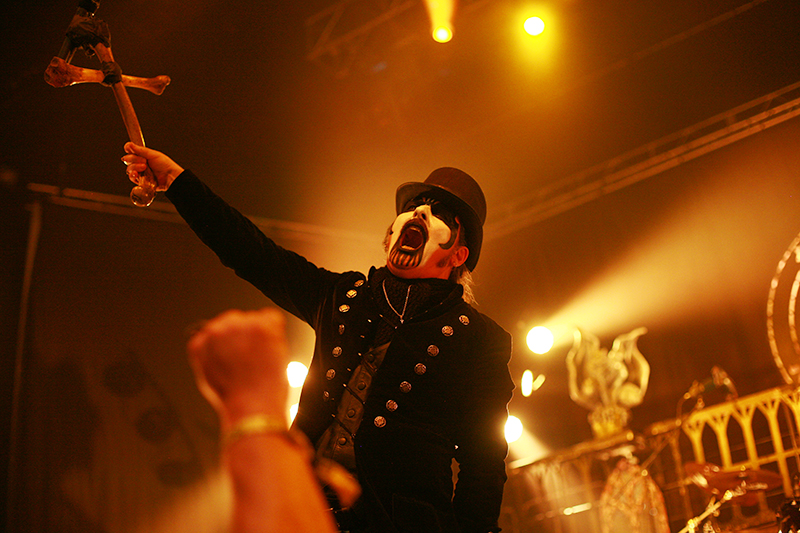 King Diamond: King Diamond is a beloved figure in metal, but also a divisive one. That falsetto ain't for everyone. Still, there's no denying the Danish King's showmanship. His performances are over the top—they're not just live music sets, they're theatrical productions. And so it was with this live show to coincide with the 30th anniversary of his classic album Abigail. There were costumes, an elaborate set that kept changing, staircases, inverted crosses, and of course King Diamond himself, a badass ringleader whose very presence is a thing to behold.
Chelsea Wolfe: Chelsea Wolfe is an interesting performer for a festival of this kind, because she's not a metal artist, though she comes awfully close. The highlights from 2015's Abyss—most of which were on her setlist—definitely leaned toward doom and industrial, and her new songs have more than a little doom and stoner rock in their DNA. Wolfe and her band made some impressive noise on their own, though she was joined briefly by Sumac's Aaron Turner for new single "Vex," which intensified her enchanting, heavy gloom.
Carcass: It seemed as if bassist Jeff Walker tossed at least two picks out into the audience for every song, one of which ended up hitting our photographer (she gave it to someone in the front row, who was definitely stoked about it). That was probably intentional, but Carcass played so fast, and without interruption, that it almost seemed like moving parts were ready to fly off the machine. Yet their precision and intensity was unrelenting throughout. Once they started, Carcass almost never stopped, wasting absolutely no time while buzzsawing their way through death metal classics from Necroticism and Heartwork on up to 2013's Surgical Steel. A day after one with some woeful delays, their commitment to starting, destroying and getting the fuck out was both a sight to behold and entirely admirable.
Neurosis: Coming off of an unsurprisingly great new album, Fires Within Fires, Neurosis offered a performance that not only bridged 25 years of their history impressively, it reinforced just how consistent they've been in all this time. Scott Kelly and Steve Von Till traded off guttural growls over a setlist that spanned from 1992's Souls at Zero on up to their latest, opening with the breathtaking 1999 standout "Lost." Yet for a band whose greatest talent is being able to stretch the intensity of 1,000 volcanoes over 75 minutes on a single LP, their Psycho set merged beauty, grace and menace in a powerful sequence that remained captivating in both melody and presence. They're a meditative band at times, but never let it be said that Neurosis doesn't destroy.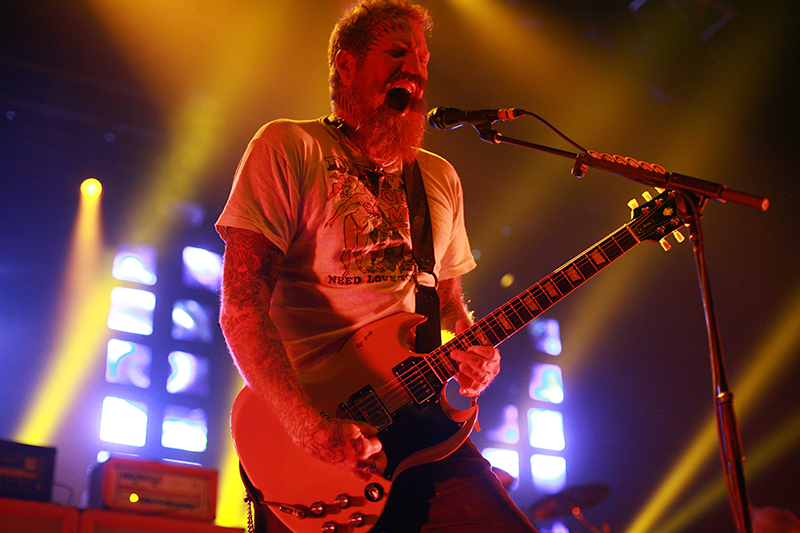 Mastodon: Over their past three LP, including their new album Emperor of Sand, Mastodon have evolved into a really heavy hard rock band. And they're really good at it! Granted, some of their more recent material lacks the punch of Remission or Leviathan, but you wouldn't know it to see them in their festival-closing set at Psycho. While it's safe to say many festivalgoers had reached their limit by Sunday night, the holdouts caught one hell of an ending, with a career-spanning set of rippers that closed with "March of the Fire Ants." And though their banter was heartfelt and earnest, their antics were pure hot-doggery, including Brent Hinds' impressive feat of balancing his guitar on his head, and letting it slide off and drop into his hands to seamlessly ease back into rocking.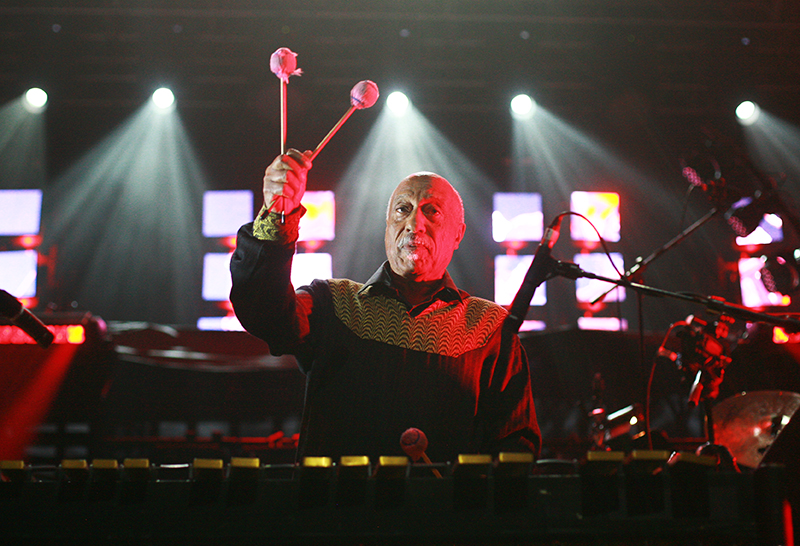 Mulatu Astatke: Like I said earlier about Psycho, it succeeds because of the risks taken. And one of those risks was booking an Ethiopian jazz legend. Mulatu Astatke didn't sound anything like any other artists performing this weekend, but that's exactly what made his presence so welcome. And though it would have been difficult to predict how his music might go over for those who came to see King Diamond, those who caught his set grooved like crazy. I had a weird emotional moment when I realized this living legend was onstage in front of me, which became all the more real when his incredible band performed "Yekermo Sew." Unfortunately, he had to cut his set short by one song because everything was behind by about an hour on Friday night. That was regrettable, and the crowd was not happy about it. But the flipside is that his music provoked such a passionate reaction, and we all shared an amazing, psychedelic hour together. I realize the irony in choosing a non-metal artist for the best of a metal festival, but then again, Psycho Las Vegas transcends easy categorization.