Pentagram : Curious Volume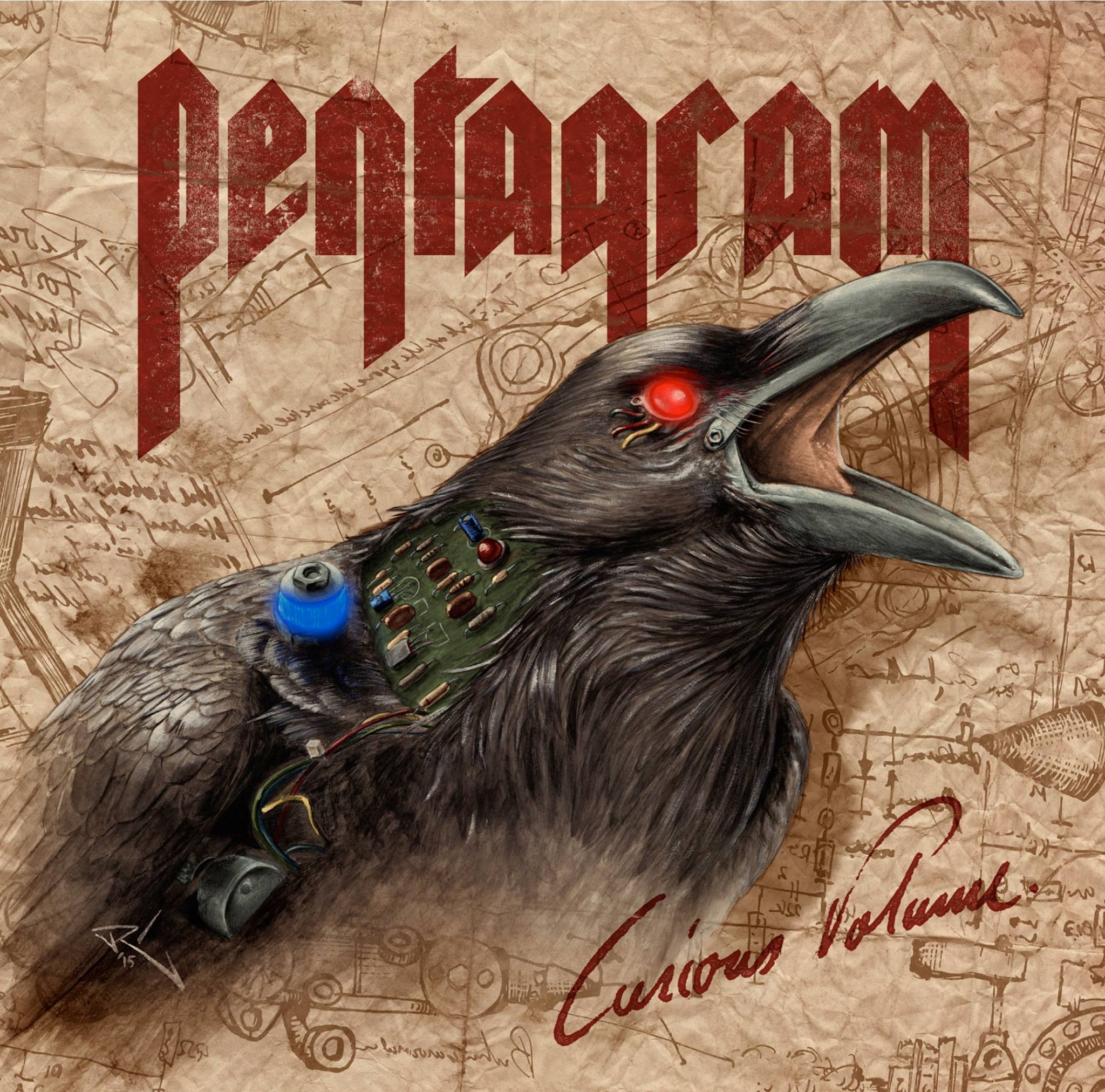 The 2011 documentary Last Days Here put a spotlight on Pentagram frontman Bobby Liebling's tragic battle with drug addiction, which led to the doom metal legend's self-sabotaging his own career. But much another metal band that was the subject of a documentary, Anvil, Pentagram's own film pulled the band out of the where-are-they-now files and put them back on the radar of the mainstream metal community. When it comes to being a rock band, it's not about the personal missteps you encounter—it's all about whether can you dial it up to eleven and deliver the goods in the studio or on stage. So going into Pentagram's new album Curious Volume, I wanted to know the hype did not outweigh their capability to write songs. The Pentagram albums I owned in the past were proto-metal and felt closer to Space Ace's Kiss songs rather than anything resembling doom. This is 2015, so an ample amount of heft was added to the guitar sound, but doesn't really propel it beyond being hard rock, with less than a handful of exceptions. A doomy riff pops up here and there like on "The Tempter Push." It carries more of a '70s freedom rock boogie than anything that might inspire headbanging in those under 40.
This is not to say you cannot hear the band's influence in metal today. Clearly, Liebeling's singing influenced Wino from St. Vitus, for example. But on "Dead Bury Dead" the more jaded metal fan might ask what separates these guys from hordes of other Sabbath clones aside from the fact Bobby picks different intervals than Ozzy. His range is more limited than even Ozzmosis-era Ozzy, but not as slathered in effects either. Both singers have gone down a hard road so you can only expect the pipes to endure so much. While Ozzy trumps Bobby in the charisma department, Pentagram's singer gets credit for standing his ground, as his vocal style really hasn't changed much since their early work, though thanks to Pro-Tools he is afforded a few more overdubs. The benefit of being put in the hands of veteran rockers, however, is that this is used for effect but not abused.
The first song that really stands out is "Walk Alone." Liebeling's vocals fit well against the riff, and the whole song just seems to have more balls to it. Pentagram follows this with the title track, another song filled with both emotion and darkness. On "Misunderstood," they pick up the pace and find themselves in the land of freedom rock, much like all other throwbacks from the '70s. Bobby's voice goes up into a higher, more nasal register, which adds more diversity to his presence. "Close the Casket" hits an interesting melodic section wedged in the middle of the song as Bobby sings about how his body has aged beyond its years. They take a sleazier rock angle to"Sufferin'," which sounds like it could have been a b-side off Ace Frehley's solo album from the '70s. "The Devil's Playground" takes on an odd blues-based groove that might answer the question of "What would it sound like if Blue Oyster Cult covered a Lynyrd Skynyrd song?"
Despite some of the dated tendencies that the band displays throughout Curious Volume, the album is still impressive on many levels. Pentagram often balance all its varied elements, not forsaking their '70s rock sound while adding new sides of themselves to it and continuing to explore where they can go as band despite having put decades in together. So this is not the sound of dinosaurs trying to crawl up through the tar pits. Bobby Liebling's voice actually holds up better than expected, though the guitarist steals the show on the album's second half. Whether or not Pentagram set out to make a doom metal album, it's the elements of Curious Volume that aren't metal that make it a success.
Similar Albums:


Saint Vitus – Die Healing


Electric Wizard – Black Masses


Ghost – Meliora