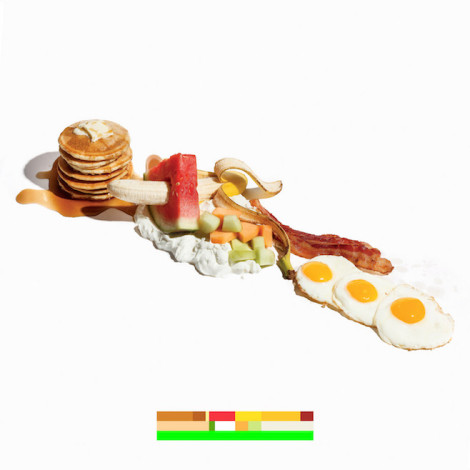 Battles have always been held to a standard higher than drummer John Stanier's ride cymbal. When the project launched in 2002, the supergroup-of-sorts had already spent time, individually, as members of such lauded bands as alt-metal legends Helmet (Stanier), the genre-bending Don Caballero (guitarist/keyboardist Ian Williams) and math-rock group Lynx (bassist/guitarist and effects artist Dave Konopka). Add experimental composer/mutli-instrumentalist Tyondai Braxton into the mix, and the indie-rock world had itself a dream lineup of weirdo-rock masterminds.
On their first two EPs, Battles provided inspiring-yet-disconnected road maps as to where there sound was heading; instrumental pieces that sounded like a gaggle of master performers figuring out exactly what form would fit them best as a unit. 2007's Mirrored proved to be their true breakout, with an added strong progressive element to the both the compositions and overall album flow, as well as Braxton's distorted, melodic vocals—adding a human element that made the quartet's alien jams feel just a bit more accessible to a broad audience. As anticipation rose for a second LP, however, Battles slimmed to a trio, Braxton having departed midway through the recordings. The trio of Konopka, Stanier and Williams scrapped the work in progress, opting to lock themselves in the Machines with Magnets studio for a months-long ordeal of writing and recording. The result was 2011's Gloss Drop, Battles brought in a range of talented, well known vocalists to help flesh out the record's sound in Braxton's absence. But, with the exception of Matias Aguayo's chatterbox tenor, most of the performances felt disconnected from their respective compositions, drawing away from the in-the-moment atmosphere that made Mirrored such a defining feat. Likewise, the record's instrumental pieces—while at times rising to the height of some of the band's best work—didn't necessarily gel together as a unit the way Mirrored did.
In retrospect, Gloss Drop seems to have served the same purpose for the new Battles trio that the original EPs had for the quartet. Refining and redefining how they work together as composers and bandmates, Battles entered that same studio to record La Di Da Di, but this time were prepared with a few rough ideas and a determination to craft a powerful record in just a few weeks. The pressure seems to have served the band well: La Di Da Di is the trio's best work together and quite possibly the most effective assemblage of tracks in Battles' discography. This time around, instead of trying to fill in Braxton's role, the band threw out vocals entirely and focused on a more minimalist, rhythm-driven sound. Without vocal performances to lean on or make room for, each track on La Di Da Di becomes completely focused on chasing down the most exciting and complicated conclusion to each piece's rhythmic core.
As they've progressed, Battles have continued to make use of technology to innovate and refresh the way they write music together. Computer-controlled elements are pushed through amplifiers and captured alongside the band's live performance, and the lines between electronic and analog are blurred almost indistinguishably. This Frankenstein-ian mashup of sounds allows Battles to shift moods at the drop of a pin without sounding too sporadic or ungrounded. "Dot Net" sounds like a live-band cousin to Aphex Twin's most recent masterpieces; "Non-Violence" is an angular showdown between airy synths and gritty guitars; "Tyne Wear" is an ambient excursion that revisits the best elements of the band's early EPs without losing touch with the record's general aesthetic.
The instrumental excursions on La Di Da Di are exciting, creative and fun, but what really sets them apart from any Battles work besides Mirrored is that the album feels like a well-composed, fully-realized masterwork, as if it could have been conceived and conducted by a sole auteur working within a singular, concentrated moment of brilliance. It's both creative and tightly performed; ambitious but entirely focused in the scope and direction of that ambition. That brilliance is even more impressive when it's achieved by bringing three artistic minds into synchronization. Like the quartet version of Battles before it, this trio had to undergo some missteps to get to where they are, but they've come out on the other side with an immensely rewarding payoff.
Similar Albums:


Liars – Mess


Deerhoof – La Isla Bonita


HEALTH – HEALTH