Beach Slang : The Things We Do To Find People Who Feel Like Us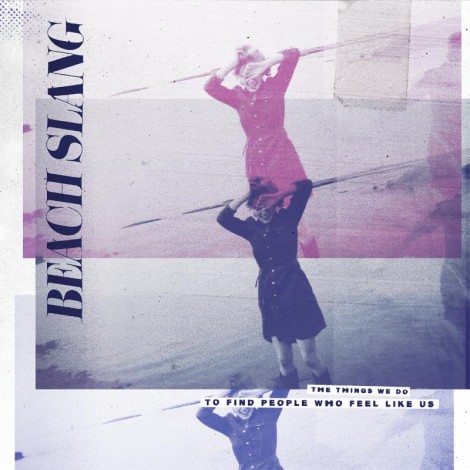 I'm at a point in my music-listening life where my faith in rock as a genre is at a minimum. The majority of it is mediocre or competent but uninteresting in its various guises, and the degree to which nearly every other major genre continues to grow and impress me of late only compounds the situation. So when I find a rock band that just plain floors me, I treasure that band. That is exactly what Beach Slang did on all of their singles and EPs, and they continue the tradition on debut album The Things We Do To Find People Who Feel Like Us.
What Beach Slang does isn't, on its face, particularly novel. Start with a sizable helping of The Replacements, add some mid-'90s Dischord Records crunch and sprinkle some Promise Ring/Jimmy Eat World emo dust on top and you've basically got their formula. This lack of literal novelty is the furthest thing from a problem, though, both because all those things are great and summing that up on paper doesn't do justice to the feelings evoked by listening to them.
Furiously alive is the best phrase I can use for The Things We Do. Over 10 tracks in just under half an hour, Beach Slang never lets up even when the pace of individual songs slows down, as it does on "Too Late To Die Young" and "Porno Love." The riffs, provided by lead guitarist Ruben Gallego and frontman James Alex, are the primary reason for this. They sear and surge and cut just as deep as Alex's cigarette-raspy but tuneful voice. Consider their interplay on "Bad Art & Weirdo Ideas," the lead notes bolstering Alex's whoa-AH-ahs for a sound that can best be described as auditory euphoria.
This early peak of the record continues into "Noisy Heaven," which begins with the simple-and-simply-perfect opening couplet, "The night is alive, it's loud and I'm drunk/I'm kissing the mic and singing about us." Who doesn't know that precise feeling? That point early in the night when you only feel the good shit, regardless of whether there's not bad shit or you're just suppressing it. When you're at your favorite dive and you've managed to sneak your favorite songs on the juke, or you're tearing through an intense but never hostile pit at a local rock show. There are about three or four variations on this exact lyric throughout The Things We Do, but it never feels repetitive. It's more like an emblematic motif.
The predominant feeling here is musical ecstasy even when the lyrics are melancholy, although sometimes the instrumentation softens as with the acoustic strum and piano of bittersweet tune "Too Late To Die Young." The lyrics here are where the most blatant emo influence comes in: "The lowest lives, the desperate ones/You are the lights, of the damaged and fucked." In a popular culture that often leans toward the jaded, this may seem corny or overblown—to me (and I suspect to most listeners of this band), it's revelatory. The heightened stakes of emotions that intense and awkward may not be cool, but they sure as shit are real.
A band with riffs and hooks this indelible doesn't deserve to stay buried in the bowels of Bandcamp and Tumblr. The maelstrom of bands with similar attributes might be tough to rise above, given the attention paid to Cloud Nothings, Wavves, Titus Andronicus, FIDLAR—you get the idea. But the feeling that Beach Slang evokes is different than any of those, many of whom often get mired in self-loathing. The Things We Do To Find People Who Feel Like Us doesn't feel like that, even when its lyrics of overwhelming emotion and romance become melancholy. It feels like that happy-drunk walk home after a great night. It feels like young love. It feels like fire.
Similar Albums:


The Replacements – Tim


Japandroids – Celebration Rock


Archers of Loaf – Vee Vee