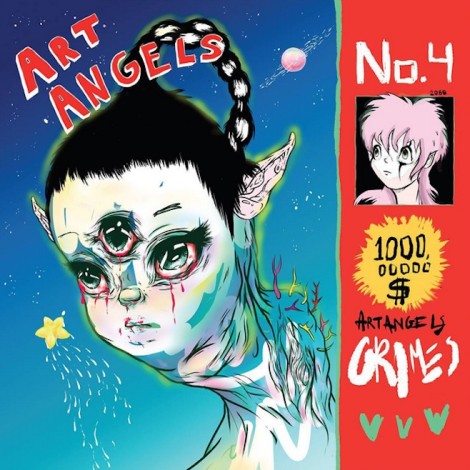 Experimentation is nothing new to Claire Boucher, the Montreal-based singer, songwriter and producer better known as Grimes. Neither is testing out different methods. While writing her 2012 album Visions, Boucher spent three weeks barricaded inside a room, depriving herself of food and sleep. "Once you hit day nine, you start accessing some really crazy shit," Boucher explained in an interview with The Guardian. Taking this into account, it's no wonder her latest musical child, Art Angels, is so diverse from beginning to end. It's fascinating how an artist of her ilk can create an album under the umbrella of ostensibly one genre, yet each track has its own dignified flair and unique character.
Art Angels takes Grimes' abstract approach to pop music, and makes it into something that feels very much apart from it—in a good way. Her lyrics this time around are far from stereotypical pop concerns, and her beats are infused with worldly influences, like the string quartet that counts the album off on intro track "laughing and not being normal." This time around, Boucher wants us to experience the heights she's reached since her 2010 debut, Geidi Primes.
There's a surprising cohesion that exists among the differing chaos of Art Angels. While "Belly of the Beat" waxes poetic of a revamped folk song, "Scream" feels reminiscent of a new wave werewolf transformation scene. Yet, there is an essential link—Boucher's soul has been spread across the album, as she reveals more and more about herself and her particular perspective. Her beats on this 14-track creation are punchy and precise, even as each track maintains a contrasting essence.
Since 2012, Grimes—whose stylized tweets often substitute a "z" for an "s"—has clearly been experiencing an intense process, exposure and artistic growth. Art Angels spins Boucher's campaign of free-form pop and powerful anthems into one downright cool compilation. As we transition from the crisp fall breezes to the impending cold of winter, Art Angels provides a brisk aid to the inevitable change. With deep synths, upbeat riffs and tracks that make an apt soundtrack for snowy, late-night drives or holiday parties, Art Angels is a welcome visit from a winter sprite.
Similar Albums:


Purity Ring – Another Eternity


Toro y Moi – What For?


Chromatics – Kill for Love