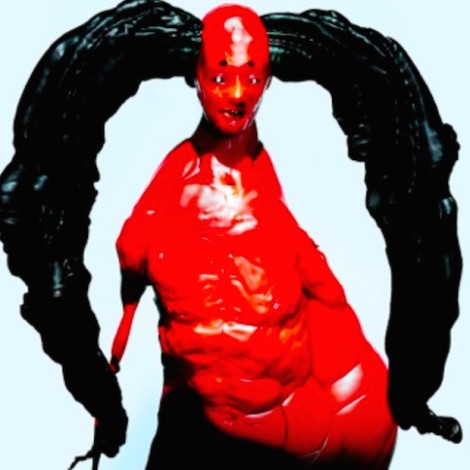 After releasing just a few (albeit solid) EPs, Arca's career began to quickly gain traction. That rapid ascension didn't seem to give the Venezuelan-born Alejandro Ghersi whiplash, however, as his work with Bjork, FKA Twigs and Kanye West is both assured and creatively elastic. His subsequent solo work has nestled itself into a wholly different habitat altogether. Last year's Xen offered a different side of Arca, one far more focused on warped textures and abstract electronics. Far from the melted hip-hop he displayed on his first EPs and miles away from the smart R&B he peddled on the second FKA Twigs EP, Xen was all about genre deconstruction. Yet, as a whole, the album didn't knock down as many barriers as it could have, with the compositions leaning a little too far toward minimalism and the ideas stretched a bit too thin. So, while that album felt at times half baked, Mutant feels much more measured and balanced.
The title track, a large and flexible hunk of synthetic shocks, provides plenty of sudden, gear-shift turns into abstract corners. Properly named, the seven and a half minute composition mutates and unfolds without losing an ounce of your attention. While the album has other peaks ("Gratitud" and "Enveloped" among them), at 20 tracks, Mutant can feel more like a sketchbook than a completed work. Yet for every interlude and halfhearted track like "Hymn," there's another where Ghersi successfully pushes and pulls at our expectations.
Halfway through the album, Ghersi introduces the first human voice in "Umbilical." The track is as challenging as the rest, but it has an off-putting catchiness due to its use of a recognizably human voice. The (human?) voice in "En," however, has the opposite effect. The deep and throbbing vocal sample is far and away the least natural sound in the composition. So here, over the course of just a couple of tracks, Ghersi is able to push well outside of the comfort zone he created.
A common trope in mystery stories is the infamous clue "hidden in plain sight." Arca treats melody much in the same way. His hooks aren't buried beneath the ragged abrasion, but displayed front and center, only to be revealed upon multiple listens. What might be considered a noise-addled wallop congeals into a catchy melody, albeit a sternly offbeat one. Mutant may have the feel of an artist's sketchbook, but it's one that merits frequent returns.
Similar Albums:


Oneohtrix Point Never – Garden of Delete


Tim Hecker – Virgins


Fennesz – Becs