Remake/Remodel: Guns 'n' Roses – Use Your Illusion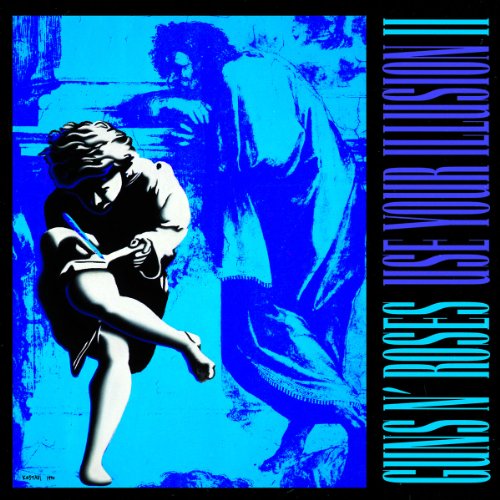 Welcome back to Remake/Remodel, the weekly column in which one of Treble's editors or contributors takes a classic—if imperfect, to our ears—album, and proposes an alternate tracklist in an effort to provide a different, albeit highly enjoyable listening experience. With Guns 'n' Roses impending reunion ahead of us at Coachella, the time seems ripe to once and for all slim down their 1991 double-album opus, Use Your Illusion.
When Guns 'n' Roses' 30-track double album came out in 1991, it was just begging to have its decadent fat trimmed. In fact I dipped out of school at lunch time on the day it came out and after the third joint consolidated both albums down into one awesome mixtape without all the Meat Loaf-style piano-drenched power ballads. After all, when this came out grunge was already on the rise. But Guns 'n' Roses stepped out ahead of the pack to distance themselves from their hair metal peers and offered something bigger and more ambitious. The best tunes on this album don't take me back to my torn acid-washed jeans, but do hold up well against almost any other album from this decade.
So we are subtracting all the redundant fast-forward classics. We are even going to shed some of the hits that lit up the arena with cigarette lighters held high. Remember, they killed it on Appetite for Destruction with only three power ballads and, at the time, I would only allow the cheese-filled "Paradise City" to play if I was riding in my girlfriend's car. So this is a close facsimile of the mixtape I made that September afternoon.
Listen and follow along to our Maxell XL90-formatted Use Your Illusion alternate tracklist below.
Side A
"You Could be Mine"
This song had already been released as a single tied to the blockbuster Terminator 2, so "Right Next Door to Hell" felt like a coked up re-hash.
"Dust N Bones"
The dark, smack-infused wink to the Stones is perfect right there.
"Bad Obsession"
This sleazy honky tonk rocker would keep the more legit roots of rock planted while the stage is set for the more grandiose moments to come.
"Back Off Bitch"
Guns 'n' Roses was never a metal band, but it's important to have songs like these that appeals to that dynamic.
"Double Talkin Jive"
This is a rock album, so keep the momentum going and get the money motherfucker 'cause I've got no more patience.
"The Garden"
We never needed two songs with "garden" in the title even if the other one had piss and vinegar to it; this one has Alice Cooper on it, end of story.
"Don't Damn Me"
Why stop rocking now and weigh things down with bloated power ballads? This song works with the mood already established, so you can drop things down on the next one.
"Estranged"
"Coma" is the real way to wrap up the album as a whole (more on that soon), but the halfway point seems like the right time to segue into the more massive orchestrated epics. If you have this song you don't need a failure to communicate like "Civil War."
Side B
"Knocking On Heaven's Door"
If you have to have a cover song on here for mainstream radio purposes, then scrap "Live and Let Die" and go with their take on Bob Dylan.
"Pretty Tied Up"
So now you have this decadent ode to the Sunset strip, that is married to a T-Rex like groove with S&M themed lyrics. In other words a perfect
Guns 'n' Roses song.
"Locomotive"
The slithery groove of this one makes it the "Mr. Brownstone" of this album and keeps it sleazy until it's time to hit the brakes and roll out the baby grand.
"So Fine"
OK. Bring out some of the ballads now. This one has more of a drug-addled vulnerability to it, and when Duff Mckagan takes the mic, he brings more of a Dead Boys feel to the table.
"Don't Cry"
This one was on both versions so it doesn't matter if it's the alternate lyrics or not. Axl sings his ass off and the late Shannon Hoon harmonized beautifully with him.
"November's Rain"
Not my favorite, but it's hard to deny this song, when it comes to big power ballads; Slash saves the day on this one.
"Dead Horse"
This one goes from an almost folky strum to the kind of in your face stomp that plays to the band's strengths. This song keeps the album's diverse flow intact without resorting to another ballad.
"Coma"
If anyone ever has a problem with Guns 'n' Roses, I play this massive song for them and ask what other band can do that. This was Axl at the peak of his songwriting. Lyrically it addresses their ghosts of Christmas future, as Axl could have overdosed, committed suicide or had a mental breakdown at any point in time when they embarked on the tours to come.
You might also like: