Smashing Pumpkins reunites with James Iha in L.A.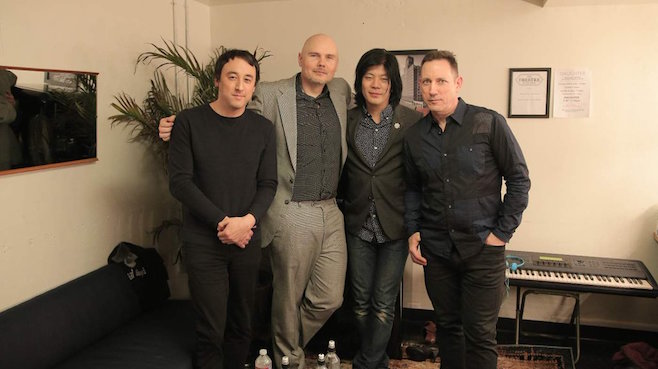 *photo courtesy of Smashing Pumpkins' Twitter
On Saturday night in Los Angeles, James Iha performed with Smashing Pumpkins for the first time in 16 years, in an unannounced surprise for fans. Corgan and Iha were also joined by drummer Jimmy Chamberlin, which makes three quarters of the original lineup. The only original member not to perform with the band is bass player D'arcy Wretzky. The band, featuring the three original members, performed songs from the Siamese Dream era at the Ace Hotel, including "Mayonaise," "Soma" and b-side "Whir." The performance also coincided with Iha's birthday, and during the encore, the band surprised him with a cake and led the crowd in a sing-along of "Happy Birthday." Watch a performance of "Soma" below.
Read our recent Remake/Remodel article on reassembling the tracklist of the underrated 2000 Smashing Pumpkins album, Machina II.