Baroness announce tour with Pallbearer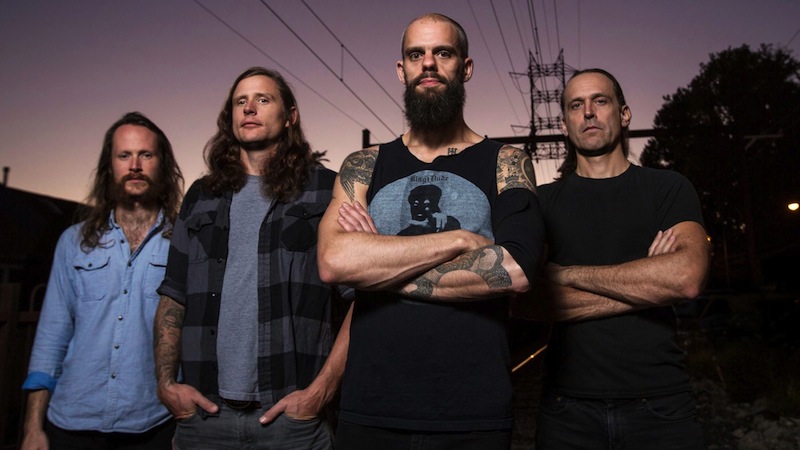 Baroness has announced more U.S. tour dates for this summer, surrounding a series of festivals lined up later this year, including Psycho Las Vegas and Hopscotch. The band is touring with Pallbearer, whose recent Facebook posts suggest that they're working on a follow up to their 2014 album Foundations of Burden. Check out the full list of tour dates below.
Baroness' new album is Purple.
Baroness tour dates:
7/4 Bogota, Colombia – Rock Al Parque
8/12 Washington, DC – The Howard Theater (P)
8/13 Northampton, MA – Pearl Street Ballroom (P)
8/14 New York, NY – Webster Hall (P)
8/16 Providence, RI – Fete Ballroom (P)
8/17 Buffalo, NY – Waiting Room (P)
8/19 Cleveland, OH – House of Blues (P)
8/20 Detroit, MI – St. Andrew's Hall (P)
8/21 Chicago, IL – The Metro (P)
8/23 Minneapolis, MN – The Varsity Theatre (P)
8/24 Lawrence, KS – The Granada Theatre (P)
8/26 Albuquerque, NM – Sunshine Theatre (P)
8/27 Phoenix, AZ – Club Crescent (P)
8/28 Las Vegas, NV – Psycho Las Vegas
8/30 San Diego, CA – The Observatory North Park (P)
8/31 Tucson, AZ – The Rock (P)
9/2 Dallas, TX – Granada Theatre (P)
9/3 Memphis, TN – New Daisy Theatre
9/4 Baton Rouge, LA – The Varsity Theatre
9/6 Orlando, FL – The Beachum Theater (P)
9/7 Tampa, FL – State Theater (P)
9/8–10 Raleigh, NC – Hopscotch Music Festival
9/9 Charleston, SC – The Music Farm (P)
9/17 Chester, PA – Monster Energy Rock Allegiance Festival
9/24–25 Houston, TX – Houston Open Air
10/22 Sacramento, CA – Aftershock Festival
(P) = with Pallbearer