Shadow of the Horns: 2018's Gateways Beckon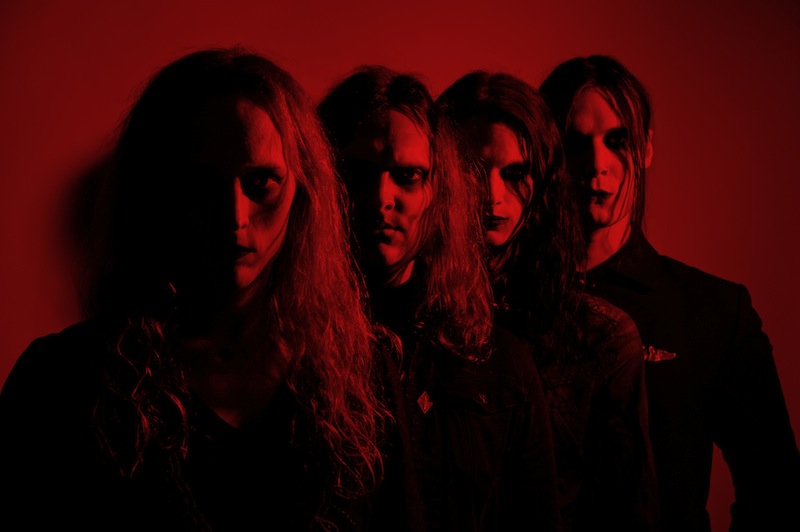 Every January presents a time of opportunity, of starting fresh and catching one's breath before the direction of the next 12 months takes shape. Most of the time, it's hard not to go into a new year with a sense of optimism or hope, because all that's ahead of us are possibilities. But looking back over the past two years' January metal columns, I can't help but notice how negative they were. In January of last year, I had to call out a lot of bullshit in metal, considering we were about to enter a new age of white nationalism under Trump. And the year before that, well, I had to call out some other bullshit in metal, and that was before things got really bad. (Though, honestly, we should have known better.)
I don't intend to retire from calling out bullshit, but I also want to start 2018 on the right foot. I write this column because I celebrate metal, not because I like wagging my finger at assholes. (Someone's gotta do it though, am I right?) So in that spirit, I want my first column of the year to be one of being stoked on metal rather than being exhausted by the few who ruin it for the rest of us. Here are my hopes for metal in 2018:
I want to be pleasantly surprised by a band whose catalog hasn't wowed me in a while. This year could very well bring about a lot of albums from some of metal's biggest names, including Judas Priest and Tool. In the case of the former, I'm sure I'll enjoy what they release. In the case of the latter, I doubt I'll care. And even if I was pleasantly surprised, it's safe to say whatever they do can't possibly match up to the decade-plus anticipation that's been building up. But that being said, every year for pretty much most of this decade has brought about some great albums from legacy acts that I didn't see coming, such as those released by the likes of Gorguts and Kreator. Hell, even Morbid Angel redeemed themselves last year after whatever the hell Illud Divinum Insanus was. So I feel confident that some lifers will do the same in 2018.
I want to see a band I admire hit a new level of success. There's a ceiling for most metal bands, and it's usually not that high. Still, to see a band reach the level of commercial success of a group like, say, Mastodon does is pretty awesome. Last year, Code Orange became an unexpected breakout, making an appearance on primetime wrestling and earning a Grammy nomination on the strength of their last album Forever. And for that matter, my young MVPs for 2017, Power Trip, made a pretty major rise as well. I'd like to see an excellent metal band make it to the next level this year. It could be someone like Tribulation, who has the hooks and songwriting to pull off crossover appeal while maintaining the theatricality to put on a show worthy of a larger stage. (They also released one of my favorite tracks of the month, so that's a strong start.)
I want to be introduced to some killer new bands. Old-timers in metal are always complaining about how nothing's as good as the old days, and honestly it's not isolated to just the metal community. Ever hear people talk about rock? Hell, even hip-hop has become weirdly rockist—if you haven't heard an oldhead complain about how mumble-rap kids need to hear a Wu-Tang Clan record, it's really only a matter of time. But last year I actually discovered a lot of new bands that bowled me over, from Ukrainian avant garde mastermind Tchornobog to new-wave-of-old-schoolers Necrot to cyber-thrash badasses Expander. There's lots of good metal being made by up-and-comers, and I intend to hear as much of it as I can.
But I also want to be able to hear some new sounds from some old favorites. This year promises to deliver new music from Pig Destroyer, Yob and Baroness, just to name a few of the heavyweights on the docket, and that means being able to plan my mood-based listening for 2018: Pig Destroyer when I need catharsis, Yob when I need spiritual fulfillment, and Baroness pretty much any other time.
Most of all, I want to hear a lot of great music—not limited to metal, of course—because that's why I'm writing this column, why you're reading this column, and why it's not ending anytime soon. Now, on to that music…
The best metal tracks of January 2018
Hooded Menace – "Charnel Reflections"
I come here not to mourn 2017, but to bury it. And as we cover a bewildering, frustrating, all-around strange year in ash and soil, let's turn up the funeral doom. Finland's Hooded Menace have a solid decade of dark, ominous death-doom under their belts, releasing four albums of solid darkness since 2008. Their fifth, Ossuarium Silhouettes Unhallowed, has early makings of shaping up to be their best. Or, more concisely put, "Charnel Reflections" is one motherfucker of a song. It takes quite the journey, from mournful and melodic beginnings between its harmonized guitar riffs—which are stunning, by the way—on to a more climactic and intense middle section that ramps up the tension, the excitement and the pace. There's a tendency sometimes for doom bands to draw things out to perhaps an unnecessarily moody degree (I mean, it's doom, that's what they do) and not every band can pull off something as ambitious and gorgeous as Bell Witch's most recent one-track, 84-minute opus. But Hooded Menace turns that idea around by making a seven-minute track feel weirdly concise. There's so much happening and so little misty build-up that there are absolutely no missed opportunities here. Just doom metal at its most ferociously potent.
[from
Ossuarium Silhouettes Unhallowed
, out Jan. 26;
Season of Mist
]
---
Mammoth Grinder – "Servant of the Most High"
Austin, Texas sludgecrust-mongers Mammoth Grinder are sure to get 2018 off the ground with some gnarly, nasty sounds. They've already shared two tracks from their soon-to-be-released Cosmic Crypt, due at the end of the month, and after just 24 hours of being out in the world, "Servant of the Most High" is already one of my favorite new things I've heard this year. There's a brutal heft to it that seems familiar—the kind of murk-slinging that would sound right at home on a High on Fire record. But the track also delves into some psychedelic menace during its back half, revealing a bit more nuance behind the wall of sludge. Even if there weren't more here than just those nasty riffs, that'd be fine. The ass kicking will suffice. The rest is just a pleasant, yet all-too-welcome surprise.
[from
Cosmic Crypt
, out Jan. 26;
Relapse
]
---
Arkheth – "A Place Under the Sun"
Late last year, I tweeted this:
More metal albums should have saxophones

— Jeff Terich (@1000TimesJeff) December 19, 2017
Which I absolutely stand by. Between albums like those by Ex Eye and Tchornobog, saxophones made metal more interesting in 2017, and a lot less predictable. Besides, you can include those tracks on sax-heavy mixtapes between Hall & Oates and Kamasi Washington, and that rules. So it gives me great pleasure to start off 2018 with another awesome track that brings sax into metal. Australia's Arkheth are an atmospheric black metal band, which is only display on new track "A Place Under the Sun," though it feels a bit more like a gothic doom shoegaze ballad, of sorts. If that makes any sense. There are connections to other artists such as Agalloch and Alcest, who have brought a sense of ornate magic to an otherwise dark and evil style of music. But Arkheth really take this track somewhere special after the five-minute mark, because that's where the saxophone comes in, pairing brilliantly with an onslaught of blast beats. It could catch some listeners off guard, but it's a pairing that works pretty well, the mixture of black metal and saxophone almost like the noise-jazz exercises of John Zorn in the '80s and early '90s. Maybe not every metal band can pull it off, but Arkheth most certainly does. More of this in 2018 please.
[from
12 Winter Moons Comes the Witches Brew
, out Feb. 20;
Transcending Obscurity
]
---
Portal – "Phreqs"
There's a temptation with any Portal album to say that listeners already know what they're getting into. And that's true to an extent; guttural bellows from the architecturally masked The Curator, high-speed riffs that sound like malfunctioning machinery or robotic insects, and a general sense of ominous dread all play a fairly important role in Portal's music, whatever they're doing. Yet "Phreqs," the first new track to emerge from upcoming album Ion, seems like an entirely new perspective on Portal, simply for how it's produced. "Phreqs" is a far less murky beast than the monstrous tornado-death of 2013's Vexovoid. The compositional details are much easier to discern, and good lord does it emphasize the level of insane musicianship that these avant garde brutalists possess. The riffs are superhuman, the speed is breathtaking. It's all a strong reminder of how satisfying death metal can be when it's offered a chance to step outside the extreme-metal comfort zone. And yet, at the end of the day, this is still a really engaging song, level of extremity be damned. That's one area in which Portal's never really received enough credit, though now that it's easier to determine what's going on, that could all change.
[from
ION
, out Jan. 26;
Profound Lore
]
---
Tribulation – "Lady Death"
The last time I remember not being in a permanent state of anxiety over the state of the world on the verge of collapsing in on itself, there was a new Tribulation album to hang on to. (I realize that it's much more metal to welcome the reckoning or something, but look we're all human beings and metal is fun and this is definitely not.) So it brings me a sense of comfort to know that Tribulation's follow-up to the career-peak Children of the Night arrives within the first month of 2018. Already, Tribulation have issued two singles from Down Below—both excellent—though "Lady Death" best encapsulates how far they've come in the past nine years. Having started off as a thrashy death metal band and evolved into a theatrical, albeit hook-focused heavy metal band with both progressive and old-school influences, it's a wonder they've been able to maintain a consistent vintage-horror aesthetic while pushing themselves so much farther each time. "Lady Death," at just three and a half minutes, is the shortest non-instrumental-interlude song they've released in, well, nine years. It's also a melodic powerhouse, it's infectious riffs like something out of a classic Blue Oyster Cult record while the vocals remain growly and grim. I won't say they've never released something this catchy before, because their last album was chock full of hits (so to speak). Still, this hits all the right notes; we're two weeks into winter, but I've already got something to add to my 2018 summer jams.
[from
Down Below
, out Jan. 26;
Century Media
]
Piece by piece
Since the year's just begun, there's not enough new full-length releases to highlight just yet. But don't worry. January's already turning into an embarrassment of riches, so watch this space next month.