All Tomorrow's Parties: Nightmare Before Christmas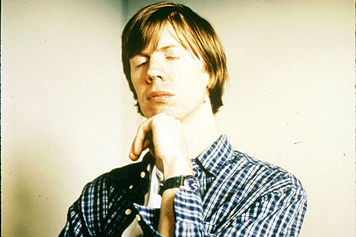 It's the season for stress, disingenuousness, and warmth pertaining to an age based spectrum. Luckily, for a few thousand on a south west coast holiday camp, Santa has taken a ginger and gangly form early. Sonic Youth's Thurston Moore curates the 2006 instalment of All Tomorrows Parties' UK Nightmare Before Christmas festival. It's the first year that ATP has moved from its traditional home in Camber Sands to a larger holiday camp in Butlins Minehead. It's also the first UK ATP festival I've experienced, having made the trip to Long Beach for ATP Pacific in 2003 and 2004. We arrive later than expected on Friday due to a combination of misjudging the length and distance of bus trip from Taunton (really friendly people and beautiful scenery though), and work related mess. After taking an hour stumbling to find our caravan at the park's edge, it's 8PM and headline sets are upon us. The atmosphere is more residential than the Queen Mary. The venue is very obviously a holiday camp, with on premises pubs, eateries and a cinema. Two of the stages have on hand arcades (particularly the very red second stage, named Reds), and one is a fabricated Wild West bar. I like it. After filling our fat faces with Pizza Hut, we check out the Melvins at main stage, a band I'd previously heard a lot about, but never actually heard. They're incredible. It's raw, multi-percussive music with deceptively strong song structures. Great hair too…
It's about here things turn pear. The two festival headliners, Sonic Youth and Iggy and the Stooges, are playing two shows each over the weekend to prevent queuing. Ticket holders are given wrist bands to see either both bands on the Friday or one each on Saturday and Sunday. We'd received an email in the week before the festival saying that it may not be possible for press pass holders to make the headline shows, but that the situation still wasn't confirmed. When we arrived late to pay for our press tickets, we weren't told anything about the headline shows, and in all fairness, were too absorbed in finding our caravan to think of asking ask. We've picked option one, both bands following the Melvins. On our way out we ask a bouncer if we'll be OK to get in with press passes. He says he thinks so. The queue stretches across the holiday complex. After a long wait (my friends opt to queue for Deerhoof on the Reds stage), I get to the front, through the first set of bouncers, before one accosts me and tells me my pass isn't valid. He looks a bit desperate, shouting "there's no way you're getting in this weekend with that pass!" To be fair, there are a lot of people queuing and becoming restless. I'd seen Iggy solo and Sonic Youth before, so it's slightly easier to shrug and make my way to the Deerhoof queue. My friends are still at the back, and irritancy is in the air. I catch some Finnish free folk from Islaja on the Crazy Horse stage, but midnight is approaching and the day on the train is beginning to make it time to cut my losses.
I arise on Saturday in much less lethargic spirits. Minehead is genuinely beautiful at this time of year, and a walk into town and along the seafront with sausage and chips is exactly what I needed to chill out. On my way back into Butlins', a poster catches my eye. In recognition of the queuing issues, ATP have organized extra shows from the Melvins and Deerhoof. Having already caught the Melvins the night before, and acutely aware of how it felt to miss several bands the previous day, I opt to start my weekend viewing with Deerhoof. The venue has plenty of room, and the marriage of overtly tuneful cutesy imagery with taut, whirring guitar led dirge coming from the stage is a jarring but joyful tonic. The simplistic diagonals of songs like "+81" and Satomi Matsuzaki's cartoonish but scary delivery inspire bouncing and sea sickness. After this Wooden Wand deliver a set of woozy alt country somewhere between Gram Parsons and Jim White. James Toth has an interesting knack for unease amidst simplicity, and when he mentions an infant "born from thin air," my hair raises amidst the hung-over bodies and tables.
After this I'm down to Reds to catch Derek Bailey/Jim O Rourke collaborator Mats Gustaffson's show with Boredoms figurehead EYE Yamataka. Improvised and noise based sets usually grab my attention with some form of discernable structure amidst unique chaos. The afternoon's performance has both in abundance. The combination of high distortion screaming, horn and flute, sandpaper beats and illuminated microphone dancing lies somewhere between music hall and the sound of the apocalypse.
From there on I'm straight back to queuing at main stage. I don't want to miss Gang of Four. My reward for prompt revival is the back end of Sun City Girls, who evoke Captain Beefheart and Bill Hicks. An ending rant about a multi faith, multi-purpose "exploding plastic Santa" is a festival highlight. As for Leeds' most commercially influential post punk militants, tonight they're simply fantastic. In 2005 at Coachella sand paper sound sent me to the Arcade Fire (who faced similar difficulties), but before a few thousand indoors at Minehead the group sounds better than its reputation. "Return the Gift," "At Home He's A Tourist" and "Damaged Goods" are greatest hits to this audience, and Andy Gill is in his element. Percussion on what appears to be an excavated microwave with candles only adds to the spectacle.
As I'm not expecting entry to Sonic Youth, Dinosaur Jr. close my Saturday. They're clearly enjoying themselves. Mascis looks like the perfect gent to play Mr. Claus if David Lynch ever comes to call, but it's the likable, if still intriguing world of The Straight Story that I'm thinking of. Lou Barlow still looks worryingly youthful, and surprisingly positive. The band are a revelation. "Freak Scene" provokes mass dancing from an audience that makes me feel comparatively young. A new song, currently titled "This Is All I Came to Do", is excellent, recalling the weather beaten optimism of the Rolling Stones "Don't Stop."
On Sunday morning I briefly walk across a rainy beach, and spend a lot of time consuming pretty decent coffee and sandwiches in the Butlins complex. I also visit PR to ask about the status of my press pass for headline acts after a guy tells me he got in on Friday and Saturday. I'm told people have been getting in if they wait for all the wrist bands to enter. During my caffeine I notice handouts on the café seats. They apologise for the inconvenience queuing has caused profusely, inviting any suggestions to make it better next time round, and announcing an extra show. Gang of Four had already played a second set in the early hours for those who missed out, and Dinosaur Jr. open the Sunday at 1:30 pm. The notice also announces priority wrist bands for anyone desperate to see the DKT/MC5. I mainline coffee under the pretense of waiting for a wristband. I then leave it until the suggested ten minutes after start time and catch most of Dinosaur Jr.'s extra set in a spacious main stage. They're on top form again, and constantly thank the audience for getting up early. Their renowned cover of the Cure's "Just Like Heaven" is wheeled out for added measure, with Barlow's like vocals impressively distorted.
After a brief walk, I'm in a plastic rodeo to check out Bark Haze. Given the lack of Sonic Youth during my Weekend, it's great to be able to glimpse Mr. Moore on stage again. His side project condemns any aspersions towards improvisation as a dirty word. Their thirty minutes on the Crazy Horse are ghostly and intense, with real discernable partitions emerging. Varying between rupturing guitar discord and near country unease, it's another example of the off kilter turned immediate.
Back at centre stage, The Awesome Colour captivate. With a little help from their Lambsbread and Ex Models cohorts, a good night for Michigan bands begins with garage rock to match anything the state has thrown up at the turn of the seventies or zeros. These guys could have stepped straight from a Canned Heat revival amidst the epicentre of a Nuggets Box Set, placed aptly alongside tonight's headliners. Somehow it sound really refreshing. In sharp contrast to many of the weekend's bands, a conventional rock aesthetic is embraced wholeheartedly, and without descending into parody. You might just fall in love with this band. After this I sat with friends on the third tier for a quiet beer and Wolf Eyes concert. Their obnoxious call and response (think the Beastie Boys adlibbing between recorded industrial accidents) and intermittent audio assault is an interesting experience, but I guess we're just struggling to connect.
Time for some food and more queuing to check half of the Six Organs of Admittance set at the Crazy Horse. Ben Chasny's project produces moments of sublime melody amidst ominous fuzz. I decide to gamble at this point. I figure that at worst an early queue outside main stage will definitely get me in to the MC5, and the slight chance of seeing the Stooges is enticing. There are guys in suits managing the queue and attendance levels to support the bouncers now, and after half an hour, around fifteen minutes after the show starts, I'm included in the head count.
I'm in. The Stooges don't fail to impress. With a Minuteman on the bass, the Ashetons, Steve Mackay and Mr. Pop are beyond cabaret. Iggy's screaming "I want destruction," before "No Fun." Clichéd as it sounds, the predictable pandemonium as people, many of them forty years younger than most of those with instruments run amok on the stage is very affecting. These guys are the establishment now. "1970", and "I Wanna be Your Dog" are epochal. Iggy is a spectacle in his own right solo through sheer force of personality, but I can't place him in better company than present.
The weekend reaches a fitting and memorable send off. After snaking back around Butlins with my priority wrist band, I'm back at the centre stage. John Sinclair, former manager of the original group, pops up to introduce the DKT/MC5. The final show encapsulates everything that makes ATP's festivals matter. They represent that less prevalent, but clearly existent world where the MC5 carry as much currency as the Beatles, affirming and acknowledging such bands. DKT/MC5 are a tasteful, fitting update and celebration. The lack of Fred "Sonic" Smith and Rob Tyner, along with thirty plus years make it obvious that this isn't the original band. Instead, there's a celebratory atmosphere where founder members Davis, Kramer, and Thompson are guests of honour at their own party. Bellrays/Bassment Jaxx vocalist Lisa Kekaula and Mudhoney front man Mark Arm fit perfectly. They've just the right amount of rock `n soul and legendary underground pedigree, and lungs to back it up. Sisters of Mercy guitarist Adam Pearson fills out the racket.
From the opening "Ramblin' Rose" onwards, it seems like there's a collective will from all present for this to be a brilliant gig. "Sister Anne," "Over and Over," "Come Together" and just about everything else are delivered and received like the most important messages around. Mid way through the gig, one of the speakers blows. The band continue to play, the fans applaud, ending with something as close to the rapture (Biblical not NYC angular, and yes I'm only talking an approximation) as you can get in a three quarters full Somerset Butlins' venue. The mass sing a long During "Rocket Reducer No.62: (Rama Lama Fa Fa Fa)" evokes the exhilarating, devotional kicks that made and make the MC5 special. "Kick Out The Jams" is inevitably mammoth. Arm, legendary enough in his own right, looks like he's having to pinch himself as much as the rest of us. ATP ends with everyone going nuts to "The American Ruse," and three middle aged Americans look especially and deservedly happy. This was ATP UK's first event in a bigger venue, and there were some resulting glitches, but my overriding memories of the event are overwhelmingly positive. Gang of Four with good sound, dancing with illuminated microphones, Thurston Moore in a plastic Pirate themed venue, the MC5! I can't wait to do it all again.