Arcade Fire : The Suburbs
After two albums of grand, orchestral pop songs haunted by ghosts of deceased loved ones and unflattering examinations of American ideals, the jaunty piano and acoustic strum of the title track from Arcade Fire's third album, The Suburbs, sounds remarkably refreshing. There's no sweeping crescendo, no howling vocal performance from Win Butler or impossibly grandiose build, just a perfect, honest-to-God pop song, and it arrived not a moment too soon. The Montreal outfit has become inextricably linked to bombast and epic feats of rock heroism since releasing their debut, Funeral, qualities that have turned just as many people away from their subtlety-free sound as easily as they have attracted hundreds of thousands of fans. But after ramping up the drama further on 2007's Neon Bible, the band, with two ambitious and well-crafted albums under their belts, veered close to being crushed under the weight of their own ostentation.
With The Suburbs, Arcade Fire has softened their showy sensibility and largely muted the mighty arrangements that characterized their prior two albums. Where in the past the band would have stacked every pipe organ, rusty barroom piano, chamber trio and hurdy-gurdy up to the rafters for the sake of a song, here they allow their songs to breathe, often stripping down the arrangements to a more simple, straightforward pop dynamic. Songs like the rootsy "Modern Man" and the urgent post-punk number "Empty Room" still put each of the band's long list of players to good use, but without having to compete with each other for the listener's attention. It's an approach that shows more maturity but, more importantly, listenability, leaving their audience with lower likelihood of fatigue after repeated spins.
The maturity on The Suburbs isn't merely limited to arrangements, however. As a songwriter who never encountered a concept he didn't like, Butler has, as expected, injected the album's 16 tracks with recurrent, overarching themes. Yet there's less fairy tale twinkle, primal scream emoting or cynical political posturing this time around. Rather, Butler's ruminations on the titular suburbs reveal a more introspective and thought-provoking perspective on home, and the idea of looking back at one's former self. Numerous references to "kids" abound, but tellingly, Butler sounds more detached from the word, singing "Kids wanna be so hard/ but in my dreams, we're still screamin' and runnin' through the yard" on the title track. But the song's most poignant line arrives in the chorus as Butler croons, "Sometimes I can't believe it/ I'm movin' past the feelin'," suggesting that even after wringing out two albums' worth of emotions, the grieving period eventually ends, and some semblance of normalcy takes place.
Drawing stark contrast against the cynical anthems of Neon Bible, the spectacular, Neil Young-like "City with No Children" finds Butler expressing more humility, acknowledging the plank in his own eye with the lines, "You never trust a millionaire/ Quoting the sermon on the mount/ I used to think I was not like them/ But I'm beginning to have my doubts." And yet, when Butler does tackle more mournful and hyperbolic themes, as on "Half Light II (No Celebration)", he does so in more cryptic fashion, using phrases like "in this home which has no life" and "wanna wash away my sins" over the album's most gorgeous and powerful synth-laden melody.
On "Month of May," the band even approximates the painfully familiar teenage garage punk band, albeit with much better melodies. Repeating a Ramones-like mantra of "Gonna make a record in the month of May," Butler quickly takes a turn for the darker, offering "If I die in the month of May, let the wind take my body away." The group touches upon Kasparov and advancing technology in "Deep Blue," the abandonment of dreams during adulthood on "We Used to Write," and the sadness that arises from revisiting an old neighborhood on "Sprawl I." There's a sense of mournfulness throughout, but of a more everyday variety, and delivered with such delicate grace that Butler is likely to squeeze a few tears from the listener by the end of the album's lengthy span.
Like the suburban sprawl that plays muse to Arcade Fire's new batch of indie rock anthems, The Suburbs stretches out, extending well beyond the length of the band's prior two albums. Yet in spite of its hugeness, it's not an album that overwhelms or bludgeons the listener with spectacle. In fact, it may even take a few listens before its blend of folk-rock, post-punk and gorgeous synth work truly clicks. But it's worth the extra spins; often simply presented but no less ambitious, The Suburbs shows that Arcade Fire is merely growing better with age.
Similar Albums:
U2 – Achtung Baby
Wolf Parade – Apologies to the Queen Mary
The National – High Violet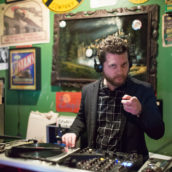 Jeff Terich
Jeff Terich is the founder and editor of Treble. He's been writing about music for 20 years and has been published at American Songwriter, Bandcamp Daily, Reverb, Spin, Stereogum, uDiscoverMusic, VinylMePlease and some others that he's forgetting right now. He's still not tired of it.