A$AP Rocky : LongLiveA$AP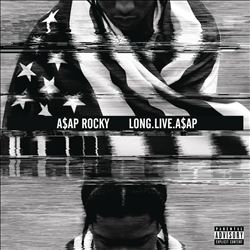 Buy at iTunes  | Buy at Insound
Considering the incredible obscurity given black artists on Pitchfork's People's List (which obviously I don't care about in an objective sense, but consider it a broad study of the indie music sphere at large), 2012 was an incredible year for black music. Kendrick Lamar redefined gangsta rap and proved himself a precocious artiste, Frank Ocean one-upped his peers claiming to lead the current refinement of R&B, and my personal critical darling, Willis Earl Beal gave us a history lesson in lo-fi. Even before these, there was The Weeknd's ecstasy-laced nights at the club, Shabazz Palaces' futuristic interpretations of hip-hop, news of the return of D'Angelo's unique variety of funk and soul, not to mention the royal family of Beyonce and Jay-Z with that one unwieldy friend of theirs always running his mouth. There hasn't been much room for A$AP to slip into the very vivid, colorful definition of black music happening on this side of 2010.
Rocky made a splash in 2011 with LiveLoveA$AP, his debut mixtape, with a variety of deliveries for his braggadocio, but what's confirmed with this follow-up effort is that the beats on that mixtape at least sonically defined his unique, and now-hailed, trendy sense of hauteur. Shortly after that debut, Rocky signed a deal with RCA for more than $2 million, yet his label debut has seen 12 months of delays and complications.
In the meantime, his major label has succeeded at keeping him relevant, but the only reason I say that is because I'm sick of hearing about his token guest spots with Lana Del Rey, Usher, etc. — so you know his label is doing a good job. And granted, the single "Goldie" proved golden, but if you remove the rest of the hype machine, you see that he has lost most/all of his momentum from that very solid mixtape, which suddenly feels like long ago. In the meantime, his peers passed him by.
"Goldie," as mentioned, is infectious. A simple beat that never gets old — though this is one of the few places his so-called ear for beats and flair for co-production really delivered. Standing opposite of that is "PMW," his completely unremarkable collaboration with Schoolboy Q, who on LiveLoveA$AP sparked the highlight track, "Brand New Guy." The beat is too tame, the chorus is laid-back and apathetic, and though the verses have some edge to them, neither rapper shows glimpses of either the whimsical wordplay or the dynamic deliveries used on "Brand New Guy."
Good pop-rap albums are enjoyed by casual and close listeners alike, infectious and entertaining yet cohesive and layered; the surface-level is supposed to be inviting and attractive with substance hidden underneath. But most of the beats are safe and the substance has grown a little stale from sitting on the shelf for so long. From his pace to his wordplay to his use of effects, Rocky's raps are blunter this time around, as are the productions, which tend to cater to guest appearances more than to Rocky's established sound.
He invites several cohorts for the second side of this record; first Kendrick Lamar, 2 Chainz and Drake on the horribly boring "Fuckin' Problems," then Skrillex produces the overzealous "Wild for the Night," which has these high-pitched zaps that go against seer against the grain, giving it the not-usually-sought-after effect of nails against the chalkboard. The best of these tracks is "1 Train," full of guest verses from Kendrick again, Danny Brown, Yelawolf, Action Bronson, Joey Bada$$ and Big K.R.I.T. — a veritable who's who of indie rappers. Given the stasis the rest of the album is likely to cause, this variety of characters makes the track immediately more interesting than anything else. Luckily, the storytelling is up to the task and the RZA-inspired beat carries them sufficiently.
In recent interviews, Rocky has talked about how hates seeing fashion and music go stale; how he made a conscious effort to avoid doing the same thing twice; how he has a hand in every part of his craft. Yet somewhere along the way, his brash appears to have been tamed. Maybe it's having a major label behind you, paying your way through the process, which dulls your zeal. It sounds like Rocky is settling for good enough, and what makes me worry is that he probably has too much money and too much life ahead of him to realize it.
Similar Albums:
Kanye West – Graduation
UGK – UGK 4 Life
Freddie Gibbs – Str8 Killa No Filla
Video: A$AP Rocky – "Goldie"