Beach Fossils : Clash the Truth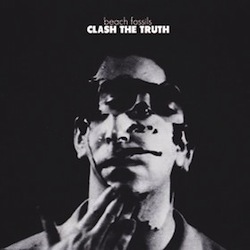 Buy at iTunes | Buy at Insound
Sometimes the best thing for an album is to be simple — uncomplicated. While the temptation for some of us is to bury our Id beneath a high-brow taste in music at all times, analyzing the meaning behind every lyric that Thom Yorke has ever written can become a little taxing, and frankly, not very fun. Thankfully there are bands like Beach Fossils to disabuse us of such pretense.
Beach Fossils may sound like a handful of other bands you've heard before — The Drums, Best Coast and Howler immediately spring to mind — but that's not a bad thing. Their lo-fi surf pop is undemanding and definitely unpretentious. While The Drums occasionally come off as being a little contrived, with their vintage aesthetic and move to a more clear-cut, out-and-out "pop" sound, Beach Fossils are firmly rooted in the sound they have gradually been cultivating since 2009. However, this follow-up to their eponymous debut does show that the band have matured somewhat. There are small moments on this album, before the band take the "easy" surf pop option reminiscent of The Walkmen, and the dark, brooding guitar a la Joy Division that runs throughout the album. "Ascension," one of the album's many (and surprisingly successful) instrumental tracks, sounds like the sort of thing that Ian Curtis might be making, had things gone a little more positive and he moved to California.
This grown-up sound does have a tendency to slip through, and there are tracks that are less reflective and more frivolous fun (the album's opening track, "Clash the Truth" springs to mind). This actually turns out not to be so much of a problem though because, as it should be, the dark parts of the album complement the light. Of course, this is an album that doesn't take itself too seriously, and as such the listener is free to act accordingly. Clash the Truth is the sort of record you pop on in the car if you're going down to the beach, or when the sun's out and you just want to relax. It doesn't ask you to find a greater meaning, analyze its lyrics or hold it to an unrealistic standard. It's simply there to be absorbed and enjoyed, and played for days on a loop. And sometimes, that's exactly what you need in an album.
Similar Albums:


Wild Nothing – Nocturne


Beach Fossils – Beach Fossils


Veronica Falls – Waiting for Something to Happen