A Beginner's Guide to the Avant Blues Rock of Captain Beefheart

You'd be hard pressed to find a wilder 15 years of rock music as that of Captain Beefheart's decade and a half as a recording artist. Between 1967 and 1982, Don Van Vliet and various permutations of his Magic Band released 13 albums of twisted and unpredictable blues rock, sometimes played with a reverence for rhythm and melody and sometimes dismantling and deconstructing these basic elements of songwriting into musical puzzles pulled apart and put back together again in ways that never quite fit the way you'd expect. His reputation as bandleader and taskmaster is legendary and notorious, developing an almost cult-leader presence during the making of the legendary Trout Mask Replica, having his band live the album more than rehearse it—though rehearse it they did, sometimes for 14 hours a day, sometimes collapsing right where they had been rehearsing. The stories behind some of the albums, as it turns out, are perhaps even more bizarre than the music.
The irony about Captain Beefheart's status as a legendary innovator (though not enough to be inducted into the Rock and Roll Hall of Fame—yet) is that his most legendary album, Trout Mask Replica, is also arguably his least accessible. It shows up on canonical lists time and time again—including one that you'll find on this very site very soon—but it's pretty conclusively not for beginners, an album whose nuances and complexities take years to understand and untangle.
That's where the Beginner's Guide comes in. With a body of work as rich and as strange as that of the late Don Van Vliet, who retired from music in 1982 and focused on painting until his death in 2010, finding an easy offramp requires looking beyond the best-of lists. His most and least accessible albums were released just two years apart, and from then until his final recordings, he covered an expanse of music that only occasionally played it safe—sometimes to the music's detriment. The best Captain Beefheart albums are those that showcase his gruff and abrasive primitive blues aesthetic with a sense of artful experimentation, always avoiding a straight-and-narrow path while often embracing melody in curious and thrilling ways. As such, it's likewise a winding and labyrinthine path to walk through his catalog, but here are five albums to start you on your journey.
---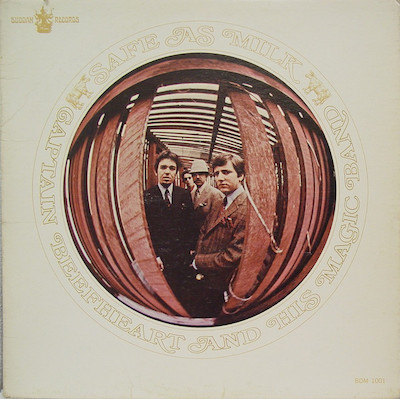 Safe As Milk (1967)
It works out pretty neatly that the first Captain Beefheart album is also the one that makes the most logical sense to hear first, simply because it's the one with the most conventional songwriting, relatively speaking. Don't confuse that for ordinary, however. A testament to Don Van Vliet's ability to channel his weirdest instincts into what are ostensibly pop songs, Safe As Milk captures the spirit of the band at their most left-field but in a more digestible format. It also features some of their best songs: the twisted jangle of "Zig Zag Wanderer," sci-fi psych of "Electricity" and hypnotic Delta-blues stomp of "Abba Zabba." The album also features a young Ry Cooder on guitar, bass and percussion throughout the album, though it's considerably weirder than the roots rock and Americana that would characterize his own albums later on. For Beefheart, however, it's only a dip into his most intoxicated waters, a ragged set of two- and three-minute stompers that can easily hook a listener before they understand what they've gotten themselves into.
Listen/Buy: Spotify | Amazon (vinyl)
---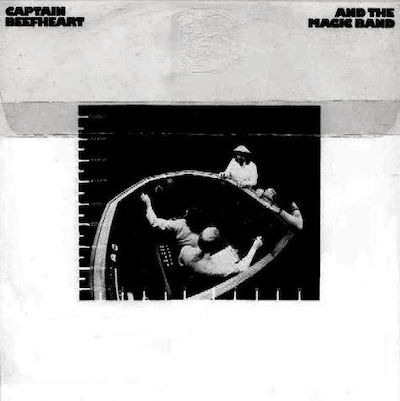 Clear Spot (1972)
Strange as it might seem in the context of the overall body of work—a great deal of which flies in the face of any idea of what's commercial—Captain Beefheart did in fact create at least one album in an effort to regain some momentum in the mainstream arena. Clear Spot is that album, a characteristically surreal but nonetheless accessible set of dirty rock 'n' roll that carries only hints of Don Van Vliet's most avant garde material. Working with producer Ted Templeman, who'd produced hit records for Van Morrison and the Doobie Brothers, Captain Beefheart gets back to boogie on Clear Spot, kicking up a scruffy shuffle on "Nowadays a Woman's Gotta Hit a Man," infusing a soulful groove with big flashes of horns on "Too Much Time" and a hypnotic rewriting of the blues on the standout "Her Eyes Are A Blue Million Miles." The album did just barely chart, cracking the top 200, which perhaps means the effort was at least partially successful. But even if an album featuring a song like "Big Eyed Beans from Venus" didn't make Beefheart a household name, it nonetheless stands as one of his greatest, most melodic works.
Listen/Buy: Spotify | Amazon (vinyl)
---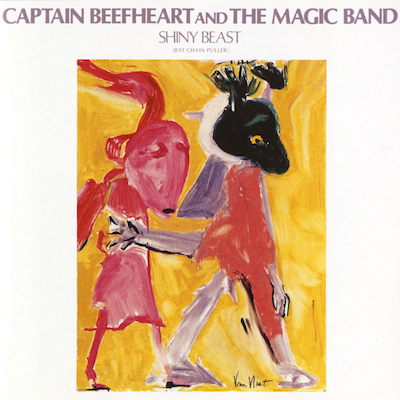 Shiny Beast (Bat Chain Puller) (1978)
After pursuing a more commercially friendly direction with Clear Spot, Captain Beefheart and His Magic Band signed with Mercury Records, releasing two albums of smoother, decidedly less challenging material. The result, ironically, was two of Beefheart's most poorly received albums—which didn't sell particularly well either. The Magic Band ended up quitting en masse after 1974's Unconditionally Guaranteed, but Van Vliet assembled two entirely different lineups of the band on his next two albums, the second of which reignited a blazing inferno that had been flickering in the wind for six years. Shiny Beast was a hell of a comeback for Beefheart, which arrived only after a prior version of the album got shelved due to a three-way royalty dispute between Beefheart, DiscReet Records' Herb Cohen and Frank Zappa. So Beefheart and His Magic Band re-recorded several of its tracks along with a batch of new ones for a blazing new set of avant-blues bashers. Kicking off with "The Floppy Boot Stomp," one of the most climactic and simply kick-ass songs in Beefheart's catalog, Shiny Beast (Bat Chain Puller) is off to the races. The group delves into jazzy calypso-rock on "Tropical Hot Dog Fight," a primitivist stomp on the title track, and burlesque voodoo in "When I See Mommy I Feel Like a Mummy." More than simply a return to form, it's a resurrection of Captain Beefheart's most wildly creative instincts. Despite the reputation of Trout Mask Replica as an avant garde masterpiece, more than a few fans have hailed this one as the best in his catalog.
Listen: Spotify
---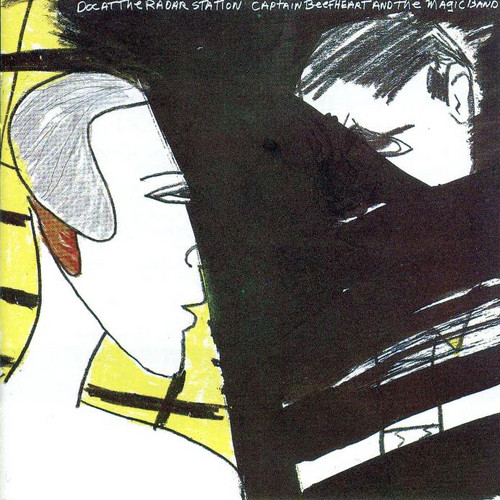 Doc at the Radar Station (1980)
The penultimate album that Don Van Vliet released as Captain Beefheart before ultimately retiring to focus on visual art, Doc at the Radar Station emerged in a vastly different era than the psychedelic '60s in which the Magic Band first made their introduction. Finding a new audience among listeners of post-punk and new wave, Captain Beefheart likewise became more visible in the process, making appearances on Saturday Night Live and David Letterman's late-night talk show. More rowdy and raucous than Safe As Milk but considerably more approachable than Trout Mask Replica, Doc at the Radar Station is coarse and primal, still steeped in dirty, junkyard blues but showcasing glimpses of power-chord-driven garage rock ("Sue Egypt"), more conventionally beautiful instrumentals ("A Carrot Is As Close to a Diamond As A Rabbit Gets") along with more immediate barnburners like leadoff track "Hot Head" and the manic skronk of "Dirty Blue Gene." Van Vliet's voice is at its most howlingly feral, which makes Doc at the Radar Station perhaps one of the most direct antecedents to Tom Waits' records released in the '80s and '90s (and afterward, for that matter). It's also a natural evolution of a countercultural iconoclast entering the new wave era.
Listen/Buy: Spotify | Amazon (vinyl)
---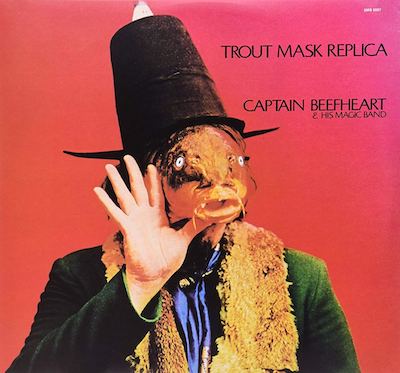 Trout Mask Replica (1969)
I realize I'm contradicting myself a little. But not to an exaggerated degree; you still shouldn't start your journey into Captain Beefheart with Trout Mask Replica, unless you're ready and willing to be immersed in one of the most disorienting listening experiences you'll ever have. It's a bizarre paradox of an album; musicians seem to be playing almost randomly, when in fact everything is meticulously rehearsed. Different musicians play at varying time signatures but still end up meeting at various points in the middle, finding symmetry in spite of the staggered nature of the compositions. At least that's true of much of the album, the Magic Band's longest at nearly 80 minutes and featuring 28 songs. But much like the compositions, which move in and out of synchronicity like a squeezebox, so does the album itself, juxtaposing some of its most accessible moments alongside some of its strangest. Amid the free-jazz-like tangle of instrumental antagonism are more melodic moments like "Sugar 'n' Spikes," "Moonlight in Vermont," and the lo-fi, stripped-down blues of "China Pig." It's a masterpiece of inscrutability, the kind of album you can spend the rest of your life listening to and never hear the same way twice. But while it's not necessarily the first Captain Beefheart album you should pick up (and I need to reiterate, there is no better place to start than Safe As Milk which isn't a controversial position by any measure), a must-listen is a must-listen—this is where all those wild and strange creative impulses lead.
Listen/Buy: YouTube | Amazon (vinyl)
---
Next Steps: Once you've conquered Trout Mask Replica, nothing is really insurmountable in the Captain Beefheart catalog, though his two Mercury releases—Unconditionally Guaranteed and Moonbeams and Bluejeans—will probably seem fairly unsatisfying by comparison. The next logical step is Lick My Decals Off, Baby, which features some similarly knotty workouts as those on TMR but more concise, a little more accessible and digestible. Then, dive into one of the highlights of the Frank Zappa catalog, Hot Rats, which features Van Vliet barking his way through the sleazy blues-rock highlight "Willie the Pimp."
---
Advanced Listening: One of the best and weirdest releases in the Beefheart-ography is Mirror Man, an avant-garde stunner that takes the spark of inspiration from some of his most outré material and stretches it out into four side-long avant-blues jams. It's a little like if Can's grooves were spiked with trout-mask toxins—a record that might test the patience of a newcomer, but manna for the converted. Then, naturally, hear the album that closed his legacy, Ice Cream for Crow, which features a dual-guitar boogie from Gary Lucas and Jeff Morris Tepper and some expectedly inscrutable poetry from Van Vliet himself.
---
Treble is supported by its patrons. Become a member of our Patreon, get access to subscriber benefits, and help an independent media outlet continue delivering articles like these.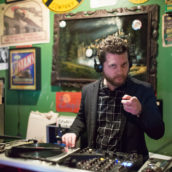 Jeff Terich
Jeff Terich is the founder and editor of Treble. He's been writing about music for 20 years and has been published at American Songwriter, Bandcamp Daily, Reverb, Spin, Stereogum, uDiscoverMusic, VinylMePlease and some others that he's forgetting right now. He's still not tired of it.