10 Essential Psychedelic Soul Albums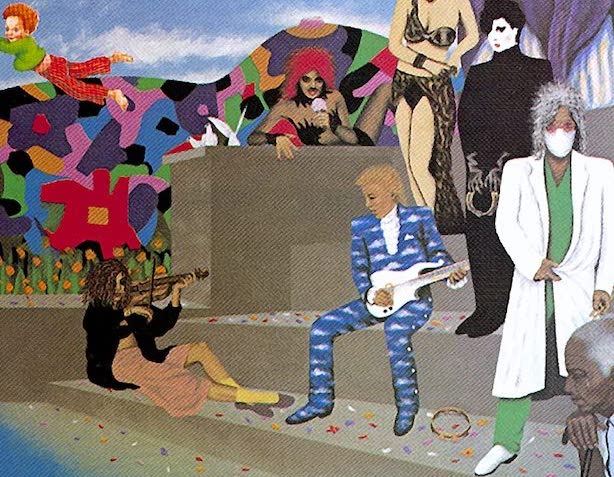 The first great album of 2015 was really the last great album of 2014 — D'Angelo's Black Messiah. And while it felt like a major event at the time, considering it was the first new music from an artist who had been quiet for more than a decade, it represented something even bigger: A return to the heady sound of psychedelic soul. Now, psychedelic soul never really went anywhere, it's just that it hasn't had the same influence that it once did (and some poorly executed updates like Common's Electric Circus didn't really help that). But 2015 has been flush with trippy, multi-layered soul sounds, be it on an abstract indie release like THEESatisfaction's EarthEE, or a blockbuster like Kendrick Lamar's To Pimp a Butterfly. That inspired us to look back at some of the best albums to swirl rhythm & blues and psychedelic pop and rock into one funky paisley pattern. Here's our list of 10 essential psychedelic soul albums.
---
Sly and the Family Stone – Stand!
Stand! might not be Sly & The Family Stone's best record—that honor goes to 1971's There's a Riot Going On—but it was absolutely the last great entry in their career as psychedelic soul pioneers before moving on to greener (and funkier) pastures. Stand! is a funkier Sgt. Pepper's, loaded with thrice the groove and four times the attitude. From the explosive opening title track onward, the LP is noticeably light on verses, saying all it needs to with a combination of powerful choruses and breathtaking instrumentals. And, for all its bizarre experimentation, Stand! still managed to crank out a hit single in the form of "Everyday People" (only to follow up that track with the 13 minute psych-funk opus "Sex Machine"). Stand! is the perfectly odd sort of record that keeps on giving and continues to inspire musicians in and out of its genre(s) 40-plus years down the road. – ATB
---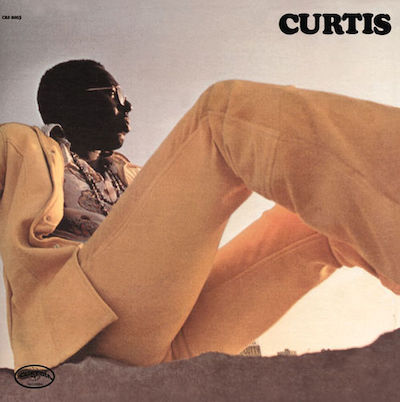 Curtis Mayfield – Curtis
The ominous bassline, congas, Curtis Mayfield's echoing voice-of-God soliloquy and eventual scream in opener "(Don't Worry) If There's a Hell Below, We're All Gonna Go" make it pretty clear up front that Curtis, his first post-Impressions album, isn't cut from the same cloth as the more accessible Chicago soul of his previous group. Though, to be fair, Mayfield had been hinting at this more cinematic, politically driven sound with releases like 1969's The Young Mods' Forgotten Story. Curtis isn't afraid to test the boundaries of his work, be it on either the more abrasive side or the one with more layered orchestration, resulting in material that ranges from his angriest ("Hell Below") to his most dense and colorful ("Move on Up"), to songs that are darker and more subtle in their skewed sonic approach ("The Other Side of Town"). Mayfield's 1972 album Superfly was arguably even more psychedelic than this, despite the anti-drug message, but here's where Mayfield found his freaky inspiration — and thus launched a streak of some of the best albums of his career. – JT
---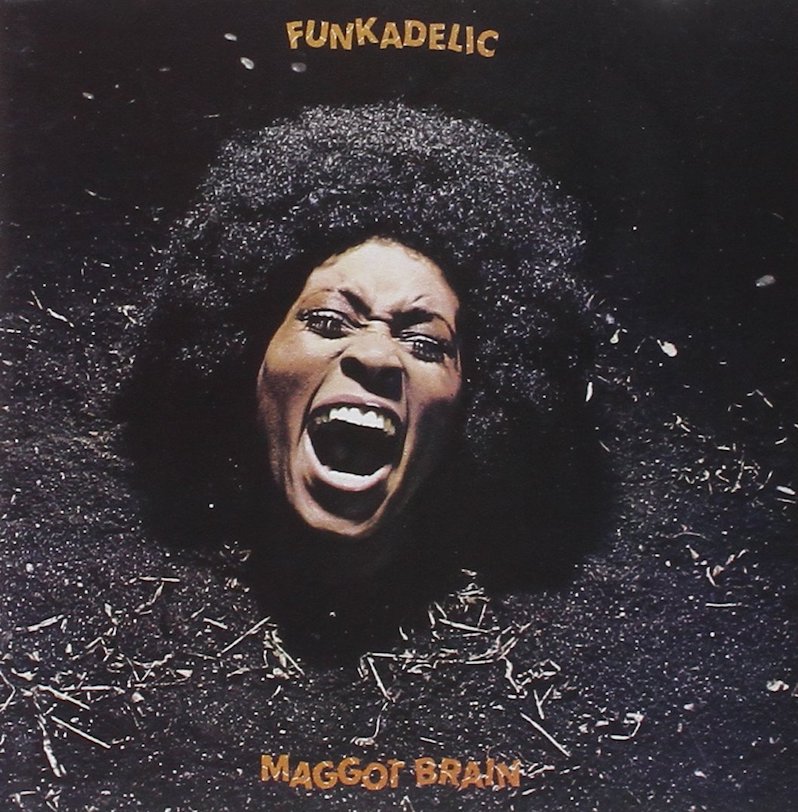 Funkadelic – Maggot Brain
It's hard to get more psychedelic, soulful or, well, funkadelic, than Maggot Brain. From the moment George Clinton's spoken word gives way to Eddie Hazel's iconic opening guitar solo, the listener is lifted from this Earth and transported to an entirely different one. From there, we encounter radiant variations on rock ("Can You Get To That"), soul ("You and Your Folks, Me and My Folks"), and everywhere in between. But it doesn't get much better than the groove-heavy breakdown of "Hit It & Quit It" or the Hendrix-like fire of "Super Stupid." Maggot Brain is an odd acid-trip of a ride and a true stand out from the Parliament Funkadelic catalog, as well as the genre as a whole. And that's saying something. – ATB
---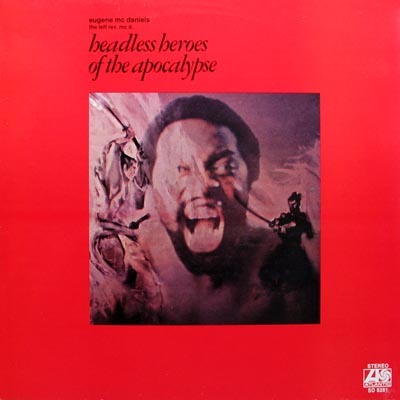 Eugene McDaniels – Headless Heroes of the Apocalypse
As a buttoned-down pop-soul singer in the early '60s, Gene McDaniels had some minor Top 40 hits written by others that mirrored the Brill Building's most syrupy instincts. (Really: For a dose of A-class, sugary chauvinism, check out "A Hundred Pounds of Clay.") Mid-decade, though, from nowhere McDaniels wrote the soul-jazz standard "Compared to What," a merciless recital of societal flaws whose ire counteracted the self-indulgent factions of '60s hippiehood. His transformation climaxed with this taut jazz-fusion album, with players who worked with Weather Report, Horace Silver, Buddy Rich and Roy Ayers' Ubiquity. Headless Heroes was so incendiary that Vice President Spiro Agnew allegedly tried to have it banned. McDaniels' indignation boasts a bristling cynicism that's both cutting and, in a way, refreshing. "Headless Heroes" resigned all of human civilization as mere "cannon fodder" ripe for exploitation, and "Freedom Death Dance" called out membership-card liberalism that couldn't funnel emotions into change. "The Parasite (for Buffy)" retells the Plymouth Rock landing, McDaniels uncovering one of the first pop revisions of the Pilgrim mythology ("In came the religion, the liquor and the guns") before resolving in a minute of primal-scream defeat. Some bits don't entirely work – "Jagger the Dagger" unfairly censures the Stones for Altamont, and the story of Main Street racism gets a little lost in the comic oddness of "Supermarket Blues." But McDaniels' awkward-by-half voice is a strangely resonant instrument of fury, and the tight, gut-check rhythms of guitarist Richie Resnikoff and drummer Alphonse Mouzon maintain insane perseverance. – PP
---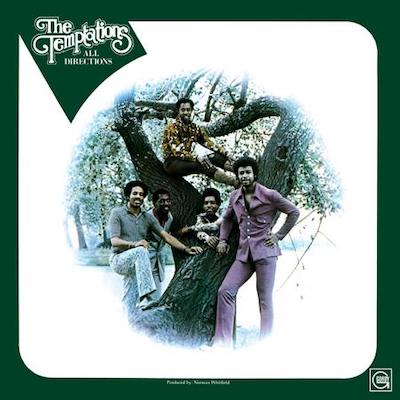 The Temptations – All Directions
"Papa Was a Rollin' Stone" is a good song. If I say that here, out loud, and get it out of the way early, it can make for a good discussion of the rest of the album. "Papa" is a good song, bordering on great, but definitely one of the best songs of all time that's more than 10-minutes long. Now. It also bears mentioning that "Run Charlie Run," a track that Otis Williams didn't even want to record, is The Temptations keeping pace with the funky, socially conscious efforts of the other Gordy/Motown artists that they were directly competing with. Sure, the album takes some knocks because of all the cover material. But can you really knock a band for covering songs in such a way? With the absolute mastering of "Funky Music Sho Nuff Turns Me On" and "Love Woke Me Up This Morning"? This isn't a psychedelic affair in the same way that, say, The Piper at the Gates of Dawn is. But when it comes to psychedelic soul, this album is a much sharper, cleaner version of some of the trippy production techniques of the genre's early days, when it was stumbling over itself and trying to find a healthy middle ground between soul music and the psychedelic elements permeating every other corner of the music world. This album acts as a healthy bridge to funk, with Norman Whitfield driving the bus expertly, as he always did. Admittedly, the first side of this record is better than the second side. But, to be fair, the first side of this record is better than a lot of whole entire albums. – HA
---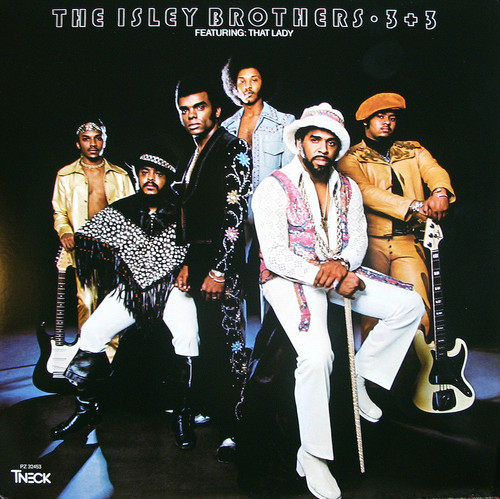 The Isley Brothers – 3+3
The most versatile band in R&B history hit their prime in the '70s, and 3 + 3 was their leanest, tightest album of the decade. Whether it's "psychedelic" depends on your definition of the term, although I once read in Life magazine that analyzing psychedelia defeats it purpose. More than anything 3 + 3 was as solid a union between soul, funk and pop as one could get in the flared trousers era. "That Lady," a reconstitution of a far squarer Isley's song from 1960, remains one of their signature hits, and the Isleys' peculiar ability to convert the tamest granola of the time into something legit is on display with their versions of the Doobie Brothers' "Listen to the Music" and Seals & Crofts' "Summer Breeze." (That last one's just a goddamn miracle.) Originals like "If You Were There" and "You Walk This Way" meld the Isleys' rumbling soul with the pop sensibilities of Carole King and Todd Rundgren. The most psychedelic thing on the album, in fact, is Ernie Isley's transfixed, winding and flanging guitar soloing on "That Lady" and "Summer Breeze." Or maybe it's the Ronald Isley in search mode on "The Highways of My Life" while Chris Jasper urges him on with an ARP synth. Make your own choices, man. – PP
---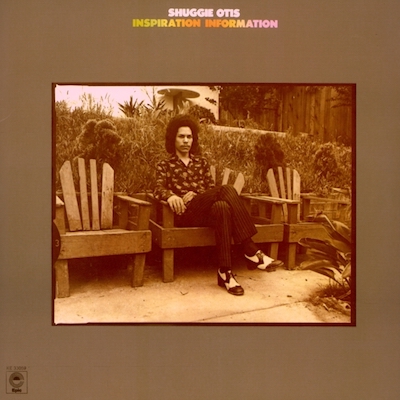 Shuggie Otis – Inspiration Information
Los Angeles singer and guitarist Shuggie Otis got an early start in R&B, having released his debut album Here Comes Shuggie Otis at the tender age of 17 (and this after a brief stint in novelty porno-funk band Snatch and the Poontangs). So while it took him a good four years to release his psychedelic funk masterpiece Inspiration Information, he was still only 21. Not many of us can claim that kind of accomplishment — even some of the greats didn't hit their stride until well into adulthood. And Otis' is the kind that nobody else could have written, regardless of age. Its highs are rainbow paisley bursts of vibrant rock and soul, like the anthemic title track, the swirling daydream of "Island Letter," and the hazy "Aht Uh Mi Hed." And the lows? Well, there are no lows. The second side is mostly instrumental, but it serves as its own cinematic companion piece to the standouts on side one. It's a strong, cohesive whole with complementary sides, which makes it ideal for vinyl listening. Not that format really matters — it's a vivid and colorful journey however you choose to take it. – JT
---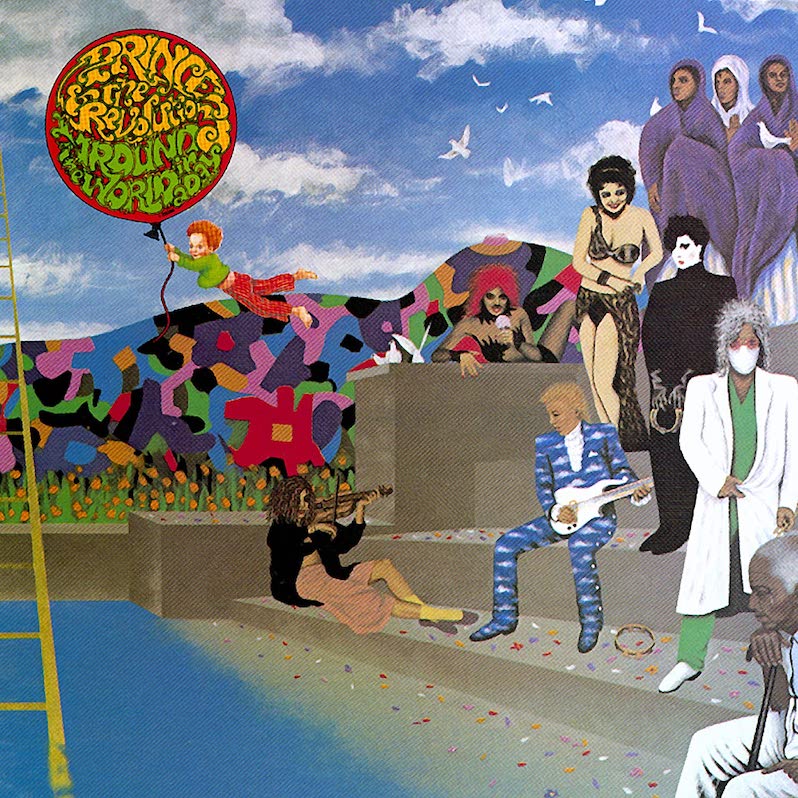 Prince – Around the World in a Day
Psychedelia's always been an integral part of the swirl of sounds in any of Prince's eclectic and thrilling albums, but it became the focal point on 1985's Around the World in a Day. Marked by its painted Sgt. Pepper's homage collage artwork and swirling elements of various other sounds stretching well beyond Western pop, Around the World in a Day more or lives up to its title's promise, offering Prince's own take on a magical mystery tour, from the swirling synth-raga of the title track to the trippy return home on "America." But he still finds time to offer a few moments of pure pop, including "Pop Life," one of the best standalone songs he ever wrote. – JT
---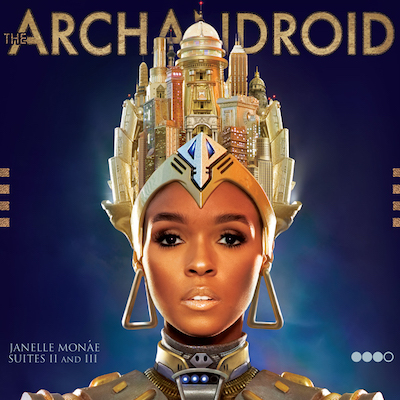 Janelle Monae – The ArchAndroid
From underground artists like THEESatisfaction and Shabazz Palaces to mainstream tributes by the likes of Kendrick Lamar and D'Angelo, psychedelic soul is back in a big way. But no millennial artist had quite the jump on that trend that Atlanta's Janelle Monáe did. Combining Prince-inspired psychedelic R&B with modern influences pulled from hip-hop to indie rock, Monae holds together her eclectic sound with the power of her genre-transcending alto. On debut full-length The ArchAndroid, she was at her oddest, pairing funky singles like "Tightrope" and "Dance or Die" with stunning ballads ("Cold War," "Oh Maker"), bizarre soundscapes ("Neon Gumbo") and even a Joplin-esque rocker in the form of "Come Alive." But Monáe doesn't just pull off these various styles: She blends and weaves them together to form a trippy sci-fi tale about a messianic android named Cindi Mayweather. Sound awesome? Just wait til you hear it. – ATB
---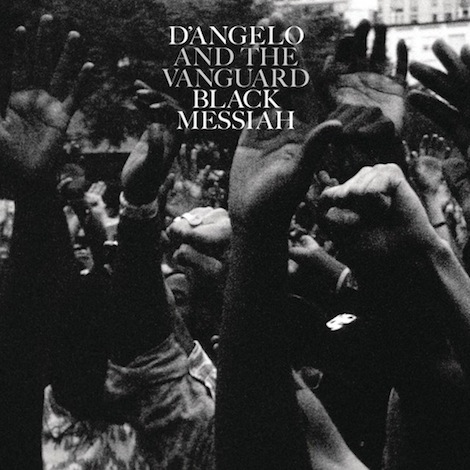 D'Angelo and the Vanguard – Black Messiah
D'Angelo waited nearly 15 years to deliver the follow-up to his landmark 2000 album Voodoo, and in that time, he funneled untold amounts of acid into his smoky soul. Every bit the masterpiece that its predecessor was, Black Messiah explores a wide range of places that Voodoo didn't. In the opening seconds of "Ain't That Easy" alone, D'Angelo and his band, The Vanguard, strut right into a louder, deeper, nastier funk than ever before, which gets even heavier and sweatier on "1,000 Deaths." Black Messiah recalls the likes of Sly and the Family Stone in both its heavier political themes and its ongoing LSD-swirl grooves. This album is both a product of the other albums on this list — particularly Prince and Sly — but it's also the next major step in a legacy that sort of went quiet for a while. And by that I mean both D'Angelo and psychedelic soul itself. The last time we heard a major R&B album that took a dive this deep into the waters of psychedelia was, well, probably the last time D'Angelo released an album. – JT
---
Support our Site—Subscribe to Our Patreon: Become one of our monthly patrons and help support an independent media resource while gaining access to exclusive content, shirts, playlists, mixtapes and more.