Blackalicious : The Craft
Until recently, it had gotten nearly impossible to get through an entire hip-hop album. When a record's flow isn't interrupted by skits, interludes, intros or outros, it's been brought down with simply bad tracks. More than simply being chock full of filler, a lot of hip-hop albums simply have too many songs. In certain cases, you really can get too much of a good thing, especially when what, at first, seems generous can actually be downright annoying. Both Mos Def and Talib Kweli delivered lackluster efforts that could have benefited from some trimming last year. But it seems that things are turning around. Artists like Common and relative newcomer Edan are returning hip-hop to the realm of cohesive album craft. It's about damn time.
For Blackalicious, however, this is nothing new. Since their full-length debut, Nia, the Northern California duo of Gift of Gab and Chief Xcel have been turning the hip-hop album into a form of high art. Sonically expansive sampling combined with thought-provoking and often introspective lyrics and the occasional live instrumentation made Nia and Blazing Arrow more than mere collections of singles (which the mainstream's biggest players are often guilty of). On The Craft, the duo's third album, they maintain their reputation as one of the most consistent underground hip-hop acts today.
By some standards, Blackalicious may not be underground. After all, they were once on a major label and did land a minor hit with "Make You Feel That Way." But seeking the hit has never been Blackalicious' goal. Hooks abound, though the majority of these tracks seem more appropriate in line with the tracks that surround them than isolated as a single. Opener "World of Vibrations" may begin fast and lively enough, Gab declaring he's got "Emcees on my dinner menu." But the last two minutes diverges into a psychedelic funk segue, which bleeds into the gigantic slam of "Supreme People." Here, Gab focuses on the perils of paper chasing and the weight of material possessions:
Trapped like rats in mazes for the cheese
All the natural resources are here
So we don't really need money
But certain people need power over other people
So they act like that because they crap inside their ego-sphere
"Rhythm Sticks" follows with a simplistic groove and a fluid rhyme on the part of Gab, as the following track, "Powers," changes up the approach with some crossover pop a la "Hey Ya." Though there are a variety of sounds in these first four tracks alone, there also seems to be a continuous flow that has led many to dub them "progressive." Not that they're the Pink Floyd of hip-hop, mind you, but that they merely "progress" beyond the boundaries of the genre. When they indulge in inviting guests along, it usually works, like on "Lotus Flower," which features a vocal by funk legend George Clinton. Though his contribution is only one aspect of the song, Xcel's arrangement actually musically pays homage to Parliament's heyday.
One thing that Blackalicious probably won't ever shake is the "conscious" hip-hop tag that often follows them. And their socially-reflective lyrics haven't gone the way of mindless party music, here. For a prime example, look to "The Fall and Rise of Elliot Brown," an updated "Living For the City" for a modern hip-hop crowd, backed by a strangely apt lite-jazz piano break. Gab spits some true Aesop rock here, divulging the tale of a ghetto youth who turns his life around after going to prison, hence the "fall" before the "rise." In a time when Public Enemy is inking corporate distribution deals with Best Buy, it's refreshing to hear that hip-hop can still mean something.
It's hard to say whether or not The Craft will win Blackalicious any more fans, as they haven't tried anything sweepingly divergent from their prior path. They did manage to piss of some Rancid fans on the Epitaph website, however, which only makes me appreciate their presence on the label that much more. The Craft is a noble effort at creating a perfect hip-hop record. Time will tell whether or not it is, but after at least a dozen spins or so, it's at the very least one of the best hip-hop records of 2005.
Similar Albums:
Lyrics Born – Later That Day
Common – Be
Dilated People – The Platform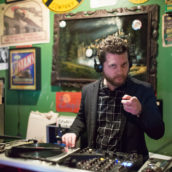 Jeff Terich
Jeff Terich is the founder and editor of Treble. He's been writing about music for 20 years and has been published at American Songwriter, Bandcamp Daily, Reverb, Spin, Stereogum, uDiscoverMusic, VinylMePlease and some others that he's forgetting right now. He's still not tired of it.