Interview : Blackalicious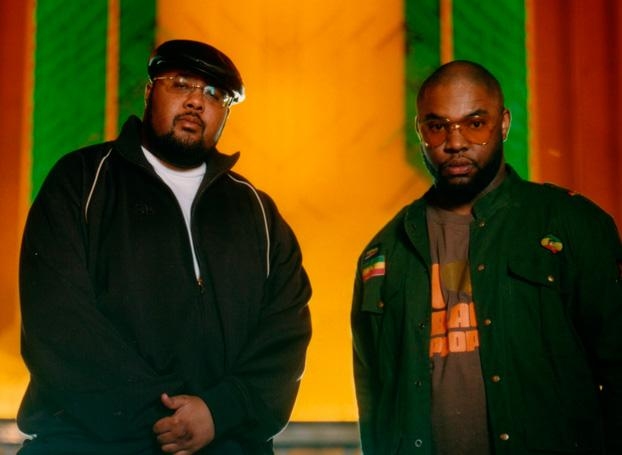 Eric B. and Rakim, Guru and DJ Premier of gang Starr, and KRS One and Scott LaRock of Boogie Down Productions—These are among the greatest MC/DJ duos in all of hip hop. Yet, today it seems that everybody has an extended crew or "Unit" that finds the hip-hop duo dynamic lost to a garbled mess of materialism and labeling. But if you look beyond all of that and keep abreast of underground hip-hop, you are most assuredly aware of Blackalicious, the duo of Gift of Gab (the only rapper aside from Ol' Dirty Bastard who can live up to his hyperbolic name) and DJ/producer Chief Xcel.
Gab and X met while in a high school home economics class in 1987 in Sacramento, CA, but it wasn't until '88 that Blackalicious was officially formed. Gab had another DJ at the time who left to pursue R&B music. As Gab recalls, "By this time I had known X, so I gave him a call and was like: `Yo, I need a DJ.'"
From that point Chief Xcel started out as just the DJ for Blackalicious, scratching over all of the group's tracks. In 87 they had a third member, a producer by the name of Maestro K.
"What basically ended up happening was that Maestro K's mother was a devout Jehovah's Witness and she didn't want her son making secular music. So he had to stop," says Xcel.
Blackalicious had been primarily playing in talent shows for a while, but it wasn't until 1990 came around that Chief Xcel started what he recalls was "diving deep into the world of sampling." Xcel claims that the biggest influences on him at the time were Brand Nubian's One for All and Main Source's Breaking Atoms.
As the early '90s dawned, so did Solesides, the legendary underground hip hop collective featuring, along with Gab and X, such underground luminaries as DJ Shadow and Latryx, among others that were dedicated to putting out singles. Between the years of 1996 and1997, Solesides had turned into the Quannum label.
"We basically did everything we wanted to do with Solesides," says Gab. "With Quannum, the vision just expanded and got bigger."
In 2000, Blackalicious's Nia was released to much critical acclaim, as it marked the moment where Blackalicous made their first big splash in the world of hip hop. It was recorded in what Gab describes as a "three year journey"
"We did like forty or fifty songs in the process and just narrowed it down to the best fifteen," Gab says. "It was a really intense process."
Two years later, another classic album, Blazing Arrow was born. At this point, the duo had made an even bigger name for themselves, and it was even rumored and published that of all people, Harrison Ford was a fan of Blackalicious.
"I remember my dad calling me and telling me about that" says Xcel.
They have since made a name for themselves all over the world touring throughout Europe, Asia, Africa, and Australia to great receptions. Gab tells Treble "I think that music is one of the most universal things and that if you put out a certain energy, a human soul is going to react, no matter where you are.
Now, in 2005 the duo is still going strong with the release of their third effort, The Craft. This time around, Chief Xcel's beats are still top notch as Gab's words and lyrical deliverance can utterly amaze the listener.
Case in point: the track "Supreme People," a song with a wicked production, including one of Gab's best verses in "don't nobody wanna get promoted up to fry cook like little Calvin did."
At first, it may seem that "Supreme People" revolves around the idea of living amongst the economic hardships in the era of George W. Bush, but when inquired, Gab about that track he really broke it down.
"Really the song is about people who aren't taught to cultivate their spirit," Gab says. "In school we're taught to get money. We're taught to be a lawyer, a doctor, even if it's not something that you want to do or something that you aren't passionate about, but only because they make the most money."
The Blackalicious isn't merely complete with the action of sliding one of their CDs into a stereo. Their live performances are one of the few situations these days where you actually get your money's worth. Upon seeing them at the Trocadero in Philadelphia this past September, it was apparent that the connection between them and the crowd is like nothing that you have ever seen. It cannot be so much explained as it must be experienced. Gab still blows minds away when he breaks out the "Alphabet Aerobics."
While trends in hip-hop seem to come and go, Blackalicious prove that the classic duo of emcee and DJ is a winning combo, and one that can outlast many of their contemporaries. Blackalicous indeed has staying power, and they show no signs of slowing down.
"Being involved in Quannum is just like being in the universe of creativity," Xcel says. "And we gonna keep doing what we doing."