Broken Bells : After the Disco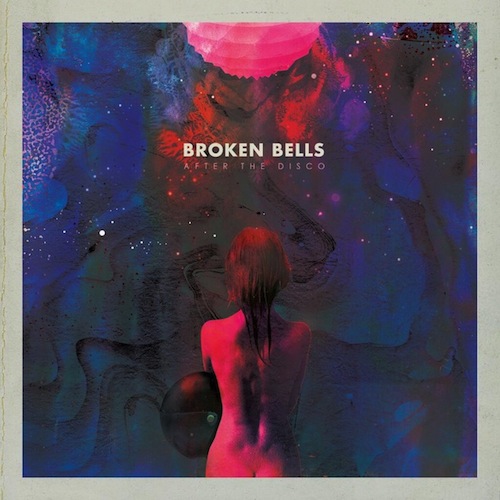 Buy at iTunes | Buy at Insound (vinyl)
Brian Burton, a.k.a. Danger Mouse, first drew attention for recasting The Beatles as Jay Z's backing band in his mash-up record The Grey Album. In doing so, he took tracks off one of rock n roll's most sonically experimental albums and re-adapted them for a more popular and modern format. That tone would grow to define Burton's large body of work; be it with Gnarls Barkley, Danger Doom, or or a plethora of notable production (Gorillaz, the Black Keys, Norah Jones, et al.), he's always displayed a knack for taking an experimental rock aesthetic and working it into a mixtape friendly format.
With Broken Bells' self-titled debut, Burton teamed up with Shins frontman James Mercer to add a new layer of perky electronics to Mercer's already well established songwriting style. But follow up After The Disco feels more like a production, along the lines of Burton's best work as Danger Mouse. Opener "Perfect World" is an ideal introduction to the sonic wonderland created for this album; employing synths reminiscent of Kraftwerk's "Autobahn" and eventually building to a Bee Gees-esque chorus, it is equal parts driving disco and futuristic techno bliss.
After the Disco also introduces more of a storyline and mystique to follow the enjoyable, yet isolated tracks on Broken Bells, which adds a greater depth to the listening experience overall. There are stand-out moments — the luscious chorus of "Holding on for Life," the moodier "Leave it Alone," the driving build of "Control" — but this album was built in the tradition of great LPs. That is, each track contributes to the greater allure of the album, and it is best experienced from start to end.
If you're familiar with Burton and Mercer's work — either separately or as a duo — nothing on After The Disco will seem extraordinarily new. Still, the two find new ways to mix and match their separate talents, and each song is riveting in its own right. It's a comfortable album: Not that Broken Bells didn't take any risks; they simply met their goal to produce a strangely familiar version of a rock classic. And what's wrong with a bit of cyber-disco ear candy?
Similar Albums:

Gorillaz – Plastic Beach


Gnarls Barkley – The Odd Couple


Broken Bells – Broken Bells