Buddafly Wolf : Hear, My Dear!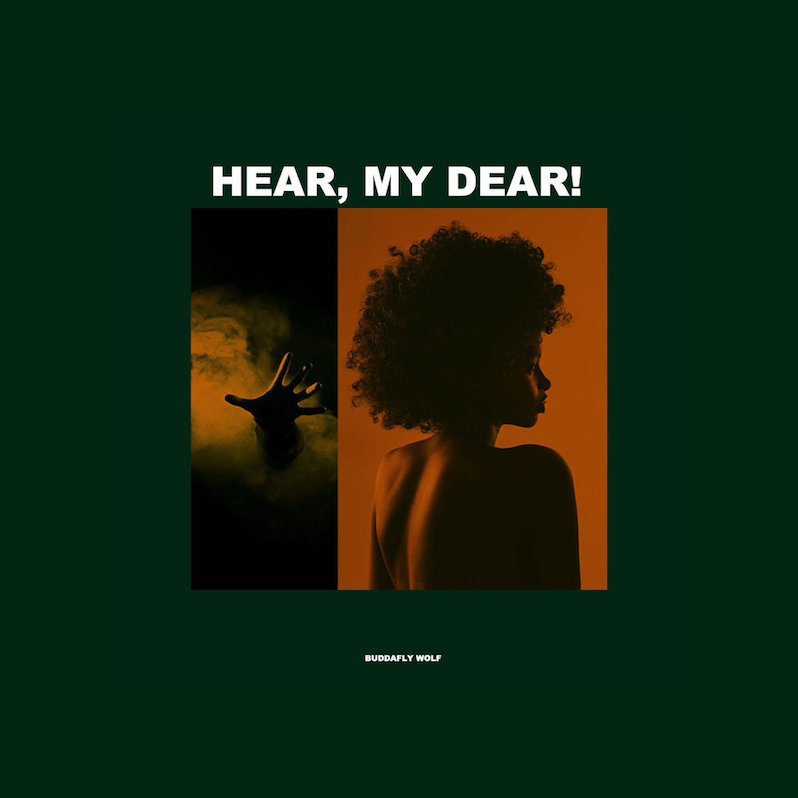 There is a certain high a DJ can attain playing instrumentals, strictly for the reason that it allows the music to do its part, uninterrupted. A great track stays great, most often, without words. Instead, some or most, depending on mileage and or genre, well-produced arrangements get blighted with some "Lil Trappy" Auto-Tune dude. An over-stimulated acrobatic R&B vocalist or rock lead singer whose deviated septum only allows them to communicate in "uhhhh" tones. Instrumentals people, it's the reason Kaytranada will always have a career. Need proof? Listen to the Bubba Instrumentals.
The genre of cinematic soul, otherwise known as psychedelic soul, is a whole universe where drums, bass, guitar, brass, piano, strings sections get the opportunity to work as lead and back-up singers. They insert gravity and the natural elements into a composition. Contemporary musicians in this realm like Adrian Younge, 4 Hero, and even Ghost Funk Orchestra work that mystic brew of psychedelic rock, classical orchestration, and dramatic funk, and soul. The genre Issac Hayes quasi-created by writing and scoring his epic Shaft soundtrack, played by The Bar-Kays, represents that quintessential classic union best.
On the cleverly sculpted Hear, My Dear!, a twist on the renowned Marvin Gaye communique Here, My Dear, producer and musician Christopher Bivins a.k.a. Buddafly Wolf—who's produced for singer-songwriter Kehlani, Bizness Boi, and several up and coming acts—decided to unleash his own nighttime crawl of seduction. A genuine curiosity about music production and making beats in the roots of R&B, world music, synth-wave, funk, and soul-inspired from artists such as Sade, Herbie Hancock, Q-tip, Anita Baker, Stevie Wonder, Michael Jackson is the inspiration that Bivins used to build a catalog of instrumentals on Soundcloud.
Hear, My Dear! is all silk pajamas, pastel shimmering tones, 1,500 thread count Egyptian cotton sheet sets, incense, wine, and candles (thanks Rick James). That seems to be the aesthetic Bivins is reaching for. It's a patient seven-song jaunt, wielding anticipation through inviting string arrangements. On "Sweet/The Escape" we get a brief deviation into heavier traveled rhythmic patterns as if Bivins is saying he can get down after the get-down. Oh, we believe it, with this mellow Dilla-Esque jawn for sure. But anyone searching for a 2020 reworking of a forgotten genre of "tumblings" let's say, needs to unplug, lay down and enjoy this alluring, good looking time.
---
Label: Self Released
Year: 2020
---
Similar Albums:
John-Paul Shiver
John-Paul Shiver has been contributing to Treble since 2018. His work as an experienced music journalist and pop culture commentator has appeared in The Wire, 48 Hills, Resident Advisor, SF Weekly, Bandcamp Daily, PulpLab, AFROPUNK and Drowned In Sound.