Celebrate the Catalog: The Rolling Stones
It's only rock 'n' roll…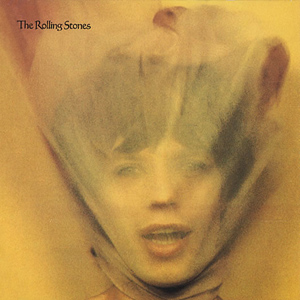 Goat's Head Soup
(1973; Rolling Stones)
Let's be real: Exile on Main St. is a very difficult album to follow; the Stones never received any awards for being very focused individuals and every golden age has to come to an end at some point. By the time Jagger, Richards & Co. gathered in Jamaica to record their 13th release, the band had already excelled above and beyond the title of 'rock legends,' and had only escalated the absurdity of their lavish lifestyles and god-like self images. As a sum of all these parts, Goats Head Soup initially comes off as a pretty anti-climatic stones album. It abandons many of the outlandish components that made Exile such a success, in favor of a more soul-influenced feel, and Jagger's croons are more akin to those of Tom Petty than his own characteristic, animalistic wails.
However, when viewed on its own, there is a lot of redemption to be found in Goats Head Soup, if you give it a fair chance. It's true that the vocals and guitar alike are understated, but that's actually pretty refreshing on a Stones record. And Jagger's serious tone on songs like "Dancing with Mr. D," "Doo Doo Doo Doo Doo (Heartbreaker)" and "Angie" make them worth repeat listens. So, while Goats Head Soup may feel like a misstep, it wasn't an awful direction for the band take, especially when compared to the more self-absorbed efforts that would come in the future. – A.T. Bossenger
Rating: 6.2 out of 10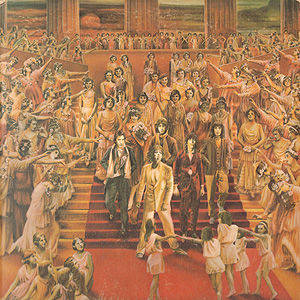 It's Only Rock 'n' Roll
(1974; Rolling Stones)
Leading the Rolling Stones' descent from pioneering rock legends to grandfathers of rock and roll lore, this album is best summed up by the title of its flagship single, " It's Only Rock'n'Roll (But I Like It)." As a collection of songs, there is nothing inherently wrong with these 10 tracks. There's a decent enough flow to the album, and none of the efforts are completely cringe-worthy, but there's an extreme lack of originality or variety on the album. Apart from the funk treatment on "Fingerprint File," there's not a moment on Rock'n'Roll that breaks beyond the more traditional side of the Stones' typical treatment on R&B. Even the slightly more outstanding moments are, at best, watered-down references to the Stones more inspired efforts. Additionally, the change of production over to Jagger/Richards (as a duo titled "The Glimmer Twins") only served to make the record sound less achieved and appear all that much more self-involved.
All-in-all, while not an awful listen, It's Only Rock'N'Roll is disappointing in its unveiling of a new and less exciting era for the band. While the record itself was a slightly watered-down version of the Stones' past efforts, it was also a clue to the approach the band would begin to take to writing, producing and recording.  From here on out, with a few exceptions, we would stop seeing a push toward innovation, and mostly encounter somewhat stale attempts to replicate the success of past releases. – A.T. Bossenger
Rating: 5.0 out of 10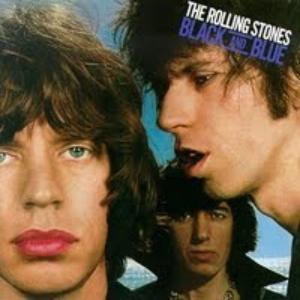 Black and Blue
(1976; Rolling Stones)
The Rolling Stones were caught in something of an extended transitional phase in the mid '70s, and while they occasionally struck gold, there's a sense that the band didn't really have the same spark or direction they did on the impeccable Beggars Banquet to Exile on Main Street streak. Black and Blue is a deeply flawed record, partially because it's missing Mick Taylor, and feels somewhat incomplete as a result. But it's also thoroughly enjoyable, in spite of its flaws. It's a record that emphasizes groove more than anything else, and the sumptuous production quality of the record feels opulently druggy at times, as on the wonderful "Melody" or highlight "Fool to Cry." Unlike some of the other Stones albums that come across as less focused or shambling, like the abysmal Dirty Work, Black and Blue feels fun, if frivolous. It would only take another two years for the band to release another solid classic, however, so there was something cooking, even if it wasn't quite ready to serve just yet. – Jeff Terich
Rating: 7.4 out of 10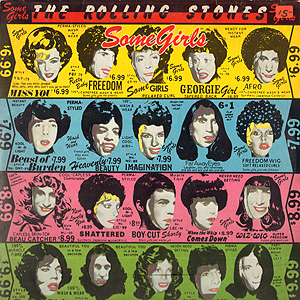 Some Girls
(1978; Rolling Stones)
For how little direction the Stones had in the mid-'70s — which can be credit to either changes in lineup, heavy drug use or a combination thereof — they came out of it sounding remarkably strong, and despite Keith Richards' heroin habit, very much alive. That said, Some Girls might actually benefit from some of the cocaine residue around its edges. Its raw and sleazy, dirty and fucked up. And it should come as no surprise that Mick Jagger drew heavy inspiration from Lou Reed and the Velvet Underground when writing Some Girls. Change the tempo a bit, and you've basically got Transformer. The two records don't necessarily sound all that similar, stylistically, but Jagger takes inspiration from the same bawdy, seedy street culture that Reed does, notably on the raucous and raunchy "When the Whip Comes Down," which follows a yarn about a sadomasochistic gay prostitute. Likewise, the title track has some decidedly un-P.C. statements about women of different ethnicities, though Jagger warned not to take the lyrics too literally. That said, it wasn't exactly the first time he broached the taboo.
All the same, Some Girls contains some of the Rolling Stones' best songs, in particular "Miss You" and "Beast of Burden." The former is a hot and sweaty funk rock number that struts with sexy swagger. And the latter is more of a ballad, but still maintains that swagger, in spite of its more tender sound. Some Girls doesn't quite reach as high as the late '60s/early '70s peaks the band achieved, but it's really damn close. – Jeff Terich
Rating: 9.0 out of 10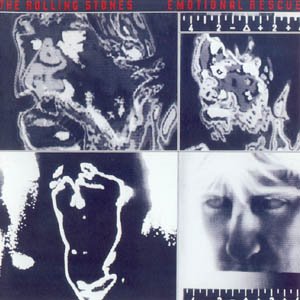 Emotional Rescue
(1980; Rolling Stones)
On Some Girls, the Stones managed to successfully address the advent of punk and dance, staying relevant in the face of new innovations in popular music. For Emotional Rescue, they didn't really change the stylistic formula. This is not necessarily bad in and of itself, but it becomes an issue here because the band is about half as inspired as they were previously. A pervasive tone of carelessness, with the exception of the strangely serious "Indian Girl," is the product of this, exemplified in tongue-in-cheek throwaways like "Send It To Me" and whatever the hell is happening at the end of "Emotional Rescue." For the most part, there's really not a whole lot wrong (per se) with this album from a technical standpoint, but most of the material is seriously hollow. There are a few bright spots — "Dance (pt. 1)" makes for a solid opener; the majority of "Emotional Rescue" is Prince-quality synth-pop; and "She's So Cold" is a nice standout towards the end of the record — but the utter lack of ambition here makes Emotional Rescue unworthy of more than a handful of thorough listens. Take the salvageable tracks and leave the rest.  – Connor Brown
Rating: 6.3 out of 10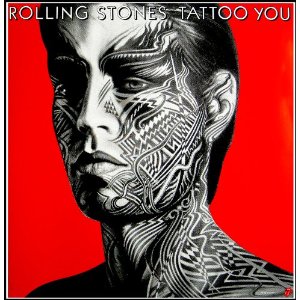 Tattoo You
(1981; Rolling Stones)
While still carrying quite a few of the problems present in most of their career's last half, the Stones managed to bring forth a solid offering of 11 worthwhile tunes in the form of Tattoo You. It's their second effort at an '80s record, and honestly, the success of many of the songs comes from the Stones' willingness to embrace an '80s rock filter over their traditional sound. Certain songs find Jagger adjusting his timbre just a bit to fit in better with the decade ("Hang Fire" practically screams The Boss.) Others are taken to greater heights through the edition of saxophone, a true staple of the time ("Slave," "Neighbours," "Waiting on a Friend.") Still, some songs sound quite a bit like traditional Stones tracks, but benefit from an '80s treatment (particularly in the way the drums are tracked.)  All in all, when compared to other later efforts by the band, Tattoo You hits a little closer to the energy and creativity that the band became known for in the first place. – A.T. Bossenger
Rating: 6.1 out of 10