Celebrate the Catalog: The Rolling Stones
…But I like it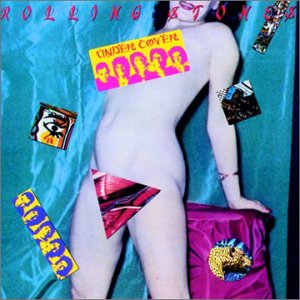 Undercover
(1983; Rolling Stones)
Disco beats, cowbell, sample edits, funk bass — just what in the hell is going on here? In the first track of Undercover, "Undercover (of the Night)", the Rolling Stones finally take their disco fetish as far as it can possibly go, delivering a track that's as much about the production techniques of the early '80s as it is about the music. It's cheesy as hell, a product of the time in which it was created… but it's actually kind of enjoyable. Not great, of course, but at least pretty fun. But the whole of Undercover is patchy at best. "She Was Hot" turns Jagger's horndog chauvinism into self-parody. "Feel On Baby" is more tepid reggae, which Richards apparently just couldn't stop himself from recording. And several of the songs seem like tired re-hashes of what the group had already recorded time and time again over the prior decade. But there are a few bright spots, notably the maximalist explosion of "Too Much Blood," and the darkly grooving "Pretty Beat Up." Even on the Rolling Stones' lesser albums, there are moments of inspiration, if not brilliance, and this is no exception. But it probably would have been better off as an EP. – Jeff Terich
Rating: 5.5 out of 10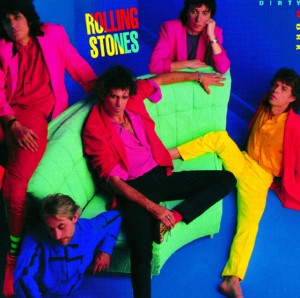 Dirty Work
(1986; Rolling Stones)
Often cited as the worst Rolling Stones album (or at least one of the worst), Dirty Work feels like a mid-'80s museum piece. The record finds Jagger over-emoting through some of the band's most uninspired and cookie-cutter music to date. It feels almost as if he's trying to prove he's still excited about the band, when in fact, he was MIA for the majority of the album's recording. Unfortunately, even the best songs are so mired in glossy, date-stamped production that they feel more like guilty quasi-pleasures than legitimate successes. The album features several guests, ranging from Bobby Womack to Tom Waits, but oddly enough their presence barely registers. And then there's the reggae-infected "Too Rude," which is as bad as you might imagine a Rolling Stones reggae song would be. Ultimately, this album is a true low point for the band and should be visited for historical purposes only. – Chris Karman
Rating: 2.0 out of 10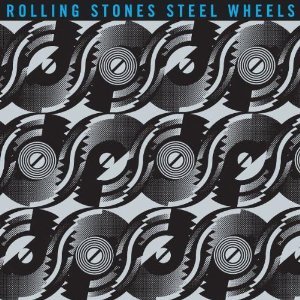 Steel Wheels
(1989; Rolling Stones)
The aftermath of Dirty Work appeared to be that Keith Richards wanted Mick Jagger around more than Jagger wanted Richards. If the success of intervening solo records was to be believed, Jagger needed Richards more than Richards needed Jagger. Three years between releases was an unheard-of span for the Stones, but it was time needed for creative differences and questions of commitment to be resolved for a, gulp, comeback. Mick and Keith beckoned Ronnie, Billy, and Charlie to London and Montserrat in 1989, pouring newfound energy into 53 minutes of mostly bluesy stomping and balladry. Modern production shimmer was minimal but timely: a rotating guitar riff in "Hearts for Sale," The Master Musicians of Jajouka overtaking "Continental Drift," a synth fill here and there. The Steel Wheels album and tour were each monstrous, methodical, massively successful. Upon further inspection, however, the band's quiet crumbling continued unabated. Bill Wyman would leave the band within four years. Rolling Stones albums arrived less and less frequently after this point. And where Steel Wheels delivered three No. 1 rock singles in the U.S. — the one-two punch of "Mixed Emotions" and "Rock and a Hard Place," followed by the swinging "Almost Hear You Sigh" — new Stones music has topped the charts exactly twice, anywhere, in the generation (!) since then. That makes this the last great Rolling Stones album by default.- Adam
Rating: 8.0 out of 10
Voodoo Lounge
(1994; Virgin)
The Rolling Stones didn't have a particularly stellar 1980s in terms of worthwhile output, but one thing they did have was a commercial presence, having remained current enough to keep their video clips alongside younger bands on MTV. Now, they might not have been as cutting edge, but for a band with decades of history to maintain a contemporary presence, no matter how anguished and shambling at times, deserves a certain amount of applause. So it's strange, then, that in 1994, when the band released Voodoo Lounge, that a group of megastar media darlings after 30 years started to seem a little out of place. Chalk it up to age, perhaps, or just transparent marketing techniques, but the giant twenty-somethings stalking a city in the video for "Love Is Strong" just seemed like a forced aesthetic choice. That said, the song isn't half bad, and much of Voodoo Lounge has a classic Stones feel about it. And that goes for any number of different classic Stones styles. Gritty blues rock on "You Got Me Rocking." English folk on "New Faces." Down and dirty grooves on "Brand New Car." But for all that the Stones do right on Voodoo Lounge, it's way too padded for its own good, and a solid third of the album could have been cut out to make a leaner, stronger effort. Even then, it might not be one of the band's best, but it would certainly be solid. At its best, VL is just the Stones being the Stones. In its lesser moments, however, it sounds like the Stones exhausted by being the Stones. – Jeff Terich
Rating: 6.5 out of 10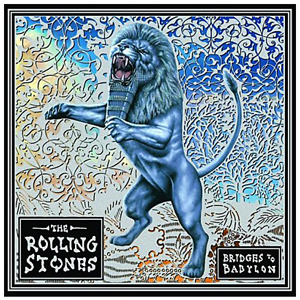 Bridges to Babylon
(1997; Virgin)
In theory, it was an excellent idea for the Stones to bring in the Dust Brothers — fresh off of their acclaimed work on Odelay — to produce their follow up to Voodoo Lounge. Jagger had wanted to do something more contemporary and eclectic on that previous album, but producer Don Was steered him away. Now, he was resolved to bring his band up to date, and who better to help him realize that vision than these hip new names? Of course, praxis doesn't always follow from theory, and spinning this album provides a clear example of that. Bridges to Babylon starts off well enough, with "Flip the Switch" roaring out of the gates, but by the time "Anybody Seen My Baby?" rolls around with its drum loops and rap shout outs to the boroughs of New York (seriously?), you have to ask if they really know what the fuck they're doing. Any way you slice it, the fusion is pretty clumsy, and the end result is a decidedly mediocre album that should probably be a 5 but manages to reach 5.5 through ambition, tight playing, and a few above average cuts — "Flip the Switch," "Low Down," and "How Can I Stop" — at the beginning and end. – Connor Brown
Rating: 5.5 out of 10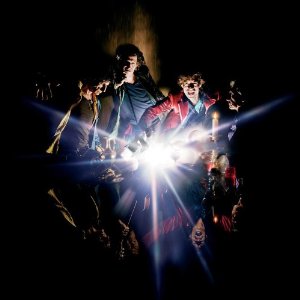 A Bigger Bang
(2005; Virgin)
The Stones took an eight-year hiatus from the studio before recording A Bigger Bang, their last album to-date. And honestly, it shows. The album is most notable for two features: the first being the band's return to a scaled-back approach to production, focusing mostly on vocals, guitar and drums, with bass and piano added in as needed later in the writing process. But just as important was the band's decision to embrace a more modern sound over their R&B roots. However, unlike past efforts that felt a bit like '80s rock, disco, or soul being mashed in with their own  unique sound, this new sound came across seamlessly. Why? Because, this time around, the inspiration came from bands that were, themselves, heavily inspired by the blues-rock of the Stones' earlier efforts. From beginning to end, the raw, garage-blues approach of bands like the White Stripes and the Black Keys is present, laying in quite nicely with Jagger and Richards' own songwriting style.
But seriously, there are some killer moments on this record. The chunky opening riff of "Rough Justice," the almost mock-disco elements of "Rain Fall Down," the slow, chilling ballad of "Laugh, I Nearly Died," the harmonica-driven pulse of "Infamy" — all of these moments clearly recall the originality and rocking attitude that made the world fall in love/hate with the Stones in the first place. Sure, there are missteps (Country-ish ballad "Biggest Mistake" being quite a fitting title, in this writer's opinion,) but overall, this was a return to form as regards writing and performance alike. Given the tendency of the Stones' later albums to slide up and down in quality every decade, I certainly hope the band was heartfelt in their choice of title, intending A Bigger Bang as their last. – A.T. Bossenger
Rating: 7.9 out of 10
---
Support our Site—Subscribe to Our Patreon: Become one of our monthly patrons and help support an independent media resource while gaining access to exclusive content, shirts, playlists, mixtapes and more.