Chelsea Wolfe, HEALTH, Nitzer Ebb on Ceremony 2021 lineup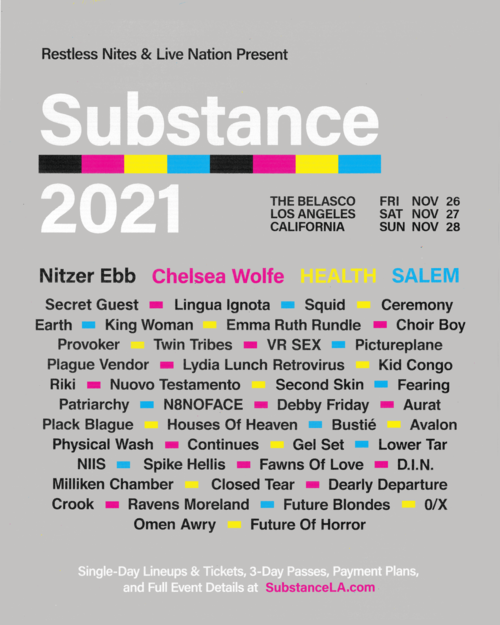 The Substance festival in Los Angeles returns on November 26-28. The festival—which has a focus on post-punk, industrial and darkwave music—has revealed its lineup, including headliners Chelsea Wolfe, HEALTH, SALEM and Nitzer Ebb. Other artists on the Substance 2021 lineup include Emma Ruth Rundle, Squid, Lingua Ignota, Earth, King Woman, Ceremony, Choir Boy, Twin Tribes, Pictureplane, Provoker, Plague Vendor, Lydia Lunch Retrovirus, Kid Congo and the Pink Monkey Birds, Riki, Second Skin, Fawns of Love, Plack Blague, N8NOFACE, Fearing, Patriarchy and more. Take a look at the full lineup on the flyer above or over at the Substance website.
Attendees must provide proof of Covid-19 vaccination for entry. Tickets are on sale now.
Read our Celebrate the Catalog feature on the discography of Nitzer Ebb.