Clap Your Hands Say Yeah : Clap Your Hands Say Yeah
As I begin to gather my thoughts and attempt to put together coherent ideas into a greater whole, I ponder just how amazing Clap Your Hands Say Yeah's debut album is. I don't just mean musically, even though that is true, but culturally as well. This is far from the first review of the album that Treble readers will likely have seen. And chances are it's far from the last either. CYHSY, in just a few short months, have become something of a cultural phenomenon, driving people to Insound to purchase their self-released debut album, which sold out its first pressing in a surprisingly short time. Thanks to some webzines and blogs, the group has made their way into the indie rock lexicon and many a cd player/iPod, all without the aid of a record label. The DIY spirit is alive, and apparently quite effective. If major labels were nervous before, they should be sweating bullets now.
Clap Your Hands Say Yeah's self-titled debut album is one that you will most certainly see referred to as "critically acclaimed." And I'm not about to change that any. Maybe it's because I admire them for creating such a stir with one self-released record, but I can't help but like this band. Of course, the music, itself, is pretty damn wonderful. Like The Arcade Fire before them, CYHSY are a joyful pop explosion, mixing up Talking Heads-like funk-pop with a bit of Athens, GA jangle pop and other various bits `n' pieces of this and that along the way.
Vocalist Alec Ounsworth may take a little getting used to, as his high pitched whine sounds something like a cross between David Byrne and Gordon Gano, two vocalists who, despite having many fans, are idiosyncratic, to say the least. The oddness works to Ounsworth's advantage in leadoff track "Clap Your Hands!" In this song, the band makes an odd carnival atmosphere in one of the most celebratory and effective intro hypes ever. "Let the Cool Goddess Rust Away" makes for a fine follow-up, rising to a more epic height of emotion, while the third track, "Over and Over Again (Lost and Found)," takes it down a little, mirroring Rob Gordon's desert island mixtape perfectly. In this song, Ounsworth's lyrics seem to put forth a feeling of general malaise in today's musical climate, as he sings lines like "I heard it from a friend/the revolution never happened" and "You look like David Bowie/But you've nothing new to show me."
"Details of the War" is the big U2-borrowing ballad, though more curious wordplay is on display here, as Ounsworth rhymes "camel dick" with "crucifix." "Is This Love?" is not actually a cover of the Bob Marley song of the same name, but rather a peppy, rockin' tune that sounds something like a much weirder Walkmen. "Heavy Metal" is a thoroughly irresistible raveup with a gigantic chorus that asks "what ever happened to our heavy metal?" But then, CYHSY takes an entirely different direction with the beautiful, gauzy pop track "In This Home on Ice," which is reminiscent of a more synth-heavy Ride.
The closing track, "Upon This Tidal Wave of Young Blood," is quite possibly the best track on the disc, though I find that it changes daily. It seems to wrap things up perfectly, skipping along with an upbeat melody, but with a bit of restraint and hooks that sound timeless. Upon listening to it, it's easy to think, "where have I heard this before?" But it belongs to CYHSY, as they play the sort of music that jaded listeners desperately need. It's beautiful, catchy and quirky, with the originality to stand out and the accessibility to immediately become a favorite.
As Ounsworth sings in "Over and Over Again," the revolution may have never happened, but it doesn't really matter. It doesn't have to. All we need is a little band to show us something exciting and meaningful when all seems to have gotten stale. I, for one, am sold. I don't know if Clap Your Hands Say Yeah will change the world, and I'm certainly interested to see what comes next. It could all be fleeting, but in the meantime I'm clapping my hands, dammit, and I am saying "YEAH!"
Similar Albums:
Talking Heads – Speaking in Tongues
Modest Mouse – Good News For People Who Love Bad News
Arcade Fire – Funeral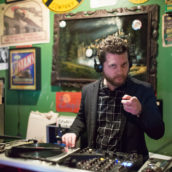 Jeff Terich
Jeff Terich is the founder and editor of Treble. He's been writing about music for 20 years and has been published at American Songwriter, Bandcamp Daily, Reverb, Spin, Stereogum, uDiscoverMusic, VinylMePlease and some others that he's forgetting right now. He's still not tired of it.