Conor Oberst : Upside Down Mountain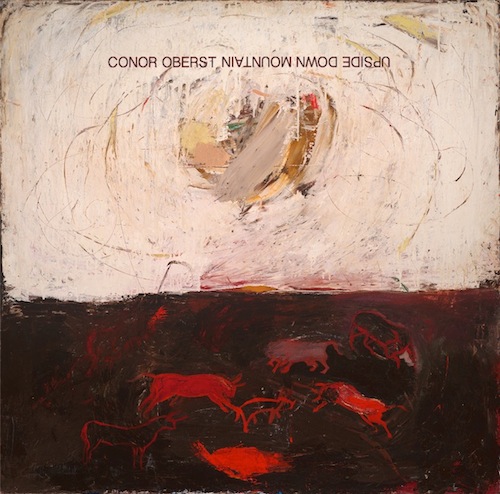 Call him a poet, a songwriter, or both, but with 21 years of writing and recording music under his belt Conor Oberst is a seasoned pro. Upside Down Mountain is a different approach for Oberst musically, with some southern-rock pedal steel and acoustic guitar flurries, but many of these 13 songs can be linked to the Omaha singer/songwriter's previous successes with the strong emotional lyrics of I'm Wide Awake It's Morning, the energy behind Desaparecidos and Mystic Valley Band songs, and the experimental spirit of Monsters of Folk. Oberst has mostly outgrown his voice's vulnerable tremble, sounding more calloused to life but still far from immune to heartache.
Like his recent solo albums, Upside Down Mountain finds Oberst backed with plenty of musical muscle. Swedish sister duo First Aid Kit make their first of five appearances with background vocals on the opener "Time Forgot." Oberst hasn't lost his knack for talented wordplay and its quality basically speaks for itself: "I wanna walk in that howling wind 'til it scatters all my thoughts / Sit all alone on the river bank 'til I forget that I can talk."
"Zigzagging Toward the Light" has an uplifting tempo that bounces the listener up the steep trail, then "Hundreds of Ways" gives that last positive melodic oomph of motivation required to reach the mountain's peak, but unsurprisingly everything turns on its head. Blake Mills, longtime Fiona Apple collaborator, and Oberst make use of a fading pedal steel and light percussion on "Artifact #1" that eventually flips the rain stick with reality pouring down on love lost but never forgotten.
Producer and collaborator Jonathan Wilson brings his Laurel Canyon expertise to a majority of this album. One of the many standouts he contributes to is "Desert Islands Questionnaire" where Oberst toasts "to the ennui of our times" while everyone at the party stares at their phones. Oberst recently told Rolling Stone he was writing a screenplay starring the Monsters of Folk members, which was intended to be about how the Internet is destroying humanity. And even though that project was short-lived, his call for more human interaction is always a welcome one.
Oberst's talent for songwriting really shines through when he disguises sadness with joy. "You Are Your Mother's Child" highlights a couple's son with images from childbirth, his first broken bone, Halloween, little league, all the way to graduation. It's not until the end we learn it's the father's plea to his son to take after his mother: "You're a fine young man and I've got no doubt / That you're gonna do this better / 'Cause you are your mother's child." Not that you need to keep the tissues out the whole time; "Kick" and "Governor's Ball" are fine party playlist fodder.

With little snippets of cryptic insight throughout, Upside Down Mountain is introspective and alluring. Like any good poet, Oberst questions his own mortality with the gorgeous closer, "Common Knowledge." Oberst laments suicide isn't for him, but to "Die young in the dark — that's poetry" is a powerful line. His top-tier lyrical imagery in every song really sets this album apart from his past work. This is a solid record full of sadness, happiness and indifference, everything expected from one of the greatest songwriters of our generation.
 Similar albums:


Beck – Morning Phase


Conor Oberst – Conor Oberst


Bright Eyes – Cassadaga