David Lynch : The Big Dream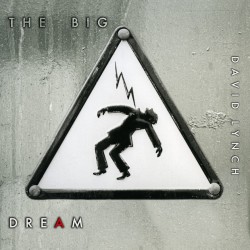 Buy at iTunes | Buy at Insound (vinyl)
If you had to describe David Lynch in one word, how would you do it? Director? Artist? Enigmatic? Surely all good descriptions, but how many would actually say "musician"? Longtime Lynch fans won't be surprised by his musical endeavors; after all, he's been dabbling with music for the better part of his career. He's collaborated with Angelo Badalamenti and John Neff, wrote the entirety of Julee Cruise's Floating Into the Night, and enlisted the help of Trent Reznor to construct the impeccable soundtrack for his film Lost Highway. On top of that, his first official solo album, 2011's Crazy Clown Time, was a sultry electro-blues affair that further cemented his musical legitimacy. Lynch's new album, The Big Dream moves further into the sonic territory explored on his previous effort, without risking too much in the process.
The Big Dream begins where Crazy Clown Time left off, showcasing electronic flourishes swirling around a trance inducing guitar riff, creating an unusual yet pleasing sonic landscape. "Star Dream Girl" brings up the energy, and introduces a twangy country swing that's revisited throughout the album, yet not nearly as effectively. "Sun Can't Be Seen No More" brings some great guitar licks, yet it feels somewhat forced, perhaps due to Lynch's admission in the opening moments that "there sure are a lot of pretty girls in the studio. That sure helps with the mood." It feels like a strange admission to include on the intro of a song, yet, there it is. Of course, it's hard to predict what exactly Lynch is talking/singing about from moment to moment. The Big Dream doesn't necessarily sound like a well-planned out lyrical journey, instead, more like a semi-stream of consciousness rant that teeters between cohesive and crumbling all at once. "Last Call" is again musically pleasing, but Lynch's scattered ramblings about socks, kazoos and missing his baby are just too out there, but it is David Lynch, so eccentricity should be expected.
Although The Big Dream leaves a little to be desired lyrically, musically, the album is enjoyable. Minimal instrumentation and downtempo percussion recall the days of Bristol trip-hop but with a decidedly unique twist. The haunting, bass-heavy "Wishin' Well" is easily the most electronic song on the record while "The Line It Curves" utilizes a fairly straightforward rock based approach complete with blues inspired guitar, percolating bass line and fragile yet powerful chorus. The same can be said for "I'm Waiting Here" which sees Lynch team up with Lykke Li to create an absolutely gorgeous track. It's a strong way to finish a mostly pleasing album, but after hearing Lynch collaborate with Li (much like his work with Karen O on Crazy Clown Time) it makes you wonder why Lynch continues to handle the vocal duties, especially when the results of these partnerships are so transfixing.
David Lynch's creative output has always been polarizing, to say the least, and The Big Dream will not be an exception. Musically, there are numerous elements that make it a fun and adventurous listen, but lyrically, it's definitely hit or miss, especially when juxtaposing Lynch's vocal performances with those of his collaborators. In spite of that, The Big Dream is a captivating listen and an intimate glimpse of the soundtrack that plays in David Lynch's imagination.
Similar Albums:


David Lynch – Eraserhead Soundtrack


Portishead – Third


Lykke Li – Wounded Rhymes