Day Tripper: Ch-ch-ch-ch-changes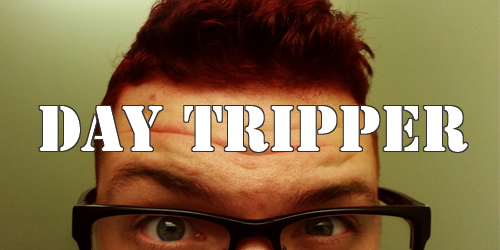 "Day Tripper" is a column of reflections on music and their connection to important times, places, dates and memories by Alex Bossenger. Each entry will use a relevant date on the calendar as a reference point for these discussions. Mark your calendars and queue up your soundtracks.
Date: May 25, 2014  Occasion: Name change/Alex gets hitched
Well, Treble friends — writers and readers alike — the time has finally come. I'm referring, of course, to that magical moment when a boy-writer becomes a man-writer. Yes, I'm happy to say that on May 25th I married my partner and love of my life. In fact, as you're reading this, we're getting the full honeymoon massage treatment as I sip gourmet ginger beer and listen to tons of awesome music without even thinking about writing. It's the simple things, really.
But being the (liberal) artsy type that I am, I couldn't just get married; I had to go off and change my identity. Yes, marriage is itself a life-changing move of it's own. But I'm referring to a literal name change on the part of both me and my partner.
To be fair, in this world where Chad Ochocinco and Big Crazy Lester have both been bona fide legal names, "Alexander Theodore Bossenger" ain't such a strange choice. Hell, I even read about a dude who changed his name to "The" Dan Miller Experience. Ruff. Still, changing the name I've had for 25 years feels pretty damn heavy, and I've found myself reflecting on the concept of identity, especially as it relates to musical icons through the years.
Throughout the history of popular music, artists have been warping their identities in various ways; sometimes in subtle ways, but often not so much. Many of the earliest rock and R&B icons (Howlin' Wolf, for instance) were actual people, yes, but carried a weight of personality that was both human and legend, a tradition that continues on in modern hip-hop personas, but has reached out to various genres over time. Would Sid Vicious' reputation be nearly as menacing if he were simply 'John'?
For some acts, especially in the world of metal and electronica, the persona is the artist. Musicians as varied as Gwar (R.I.P. Oderus Urungus), Ghost, Daft Punk, Gorillaz, MF Doom and DeadMau5 have hidden in plain sight behind their personas. And while each of these artists are hella talented in their own right, you have to wonder how much of their appeal stems from the mystery that these personas create. After all, would your curiosities have been pleasantly piqued by an electronica/hip-hop album by Blur's Damon Albarn? Possibly, but the concept is much more interesting when presented by four animated British apes. Hell, even KISS had the costumes and face paint- without which they might have never reached the major levels of fame that they managed.
The list goes on! David Bowie created multiple personas for each different musical phase, remaining 'Bowie' but seemingly possessed by varying moods and attitudes (and drugs — cough). Prince changed his name to symbolize his separation from particular powers-that-be in the music industry. Both of these examples define at least one vantage point we have on these artists: The choices they've made in regards to their public personas reflect the different cultural, political, and artistic stages they've progressed through.
On top of all that there's another component to any great artist: Their musical identity over time. Herbie Hancock, Miles Davis, Brian Eno, Bjork, John Frusciante, Ian MacKaye: These artists have never changed their name or persona in any major way, but their albums over many years have progressed to the point that they are hardly recognizable when heard side-by-side.  And that's important to note too; even if someone doesn't intentionally aim to change their identity, it happens. If you stay in the game long enough, you're bound to progress and evolve over time.
You've probably noticed by now that there's not much of a point to these ramblings, at least not in a critical sense. Still, this is where my mind's been lately. My name change is minor, but it's still a concrete marker of a new me, a brand new era in my life. I'm not sure what that will mean exactly but, wherever I'm going, thanks for joining me.
Don't worry, I promise not to break out the KISS paint just yet.
What's Your Perspective?: Is there an identity change in musical history that gets you thinking? Ever felt a significant shift in your own identity? Let me know in the comments section, and we'll have a little chat.
You might also like: