Dirty Projectors : Bitte Orca
Much of Dirty Projectors' activity in the first half of 2009 has consisted of recording or performing with eccentric geniuses. The Brooklyn foursome kicked off the year by debuting a song recorded with David Byrne for the Dark Was the Night collaboration, and subsequently performed with Byrne at a charity concert held after that album's release. The group also spent a night performing with Björk for a separate charity show in New York City. Give them a few more months and Dirty Projectors could very well be penciling in dates with Peter Gabriel, Prince and Paul Simon.
It probably shouldn't come as too much of a surprise that Dirty Projectors often find themselves in the company of legendary, boundary-pushing artists; in fact, it's entirely appropriate to dub Dirty Projectors eccentric geniuses themselves, particularly frontman Dave Longstreth, a Yale dropout and nigh perfectionist who, it was revealed in a recent New York Times profile, has held 12-hour rehearsal sessions yet still prefers his music to sound just outside of perfect. Longstreth certainly sets lofty goals with his music, bolstered by even loftier arrangements, though much of the Projectors' output for most of the decade has been anything but approachable. When the group unleashed their Black-Flag-from-memory interpretive concept album Rise Above, they showed off their melodic side, if still in a somewhat sideways manner. But with Bitte Orca, Dirty Projectors have created an ambitious, heroic and above all instantly likable album that stands as the mightiest peak in the band's catalog.
As with past Dirty Projectors albums, Bitte Orca finds the group combining noise rock, chamber folk, Nigerian high life, contemporary R&B and indie pop, sometimes all within the same song. This time around, however, Dirty Projectors place a greater emphasis on melodies, to the point where not just one, but practically all of the songs on the album have the qualities of a great single, though some are longer and more complex than others. Just one listen to leadoff track "Cannibal Resource" seals it—this is a rock album, an innovative and complex rock album that only a band with such loosely defined boundaries as Dirty Projectors could construct.
One of the band's greatest strengths (and there are many) is their attention to intricate detail, which makes a song like "Cannibal Resource" so much more than merely a catchy rock tune. Beneath Longstreth's lead vocals, Amber Coffman and Angel Deradoorian trade off harmonized backup yelps with rhythmic dexterity. On paper it sounds bizarre, perhaps pretentious, but somehow the group pulls it off, and does so in an accessible way, making this complicated, multi-layered construct into one catchy little ditty. It's absolutely brilliant. Likewise, the baroque folk of "Temecula Sunrise" finds erratic shifts in speed becoming strangely alluring as they transition into one of the album's most monstrous riffs. And for that matter, Longstreth gets some points for creativity as he turns the name of a town where I used to live into something far more romantic than it actually is.
Coffman and Deradoorian provide some of the most stunning vocal contributions to Bitte Orca, be they in a supporting or lead role, though their solo performances stand as two of the album's most outstanding tracks. First single "Stillness Is the Move" finds Coffman channeling Aaliyah in a contemporary R&B funk jam gone industrial. When she sings "after all we've been through/ I know we'll make it" her range rivals that of most pop divas, though her slightly more abrasive cadence still reminds the listener that this is a Dirty Projectors album, after all. Meanwhile, Deradoorian takes the reins on the gorgeous folk ballad "Two Doves," one of the simplest and most breathtaking moments.
Pretty much every song on Bitte Orca is a highlight, though the most undeniably thrilling song is six-minute monster "Useful Chamber." It bumps with electronic beats and drunken synthesizers, recalling that Björk lass with whom the group spent an evening performing. Yet, from there it escalates into a cascade of arpeggiated acoustic plucks and grungy chugs, eventually blowing up into a Zeppelin-like stomp of a chorus, in which Longstreth wails "bitte orca/ orca bitte" as if it were destined to be scrawled on yearbooks and shouted in barrooms. Contrastingly, "No Intention" is built around a reasonably straightforward pop groove, albeit one adorned by typically virtuosic guitar flash. And closing duo "Remade Horizon" and "Fluorescent Half-Dome," while a bit more subdued, close out the record gorgeously.
Though Bitte Orca may not have the distinction of being a Black Flag album re-created from memory, or a concept album about Don Henley, but what it trades in high-concept intrigue it more than makes up for with dazzling arrangements and gorgeous songwriting. Furthermore, it rocks, and without sacrificing any of the intricacies or attention to detail that made Dirty Projectors such compelling musicians in the first place. Bitte Orca is the Projectors' best album; in fact, it's one of the best albums anyone has made all year. To paraphrase something David Byrne once said of the music video medium, it's art, and it's for everybody.
Similar Albums:
Yeasayer – All Hour Cymbals
Animal Collective – Strawberry Jam
Talking Heads – Remain In Light
Download at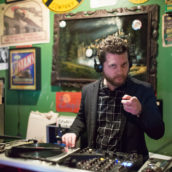 Jeff Terich
Jeff Terich is the founder and editor of Treble. He's been writing about music for 20 years and has been published at American Songwriter, Bandcamp Daily, Reverb, Spin, Stereogum, uDiscoverMusic, VinylMePlease and some others that he's forgetting right now. He's still not tired of it.