Echo and The Bunnymen : Heaven Up Here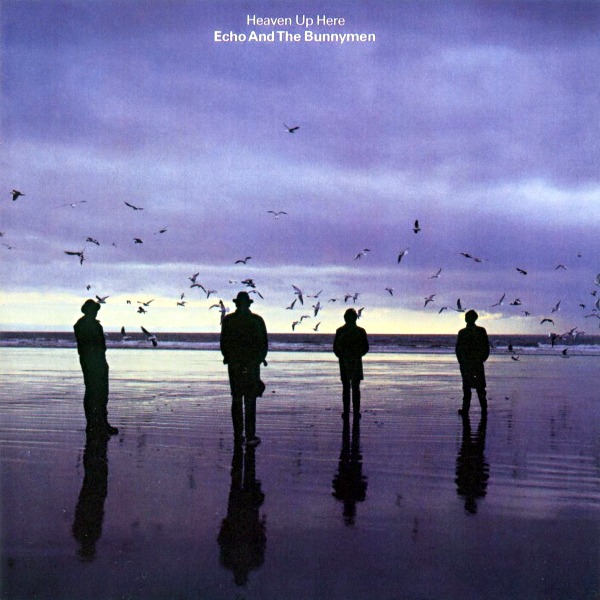 Following their debut release Crocodiles, Liverpool's Echo and the Bunnymen didn't let the lore of the sophomore slump fall upon them with Heaven Up Here. Not only their most driven and possibly darkest album of their career, Heaven Up Here likewise became the first one to earn a spot on the UK's Top Ten album chart.
There's a haunted post-punk chill that permeates the album, the psychedelia of their debut taking on a more sinister permutation. "Show of Strength" opens up the album with Will Sergeant's greasy and atmospheric slide guitar as singer Ian McColluch's haunting quiver declares "Your golden smile/Would shame a politician." Sergeant's guitar licks are so frigid that they could cause the listener to see their own breath throughout the albums duration. Pete DeFreitas' drumming created the semblance of rumbling ocean thunder on "Over the Wall" and brought it back once more on the nervy and warm Krautrock infusions of "All I Want."
Numbers like "It Was a Pleasure" showed that Echo and the Bunnymen were not immune from catching an infectious New Wave dance shimmy and merging it with their darker side. There were even club-friendly and punchy numbers like the title track, with McCulloch yipping out "Groovy groovy people/We're all/Groovy groovy people," while "All My Colours" blows in like a gentle Celtic breeze.
While many bands who tried to pull off what Echo and the Bunymen did on Heaven Up Here were might have been dismissed as Joy Division or Cure soundalikes, the Bunnymen were in full swing and putting an original and innovative spin on a sound just this side of gothic rock. The layers of a psychedelic realm just fused so well with the Bunnymen's airy and gloomy undercurrent. If there was any album cover from the '80s that truly depicted the sound of the record, it was most assuredly Heaven Up Here's, with a shoreline's dusky sky, seabirds in flight and a silhouette of the band with their shadows reflecting underneath them in the gleaming sand. It's quite a task to put you finger on it in order to explain how, but after one complete listen, it makes perfect sense.
Echo and the Bunnymen would go on to have greater success with Porcupine and Ocean Rain in the following two years and garner plenty of critical acclaim, but none other could have been as dark and enchanting as this one here. This is Echo and the Bunnymen at the climax of their prime.
---
Label: Korova/Sire
Year: 1981
---
Similar Albums: