Essential Tracks This Week: Sun Ra Arkestra, Beyoncé and more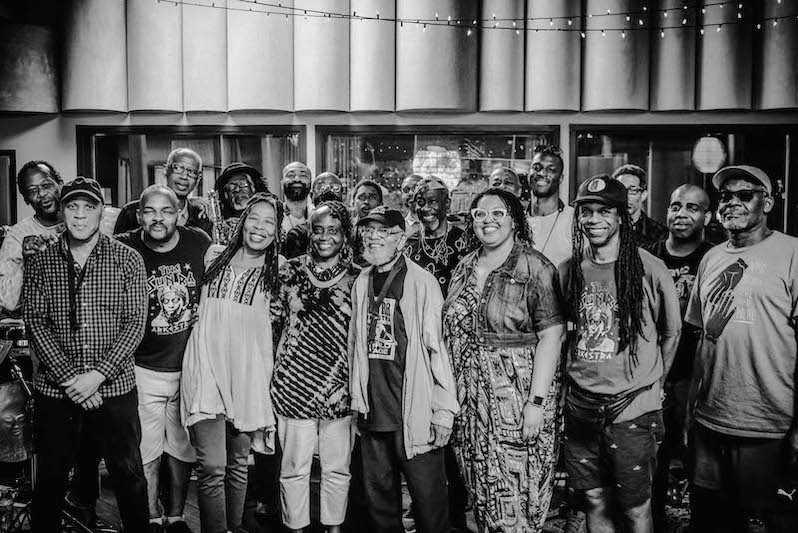 There's no getting around the biggest name in pop music having released a new album this week. And we didn't even try—you better believe there's a Renaissance track on our Essential Tracks roundup this week, but beyond that it's a pretty big week for jazz, including some legendary players, plus a newcomer to watch and a band that's been on our list of favorites for the past few years. We also wrote about one solitary rock song this week, because we can't fight that urge. Hear our five favorite new songs of the week below.
Plus, listen to our ongoing 2022 Essential Tracks playlist.
---
Sun Ra Arkestra – "Somebody Else's Idea"
"Somebody else's idea of somebody else's world is not my idea of things as they are," chanted June Tyson throughout the 1971 recording of Sun Ra's composition "Somebody Else's Idea". The evolution of the track is fascinating. When it was first sketched out and recorded in 1955, it was a beguiling, swinging oddity. In '71, Tyson's vocals accompanied Sun Ra's increasingly cosmic sound. Now, ahead of their upcoming album Living Sky, the Arkestra—led by 98-year-old Marshall Allen—has released another reworking of the iconic track, this time leaving out the vocal lead. The result is an instrumentally grand, mesmeric composition. – Noah Sparkes
From Living Sky, out October 7 via Omni Sound
---
Beyoncé – "Virgo's Groove"
Last week Jessie Ware delivered an undeniable banger coursing with vintage disco grooves, and now one week later we get another certified disco jam from none other than Beyoncé herself. An immediate standout from the just-released Renaissance, "Virgo's Groove" bubbles and bounces with deep funk and desire, yet another sexy-as-hell song of the summer candidate that finds Bey in top form. It's been a little while since pure hedonism was the prominent idea in one of her best songs, but here, it feels good. It feels really good. – Jeff Terich
From Renaissance, out now via Parkwood/Columbia
---
The Comet Is Coming – "CODE"
It's one of the great bummers of 2022 that Sons of Kemet have announced they're coming to an end (at least in the form they exist now). But The Comet Is Coming are still here, and they're delivering new music that continues to push strange futuristic boundaries. "CODE" is the first single from their upcoming album, and it feels as vital and visionary as anything they've released before. It also grooves like hell, pulsing and bouncing and expanding its atmosphere as Shabaka Hutchings' saxophone continues to push against its dome of ambience as if he's using it to break through a wall. Its existence is comforting, but its actual makeup is agitated and tense, electronic jazz that continues to upend the status quo, just like we'd expect them to. – Jeff Terich
From Hyper-Dimensional Expansion Beam, out September 23 via Impulse!
---
Brutus – "Liar"
The beauty of Brutus' 2019 album Nest is that it brought together elements of post-metal and radio friendly post-hardcore in ways that bands from either end of the spectrum rarely, if ever, succeeded at bridging so fluidly. "Liar" doubles down on that radio friendly aspect by delivering a hook-driven rock banger that draws them closer to bands like Paramore circa their 2013 self-titled album and less the more atmospheric edge of heavy music. Stefanie Mannaerts' vocals sound stronger than they ever have, while the Belgian trio's songwriting and performance is tightened to perfection. Where recent single "Dust" highlighted the more driving and intense aspect of the band's sound, here they lean into pop in a big way, and it sounds magnificent. – Jeff Terich
From Unison Life, out October 21 via Sargent House
---
tyroneisaacstuart – "Anderson"
Dancer, alto-saxophonist and member of the always-exciting New Soil roster, tyroneisaacstuart has released his first piece of music. A perfect introduction to the artist, "Anderson" is fusion in its truest and best sense. The track has infectious wah-laden funk bass and guitar, an occasionally hip-hop-adjacent beat, and brilliantly strange DIY detours. But this isn't fusion that imitates; this is fusion that borrows from various genres in order to create something genuinely individual and indefinable. It's enormously entertaining, unabashedly playful, and one of the best singles to come out of the UK jazz scene in 2022. This is the arrival of a fresh, exciting voice. – Noah Sparkes
Out now via New Soil
---
Support our Site—Subscribe to Our Patreon: Become one of our monthly patrons and help support an independent media resource while gaining access to exclusive content, shirts, playlists, mixtapes and more.