First Aid Kit : Stay Gold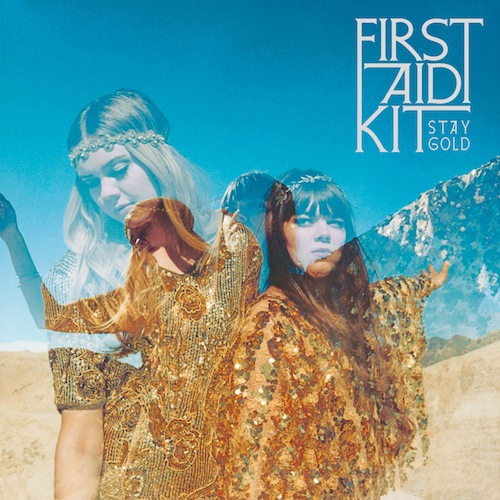 Buy at iTunes | Buy at Insound (vinyl)
The two Swedish sisters that make up folk-pop duo First Aid Kit became an instant YouTube phenomenon thanks to their cover of Fleet Foxes' "Tiger Mountain Peasant Song". The video itself sees the pair in a forest setting innocently pouring their hearts and souls into playing a song they clearly love and admire. It's masterfully executed, inviting, and eventually went on to garner over three million views — as well as land the Söderberg siblings a record contract that jump-started their careers. Six years later, Stay Gold sees the girls carrying their innocuous charm into an offering that is at once bolder and more polished than anything they've done in the past.
Opening track and lead single "My Silver Lining" is in many ways the perfect summation of the siblings' musical palette. At the song's core, it is a country tune, complete with dustily picked guitar lines, weeping string arrangements, and the alluring vocal harmonies that Klara and Johanna are known for. During the infectious, string-laden chorus, the sisters brilliantly harmonize "These shackles I've made in an attempt to be free/ Be it for reason, be it for love, I won't take the easy road." It is a beautiful moment and a highlight of the record — a record that just happens to boast an abundance of highlights. The shuffling feel of "Cedar Lane," the soft pan-flute melodies on "The Bell" and the sisters shouting about "going straight to hell" on "Heaven Knows" are just a few of the moments worth revisiting here.
These ceremonious moments are brought to life by producer Mike Mogis, who also worked on their previous album, 2012's The Lion's Roar. This is an even fuller sounding album, however, and the thirteen-piece orchestra that backs the duo throughout can be heard clearly below the girls' larger-than-life vocals. Every track is accessible, offers something meaty in the way of melody to grab hold of, and is bursting to the seams with influence. In a May 2014 interview with Nerdist, the young duo is asked what influences can be heard on Stay Gold, to which they respond "Townes Van Zandt, Neko Case — we could go on for hours."  Of course, likening the resplendent harmonies to celebrated acts like Simon & Garfunkel or The Everly Brothers is a simple claim to make, and is one that by this point, has been done to death. What's far more important lies in First Aid Kit's aptitude to wear their forefathers influences on their sleeves. They do so with a natural ease, and the result is a sound that is familiar yet refreshing. This is not the sound of two sisters reinstating the past as much as it is taking what they adore and using it to create something entirely new.
"I could move to a small town and become a waitress, say my name was Stacy and I was figuring things out" sings Klara on "Waitress Song," a sensible track about a simpler life, one far removed from the remote stardom the Swedes have obtained. Lyrics like these are of the most personal and mature ones the sisters have offered simply because they are the wisest, and both most comfortable and confident they have ever been with their music. While a sense of comfort can sometimes be the worst thing for an artist's creativity, here it works in their favor. It's the sound they have been striving for since their humble beginnings covering beardos on YouTube.
Recommended Albums:


Fleet Foxes – Fleet Foxes


Laura Marling – Once I Was an Eagle


Simon and Garfunkel – Bridge Over Troubled Water