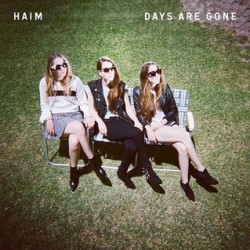 Buy at iTunes | Buy at Insound (vinyl)
Music in the 21st century is frustrating. Social media has made the ability to promote music that much easier — and it's also made it that much easier for opinions to spread before a listener can form his own. Everyone has something to play, and a quickly formed response to it at that. For while it's easy get excited over an artist's work, just as many are quick to tear it down. And it's hard to avoid that spin cycle, one or several notable media outlets placing an album on a pedestal, inadvertently building up a long tail of cynicism after the fact. How many times have we seen this with a debut album? Is This It, Turn on The Bright Lights, Madvillainy…. hype is a tricky thing to live up to.
It's hard not to grow a little nervous about this pattern with Haim. The Los Angeles-based trio of sisters — Danielle, Este and Alaina Haim (pronounced HYME, rhymes with time) — have been gradually picking up steam this past year, with their presence having quickly been wallpapered all over the internet. When you have a BuzzFeed feature already assembled in listicle form before your debut album comes out, then there's reason to believe that audiences are already feeding at that buzz trough. Though while they're relatively new as a band, the women of Haim have been actively involved in music for a great number of years, from playing in a band with their parents to Danielle performing with Julian Casablancas three years ago. Though it's pretty easy to predict the discourse surrounding their debut, Days Are Gone, Haim prove via a solid set of songs that the ongoing conversation is warranted.
While the album cover emits a cheesy portrait cropped out of an Urban Outfitters catalog, it's a misleading facade. Much like Disclosure's excellent debut, Settle, Days Are Gone arrives with a cohesion and maturity that outpaces many of their peers. While a good amount of these tracks were featured on last year's Falling EP, Haim fill the gaps with more catchy and clever standouts. "If I Could Change Your Mind" backs a lyrical exploration about second chances with an infectious groove of bass lines and a gorgeous harmonies sung by all three. The title track is the album's centerpiece, featuring a lead from Alaina surrounded by a solid beat. Curiously, "My Song 5" is the darkest track on the album and  probably the closest thing to Top 40 this album is ever going to get. It features a bump-n'-grind type production, which could easily elicit a hip-hop remix somewhere down the line.
Even though the songs on Days Are Gone have an exciting and energetic feel, a deeper look finds a wounded, broken heart buried beneath the hooks. Similar to last year's Gossamer, Days Are Gone wears its tenderness on its sleeve — not so much in "woe is me" clichés, but through a fresh perspective. It leaves listeners with a form of hope to overcome heartbreak, to carry on and move forward. Teaming up with Ariel Rechtshaid (a producer known for working with Vampire Weekend, Charli XCX and this, Haim have developed a gorgeously crafted and exciting debut. The cynics may crow, but an album like Days Are Gone is hard not to fall in love with.
Similar Albums:


Feist – The Reminder


Phoenix – Wolfgang Amadeus Phoenix


Passion Pit – Gossamer