Treble Roundtable: The Albums That Got Us Through 2020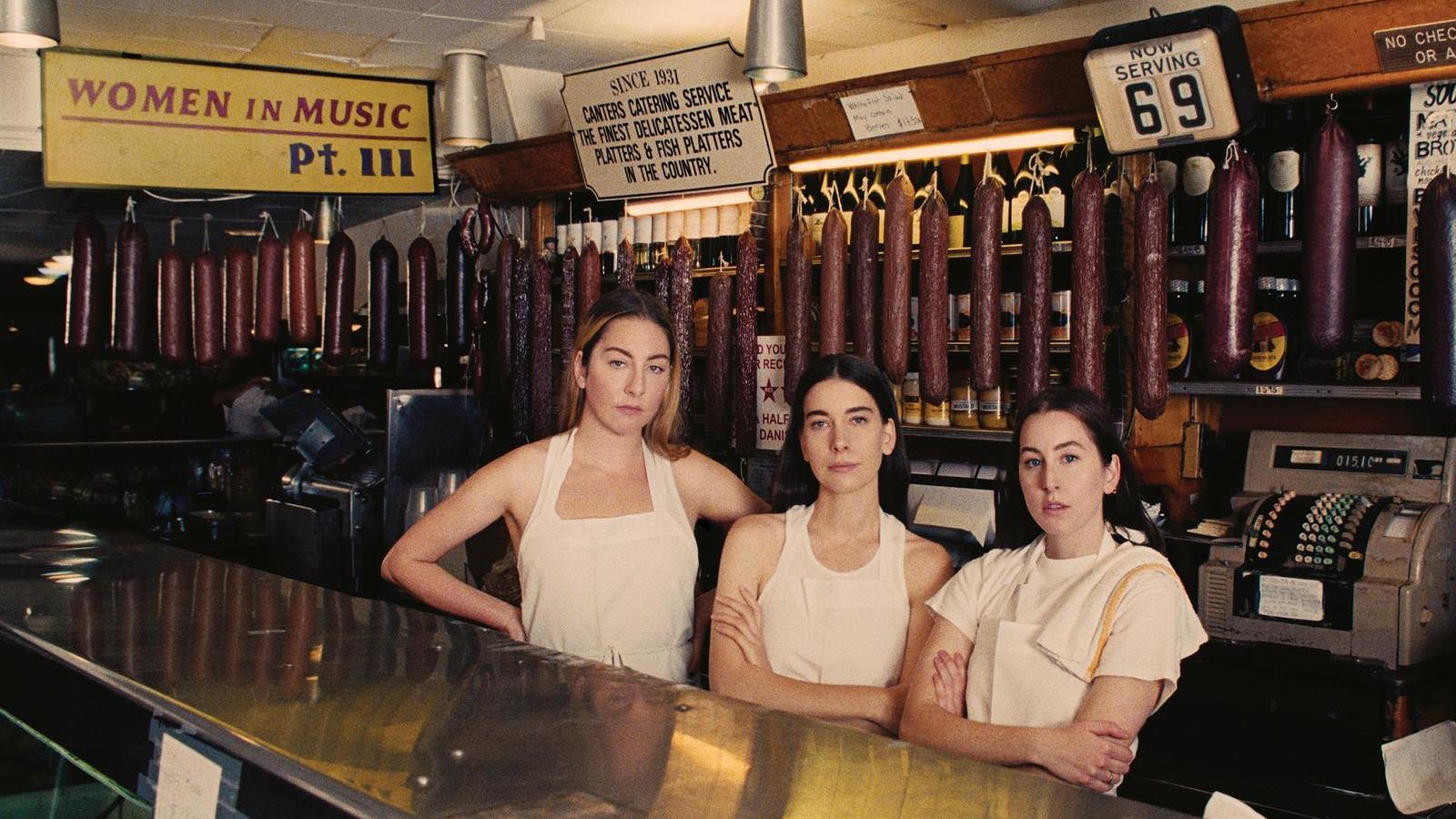 Welcome back to the roundtable, in which Treble's writers engage in a casual discussion on music, pop culture and our relation to both. Got a question for us? Feel free to send it over to [email protected] with the subject "Roundtable topic."
This week's topic: We've written about our favorite albums and songs of the year, a lot of which discussed the importance of music in a year as complicated and trying as this one. But aside from the music that we consider the best of what 2020 had on offer, there's an entirely different category for the comfort or therapy music, the music that gave us catharsis or release. Records that were there when we needed them most. In other words: What music helped you get through 2020?
Virginia Croft: This year was, in a word, isolating. Not just in physical sense, but emotionally, too. While I stayed inside and made choices to stay safe, I watched others not make the same choices, leaving me puzzled and feeling more alone. Then in June, HAIM's Women in Music Part III arrived. Suddenly, I felt like I had three (very cool, incredibly hip) best friends that I could take with me wherever I went—downstairs to work from home, outside for a run, or in the car on the way to the grocery store to stock up for the week. "I Know Alone" helped me feel seen (we all like to think we know lonely the best, but listening to this song will make you swear you really do), "Gasoline" was the rock song I desperately needed, and "Hallelujah" allowed me to cry about the fragility of life. HAIM released their most personal album, when we needed their honesty the most.
Butch Rosser: Run the Jewels' RTJ4 saw 2020 coming years ago to such an extent that you couldn't tell if Mike & El were rapping about old tragedies or new ones. It forged an almighty weapon killing off a lot of icy takes, and if you're on a site like this you know the type: "Why isn't anyone talking about current events through a critical lens?" "Outside of Kendrick Lamar, all modern hip-hop is garbage." "Where's all the great art in these shitty times?"
Oh, and they made such a monolith of an instant classic with guests as varied as Zach de la Rocha and Mavis Staples where their contributions never felt shoehorned in or doing it for a hashtag brand that if you were to have its tracklisting as your top 10 of the year, no one who listened to it would begrudge you.
Or you could just have "walking in the snow" ten times, too.
Jeff Terich: When the pandemic began and live music shut down, I threw myself into extreme periods of diving into older music, much of it comprising records I hadn't listened to in a while, or simply albums that I hadn't given a proper listen in a while, and frequently by genre: ambient, jazz, noise/industrial/drone. Yet early on I found myself diving deep into dub and reggae, from the mind-bending and spiritual nyahbinghi of Dadawah to the warm, organic tones of King Tubby. But the record I kept returning to was Junior Murvin's Police and Thieves, one of the greatest albums Lee "Scratch" Perry ever produced, and featuring a singer whose falsetto tones are immediately recognizable. But it's the rich, psychedelic production and great pop songwriting of the album that stand out most to me, its highlights like "Roots Train" and "Lucifer" providing both headphone escape and a sense of comfort at the same time. On the other hand, I listened to The Armed's Only Love a lot, an album that's about as frantic and intense as it gets, and possibly not the ideal pandemic playlist fare for most people. But the sequence of the album goes from their most hyperactive and abrasive material toward its most melodic, giving a kind of illusion of hope as the manic unpredictability leads toward something approaching joy and salvation.
Brian Roesler: Primitive Man's Immersion came about in my life at just the right time. I had asked fellow Treble contributor Langdon Hickman a simple question, "who's the heaviest band?" His response? Primitive Man. Immersion has been nearly a daily listen for me, helping me cope not through anger, but instead something existential. Immersion has helped me through its portrayal of languishing in an inescapable cycle, of addressing in simplest terms, the sheer scale of menace that surrounds us. Ethan McCarthy's abilities as both a musician to summon an abyssal sonic void beyond all recognition, and chant through it to address a cynical banality to our suffering isn't only relatable, it's honest. It has helped me deal with so much heartache as a caretaker and stay-at-home father, it has de-compressed a lingering spite that chokes me at times. "Humanity/rotten on the vine" seems like far too dark of an assessment of our species collectively, but I assure you these lyrics acted more as a challenge to ascertain how we dispel the rot.
John-Paul Shiver: As much as the world in fact has sought out music to reminisce to, seeking out those better days, I found myself in the same dilemma. Between the Miles Davis fusion period triggered by Jeff Parker, the raw unsolicited freedom and joy of Lenny Kravitz's "Are you Gonna Go My Way," triggered by the kitchen sink bombacity of Yves Tumor. Even the footwork mood of Xyla reminding me of the golden era of drum and bass… It was still the cool, calm freaky folk tone of 70's AOR and those warbled tales of humanity at its best and most humble stages that kept me coming back to Andy Shauf's The Neon Skyline. It was my Saskatchewan chicken soup.
Konstantin Rega: Sarah Harmer's first album in ten years, Are You Gone, kept me from getting cabin fever and blowing up my speakers with bubblegum K-Pop. The Canadian folk singer pulled out all the stops and has created a wonderful, harmonic, upbeat, thoughtful recording. My favorite song "Cowbirds" is humorous and catchy, and the track "New Low" begins with upbeat guitar and vocals that are sustained throughout its short playtime. The whole mix and pace of the album is masterful and well worth the decade-long wait. I just hope she doesn't have to take a similar hiatus to create something just as good!
Forrest James: There were certainly moments of calm for me this year, but co-managing a small grocery store throughout 2020 left me most in need of catharsis and vindication. Full of Hell's unbridled nihilism on Roots of Earth Are Consuming My Home provided an escape from caring so damn much all the time – day in, day out, it felt as if our collective survival rested upon my coworkers and I spending more energy than we could ever reasonably muster, with little in return. Listening, I could indulge some of my pent up antisocial rage. At the same time, there are distinct moments on the record that strike a chord of grief, rather than despair. Dylan Walker's voice breaks at the absolute top of his register on the title track, reminiscent of bands leaving it all on the stage for us not too long ago. Unpolished glimpses of humanity like that reminded me: no matter how immeasurable my disappointment with people might be, any misanthropy is a luxury. One to be regularly released in order to remember that all we have is each other, that hope is the only choice. – Forrest James
Tyler Dunston: I've been listening to a lot of Bob Dylan this year, revisiting his discography decade by decade. Really, I could have picked many of his albums—Modern Times, Oh Mercy, his new record Rough and Rowdy Ways. But I chose to highlight his frequently criticized religious period, specifically Shot of Love. You don't have to be religious to appreciate Dylan's fervent and complicated reckoning with faith in these songs, and you only have to have a pulse to appreciate the fact that some of these songs—the title track, "Heart of Mine," "The Groom's Still Waiting at the Altar," to name a few—absolutely rock. In a year like this, it feels necessary to have faith in something, even if it's just in possibility. And when Dylan sings, on the phenomenal closing track "Every Grain of Sand," "Sometimes I turn, there's someone there, other times it's only me," he seems to suggest that the kind of faith he's interested in isn't even about certainty, it's about moving forward, and it doesn't mean he never feels alone.
Dakota Joyce: This was a year that required comfort food, and no matter which album you pick, Darkthrone will always sound like Darkthrone. Though it's their "unholy trilogy" that became lionized by the black metal scene, their mid and late career saw them develop a sound that incorporated healthier doses of punk, speed, and doom metal. The unsung zenith of their middle period was and forever shall be the surprisingly raucous Sardonic Wrath. The album is the last of their black metal output, though the label sells short their nods to Venom, Deathstrike and Celtic Frost. Drummer and songwriter Fenriz comments that, aside from Circle the Wagons, Darkthrone has featured at least one Frost riff per album, and Wrath has some of the best. The songs are shorter, riffier, and less atmospheric than their post-Transilvanian output, and more dense with stylistic shifts. It's classic metal fun, and with Fenriz returning to the fold by 2003's Hate Them, Darkthrone sound like they're having a fucking blast assembling a greatest hits collection of the '80s underground. It's the sonic version of digging through a record shop's underground punk and metal section, spinning a few records and mashing together the best riffs in your head. Something 2020 sorely needed.
Wil Lewellyn: By the time July hit I had worn out my post-apocalyptic playlist of sludge and doom. Taylor Swift's Folklore reconnected me to my more human side. Featuring collaborations with both the Natonal and Bon Iver, it's a more introspective effort. Way to read the room Tay Tay, because 2020 did not have me in the mood for something as peppy as Lover. Thanks to Iress' Flaw I am back to my morose hole, but I return to Folklore when I try to brave being human again.
Jacob Nierenberg: It's been nine months since we here at Treble held our "Quarantunes" Roundtable: Nine months since the COVID-19 pandemic was declared a national emergency, nine months since the first stay-at-home orders, nine months since the death toll was 3,000—total, not per day. Back then, I joked about listening to Low's Double Negative and Godspeed You! Black Emperor's F♯ A♯ ∞ as a way of entertaining the question"What's the worst that could happen?" But it wasn't long before that mentality began to feel insensitive and trivial. As time went on, and the pandemic worsened, and 2020 came to resemble less a year than a godless, endless endurance test, I immersed myself in music, keeping up to date with new releases and discovering old classics that felt new to me.
The albums I wrote about for Treble during the pandemic became some of my favorites of the year, none more than Fiona Apple's Fetch the Bolt Cutters, Run the Jewels' RTJ4 and Fleet Foxes' Shore. The last nine months have known no shortage of grief and outrage, and these records felt especially of their moment, by turns offering consolation and encouragement to keep fighting the good fight. But there were also the older albums that I encountered along the way, that felt equally resonant, and still do: the plain-spoken and sometimes pitiless humanity of John Prine and Elliott Smith's self-titled records, the crystalline serenity of Beverly Glenn-Copeland's Keyboard Fantasies and the gospel according to John Coltrane's A Love Supreme, as well as Nina Simone's Fodder on My Wings and Neil Young's long-lost Homegrown, two starkly vulnerable records from two of my favorite singers.
COVID-19 took so much from so many of us this year, but it could not silence music, nor music's power to keep us connected in times of social distancing and social unrest. There will be more songs for us to sing in 2021, and I can't wait until the day that we can sing them all together again—at birthday parties, at graduations, at weddings, and at concerts.
---
Support our Site—Subscribe to Our Patreon: Become one of our monthly patrons and help support an independent media resource while gaining access to exclusive content, shirts, playlists, mixtapes and more.