Hall of Fame: Gang Gang Dance – God's Money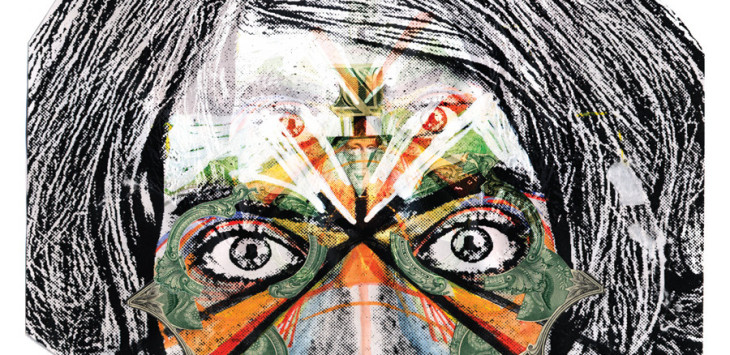 Treble is celebrating its 10-year anniversary by posting a series of articles that reflect the last 10 years of music, including a series of Hall-of-Fame essays on significant albums released between 2003 and 2013. These are albums that left a significant impact not just on us, but also music on a greater scale (but mostly on us). We'll be posting a new reflection on a significant album from the past 10 years every day for the next few weeks.
---
It's hard for me to talk about Gang Gang Dance without getting breathless. The band means a lot to me — so much more than merely another cool indie rock group. They're conjurers of mystical, transcendent glory. Openers of hearts, changers of minds. Pioneers of a new framework for global music, venturing into new galaxies while channeling primordial vibrations… But, wait. See what I mean? I'm already getting ahead of myself. Let's focus for a second, and answer a simple question: Why, exactly, do I love this band?
They're innovative. They're soulful. And they show an incredible curiosity about the world—a curiosity that I wish more musicians (and more people in general) had. But when it really comes down to it, I love them because of their third album, God's Money, one of the most extraordinary recordings to come out of the '00s.
Released in 2005 on The Social Registry, God's Money is the type of record that sounds alien and familiar at the same time. Over the course of 40 minutes, the band—drummer Tim DeWitt, keyboardist Brian DeGraw, guitarist Josh Diamond and singer Lizzi Bougatsos—delivers a masterpiece of low-budget sonic exploration. Anything from experimental noise to hip-hop to dub to shoegaze to African dance to Japanese folk bubbles up in their intricate rhythms, melodic forays and overwhelming bursts of noise. But none of it sounds forced, or (even worse) pretentiously "artsy." Through magic, luck or psychedelic drugs—or, perhaps, a combination of the three—Gang Gang Dance simply weaves it together in a seamless performance.
God's Money is full of simple pleasures: Just consider the blissful shoegaze vapors of "Untitled (Piano)," or the blooping bass and shimmering drums of "God's Money V." Beneath all of this weirdness and whimsy, though, is a profound love of life, and the awareness that it could all end in an instant. Indeed, the piercing eyes on the album's cover are those of Nathan Maddox, a former member of the band, who was killed by a bolt of lightning while on a Manhattan rooftop in 2002. His girlfriend told The New York Times that they were "dancing in the rain" when it happened.
Yet making a connection with God's Money took some time. Interestingly enough, my first reaction to the album was something along the lines of, "Oh, no, not another hipster jam band!" Many listeners have probably reacted in a similar manner to the album's opening track, "God's Money I (Percussion)": A slow-moving stoner processional of the highest order, its Indian American-style chant and rolling tom-tom rhythm would go over great at the Wednesday-night drum circle. If the rest of the album sounded like that, I wouldn't be writing this right now. But the track soon winds up, and then the band pulls a 180-degree turn on the next track, the propulsive "A) Glory In Itself B) Egyptian." As a grainy keyboard line hurtles into the cosmos like a serpent on a jetpack, Bougatsos consumes the stereo field whole with her salty-sweet croon. Thusly, my mind is irrevocably blown.
"A) Glory In Itself B) Egyptian" is a mesmerizing piece of music. Over a dance rhythm that's so tricky it almost falls over itself, a series of interlocking keyboard and guitar parts come together like some ancient Sumerian ziggurat, before coming apart in a volcanic eruption of bubbling synthesizer lava. The chaos then leads into a second section, as the band lays down a mid-tempo groove guided by Eastern-tinged keyboard flourishes and insistent bass stabs. I have no idea how Gang Gang put this thing together, but I'm just as impressed by the production quality as by the music itself. The mix is dull and mid-fi, giving the impression that the song was recorded in somebody's garage (or maybe a walk-in closet). Far from that being a bad thing, it just goes to show that this is a real, live band we're listening to, not a bunch of studio tricksters.
To be sure, some bands have trouble translating their recordings to a live setting. Not Gang Gang Dance, though. I first saw them in 2006, at an outdoor venue on a summer evening in Brooklyn. As the sun went down, a marvelous mix of sights and sounds unfolded before my eyes: colorful lights, delirious dancers, clouds of dust, Bougatsos whirling around while DeWitt's arms flailed in the moonlight. It was beautiful, it was cathartic, and, unfortunately, it was cut short in the most disappointing way possible, when some fuddy-duddy cut the power right as the band was about to reach the climax of an epic song. (I guess there were noise complaints, or something stupid like that.) But still… Wow. I'd seen enough.
At the time, I was a liberal arts college kid, living the dream in New York City. My lips were glued to the weed pipe, my eyes were trained on the world, and Gang Gang fit right in. Among my recent musical obsessions were drum machines, synthesizers, and Algerian raï, and at the show in Brooklyn, I was particularly taken by the way DeGraw occasionally added to DeWitt's beats by tapping out electronic claps on what looked like a cheap Casio keyboard. As it happened, I also made music using low-budget means (FruityLoops, GarageBand, a Korg Electribe), and I loved how '80s-era raï producers did a similar thing with fake horn arrangements. To me, this all felt connected—we didn't all speak the same language, and we weren't all at the same talent level (and by that I mean I wasn't nearly as talented as any of them), but we were all scrappy creatives, making do with what we have.
These days, I want to cry whenever I listen to "Egowar," one of the highlights off of God's Money. The song's signature hook—a plaintive, airy flute line plucked out on Diamond's MIDI-wired guitar—brings back so many things from that time in my life: Weird obsessions, unrequited crushes, goofy memories. And yet, God's Money doesn't just make me feel nostalgic; it also makes me feel inspired, and hopeful. As music increasingly becomes a free-for-all (thanks to the Internet, electronics, home-recording, et al.), this album shows the listener what a piece of music can be when traditional boundaries of genre and culture get redrawn for a global context.
If I had any critique about God's Money, it's that the band spends a bit too much time exploring with such lofty stuff as that. As beautiful and powerful as these songs are, they don't have the same emotional resonance as, say, "My Girls" or "College" by Animal Collective. That's OK with me, though, because God's Money doesn't seem to be geared towards sing-along choruses, provocative messages or quotidian matters. This album isn't about growing up, or breaking up, or any of that. It's more like a journey into the center of the soul. The beat patterns are knotty, the lyrics often indecipherable; it all comes from a foreign, unfamiliar place. But in the end, it still makes perfect sense, because Gang Gang knows how to channel the deepest reserves of human energy. And that, my friends, is why I love this band.