Harrison : Birds, Bees, The Clouds & The Trees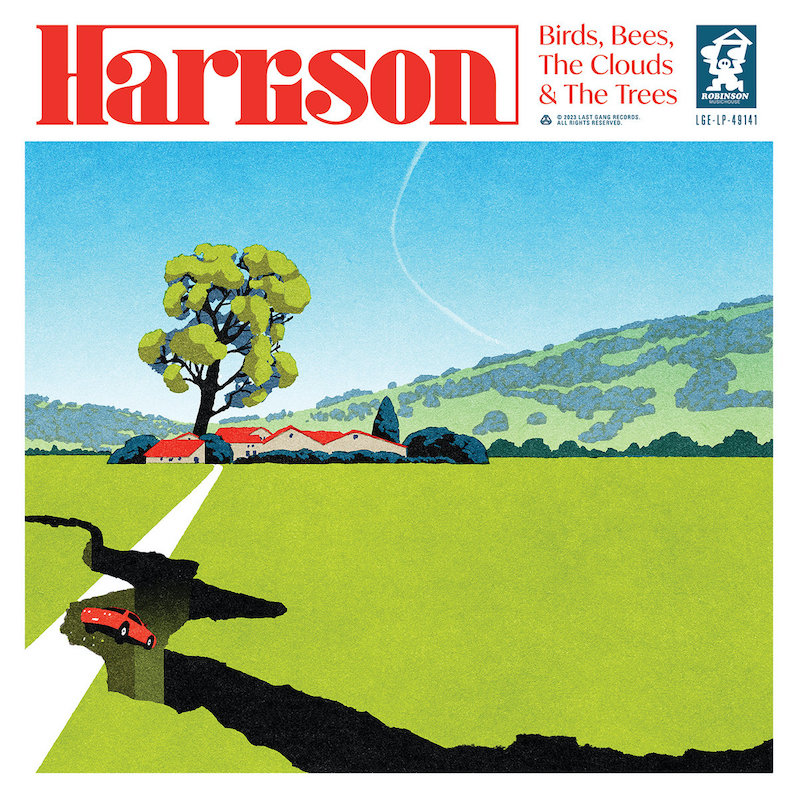 Toronto-based artist Harrison Robinson summoned the vibration, harnessed the chi, for his third album by channeling his inner child. "Chick Corea had a quote along the lines of, 'you have to find what sounds beautiful to you,' and that really struck a chord with me," the 27-year-old polymath explained in a statement accompanying his latest album. After composing music for Nintendo Switch's LOUD and commercials for NERF and Play-Doh, it was a chance for his imagination to wander horizontally. "I knew I wanted to just make what I thought was cool, regardless of it being cheesy," he says of the piano-centered compositions that would become the very short and abundantly playful soundscape Birds, Bees, The Clouds & The Trees.
It's a common ideology amongst contemporary funkified artists. Khruangbin, one of the coldest power trios in the game right now, recognized jazz musician Vince Guaraldi's breezy-nerdy compositional nature a couple of years ago when they reinterpreted the all-time Holiday-go-to "Christmastime Is Here" and the Houston trio rewired a subwoofer onto it. I'm talking "Night of the Thumpasorus Peoples" type bumpity bump, made that madrigal go differently. So Harrison, who played every instrument on this piano-centric record—in addition to writing, producing and mixing the album in its entirety—devised a life hack to return to his groove source.
He's crafted these beat-centered jawns—interludes, apparitions, and tone mantras—that just put you between a Mndsgn. beat tape (Snaxx-era) and an R&B album that goes in for modern thump way more than satin-sheet music. It's a direct lineage to his childhood favorites—instrumental hip-hop artist Nujabes and that same American jazz pianist, Vince Guaraldi.
That combo sets us off into this playful, melodic, trip across brief thumpers—16 tracks in 29 minutes—that range from complicated percussive patterns, and squiggly keyboard melodies that remain warm. Like sunshine on your cheap shades. It's a collection ready for daytrips and double dips in the pool. When the lead track "Daydreamin" kicks off, that vinyl record hiss purposefully triggers those good memories of leaning over a turntable with your best slab of wax.
TOBi, MED, Guilty Simpson, Kadhja Bonet, and Nanna B all make appearances here. Between Emcees puffin on that new new in the ride to R&B divas giving notice, Harrison downshifts his beat collage to complimentary speed offering up open spaces for the features. I haven't heard Kadhja Bonet sound this good since pre-covid times, but keep that energy going; it's good to know you can still "Float" out the multidirectional pull at any time.
But I'm biased. As a DJ always on the prowl for dope instrumentals that I can turn into some type of long story narrative, mixing in and out of other pieces, Harrison's gotten better at covering a wide swath of hybrid sounds. From Charlie Brown meeting Peppermint Patty in the atmospheric drum and bass/LTJ Bukem room on the charming "Overheard" to the jazz hip-hop full sonic sheen of "Around You," to the modern-funk Kashif chord-structures swimming through the Sweater Funk ready two-stepping vibes of "2016", I could not have been transported to sunnier day.
---
Label: Last Gang
Year: 2023
---
Similar Albums:
John-Paul Shiver
John-Paul Shiver has been contributing to Treble since 2018. His work as an experienced music journalist and pop culture commentator has appeared in The Wire, 48 Hills, Resident Advisor, SF Weekly, Bandcamp Daily, PulpLab, AFROPUNK and Drowned In Sound.