Essential Tracks This Week: Destroyer, Floating Points and more

In the work and preparation for the big feature on the History of Indie Folk we published this week, we didn't get around to publishing a list of Essential Tracks last week. So this week, we're rectifying that by doubling the size. A few extra days doesn't make them any less essential, and this roundup features a funky new track from a favorite singer/songwriter, the return of some metalpunk miscreants, and an incredible new single from a Beijing post-punk duo.
---
Destroyer – "June"
Dan Bejar does it all: sleek sophisti-pop, taut post-punk, and with "June," a gloriously '80s-reminiscent art-pop funk. This is tonally in the space where Japan meets the Talking Heads, but whatever aesthetic Bejar adopts, he's always uniquely himself, uttering instant-classic lines like "A snow angel's a fucking idiot someone made, a fucking idiot someone made in the snow." He's got a way with words; that's an understatement. But Bejar's taste is impeccable as well, as proven in this seven-minute trip through all manner of ear candy and gorgeous shimmering instrumentation.
From Labyrinthitis, out March 25 via Merge
---
Floating Points – "Vocoder"
Floating Points' Sam Shepherd delivered one of last year's most breathtaking releases in Promises, his collaborative record with spiritual jazz legend Pharoah Sanders. In following that gorgeously understated album-length composition, the UK producer returns to his house and techno roots with "Vocoder," an electronic thumper that's driven by its title instrument, samples of vocoded voices chopped up and turned into hypnotic, melodic elements over an undeniable house rhythm. It's Shepherd's return to the dancefloor in the best possible way.
Out now via Ninja Tune
---
Devil Master – "Acid Black Mass"
I was starting to worry that 2022 would be full of metal albums that I respected and enjoyed but wasn't necessarily excited about. Well, Devil Master changed all that. With a follow-up to Satan Spits on Children of Light on the way and new single "Acid Black Mass" hitting that week, consider me excited. The group's new single is swathed in cobwebs and smeared with gobs of fake blood, its haunted growl of a classic heavy metal, punk and death rock sound simultaneously sharpened, improved and familiar in all the best ways. The riffs roar, the mood is one of pure gothic escapism, and it 100 percent rips. Get excited.
From Ecstasies of Never Ending Night, out April 29 via Relapse
---
Helms Alee – "See Sights Smell Smells"
Seattle's Helms Alee have always been a little harder to pin down than your typical sludge, post-metal or post-hardcore group. That goes double on new single "See Sights Smell Smells," a track that's less about burly riffs than a sustained kind of ominous drone, one that finds the trio in the company of even more instrumental flourishes in the form of gothic piano and squealing saxophone (which is pretty much always a good thing when applied correctly). That a menacing psychedelic pulse doesn't even feel that out of place among their brawnier rock tracks speaks to how naturally they make an unconventional approach to heavy music seem, but more importantly, they somehow keep it accessible at that.
From Keep This Be the Way, out April 29 via Sargent House
---
Horsegirl – "Anti-glory"
Horsegirl are the kind of band to make you feel excited about indie rock again. Or at least I'm excited about their kind of indie rock, driven by sharp-edged guitar riffs and taut post-punk tension, merging an incendiary sensibility of '80s-era Sonic Youth with the direct drive of Joy Division at their most highly charged. "Anti-glory" feels a bit gloomier than their Matador debut single "Billy," but the aesthetic is locked in, arty without being pretentious, catchy but not overbearing. Maybe it's just because, at an average age of 19, the three members of Horsegirl seem to be tapping into the kind of songs that blew my mind at that age, as well, but everything here is just perfect.
From Versions of Modern Performance, out June 3 via Matador
---
Naja Naja – "Dong Dong"
Post-punk duo Naja Naja hail from Beijing but their points of reference are a global and temporal melting pot: Köln in 1972, Manchester in 1979, New York City in 1981, London in 1996. Pulses of kosmische and dancepunk course through the group's terse but fluid grooves, evoking a post-punk utopia where minimalist immediacy and psychedelic experimentation swirl into something that feels less like pastiche and more like a joyous and innovative bridge between past and future, local scene to universal harmony. "Dong Dong," the debut single from their upcoming Wharf Cat released debut EP, is the point at which all these elements come together for four minutes of art punk ecstasy.
From Naja Naja, out April 29 via Wharf Cat
---
Emma Ruth Rundle – "Pump Organ Song"
Last fall's Engine of Hell found Emma Ruth Rundle stripping her compositions back to their barest elements, rarely featuring more than guitar or piano and voice. That, however, didn't necessarily remove the heaviness at the heart of many of her compositions. In switching to a pump organ on the aptly titled "Pump Organ Song," Rundle seems to ascend into a hazier space, one that feels more aligned with the more ambient, synth-laden darkness of recent Nick Cave albums. It's a change of texture, perhaps, but not one of mood, this more experimental side of the singer/songwriter's music as affecting as ever.
From Orpheus Looking Back, out March 25 via Sargent House
---
Meat Wave – "Honest Living"
Chicago's Meat Wave have long delivered a sort of jagged, abrasive post-hardcore sound reminiscent of groups like Hot Snakes and Drive Like Jehu, so it's only natural that the group would become aligned with John Reis' Swami Records. Their new single "Honest Living" is utterly blistering, all razor's edge guitars and pugilistic drum beats, music made for skateboarding video slam sections or just DIY catharsis of any kind. Muscular, direct and heavy–it's as good as Meat Wave gets.
Out now via Swami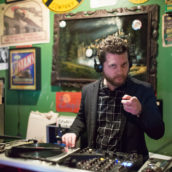 Jeff Terich
Jeff Terich is the founder and editor of Treble. He's been writing about music for 20 years and has been published at American Songwriter, Bandcamp Daily, Reverb, Spin, Stereogum, uDiscoverMusic, VinylMePlease and some others that he's forgetting right now. He's still not tired of it.