The Art of Anguish: An interview with Inter Arma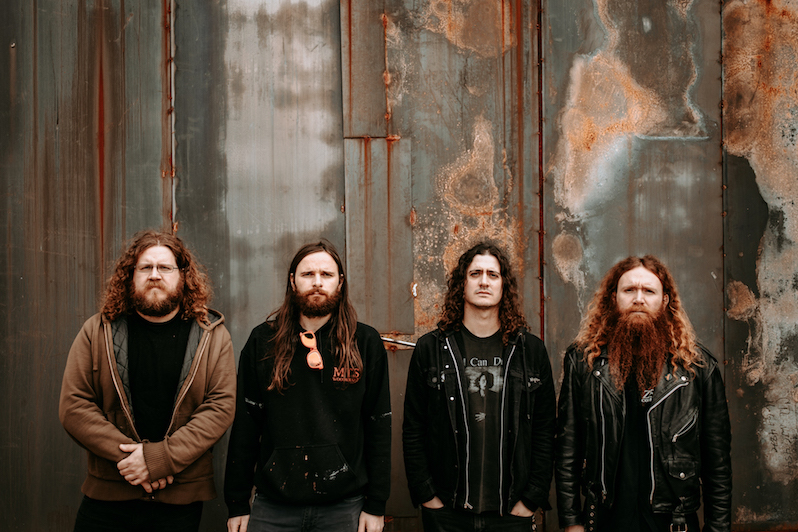 "We didn't set out to make a more death metal leaning record," Inter Arma vocalist/lyricist Mike Paparo says.
That's not exactly what the band's latest album, Sulphur English, is. But it's a new frontier for the Richmond, Virginia metal band. Building upon their brand of atmospheric brutality and further establishing themselves as a band without labels, Inter Arma has crafted an astounding work of rage in their latest record. Over the course of their career, the group have expanded upon their craft; whereas 2016's Paradise Gallows harbored more of an atmospheric doom/sludge tone, Sulphur English offers listeners a visceral, grime-ridden presentation stirring with aggression and emotion.
Expanding on the album's death metal sound, Paparo says, "It just kind of happened, and it was exciting to us. The only preordained intention that we had for this record is that we wanted it to be meaner, nastier, uglier and darker; the opposite of Paradise Gallows which we felt was a very colorful record."
The distortion-fueled opening of "Bumgardner" paves the way for the ominous "A Waxen Sea," the latter providing a murky progression that establishes the atmospheric hysteria to come moving forward. Paparo's voice thunders over the instrumentation, giving off a haunting touch to the material. There's still that use of sludge metal throughout the record, but it is that dungeon dwelling death metal quality that takes center stage throughout Sulphur English.
"The overall feeling surrounding the writing process of this record was definitely darker and way more negative than Paradise Gallows too, and I feel like that also contributed quite a bit to the atmosphere and vibe of Sulphur English," Paparo says.
Sulphur English marks a significant step forward for Paparo as a lyricist; from his political views to struggles with mental illness, the record is a sincere embodiment of his anger and frustrations. The record's title is Paparo's nod towards political rhetoric and how when politicians speak, it "stinks." Pointing to these feelings, the track includes the lines, "Beware his forked tongue/ Its diction foul and impenitent/ Delivered on the winds of sulfur's breath/ Its noxious arguments/ Crudely spun into a mesh of bedlam and fallacy."
Voicing his feelings regarding artists tackling political subject matter, Paparo says, "I feel the same way about it that I've always felt: If you as an artist feel the need to use your art as a sounding board for your personal beliefs, opinions, politics, then, by all means, go for it. If you don't feel comfortable expressing your personal beliefs in a public setting, then don't. It's OK. I don't think it's 100 percent necessary for all artists to explore political content. I'd actually prefer they didn't. That being said, I felt the need to explore some political content on this new one, and I don't give a rat's fuck if it upsets anyone."
He continues, stating that this approach to writing was something he has felt hesitant about in the past but has since decided to explore. "[This manner of writing] is definitely something different from previous records," he says. "I was uncomfortable with that at first, but I got to a point where I just said 'fuck it' and let it ride. The lyrics mean a great deal to me, for better or worse. Some of my favorite songs that Inter Arma has ever written are on this record too."
One of the more personal songs on Sulphur English is "Citadel." As someone who has lived with depression, Paparo uses the concept of a metaphorical "citadel" to represent his idea of working through that struggle. Paparo's use of poetic language does a tremendous job conveying the anguish of mental illness: "Held captive by untold wounds/ Of corporeal and psychic root/ Aloft in a storm of unseen anguish/ Where joy and sorrow entwine."
Sulphur English is a pivotal addition to the Inter Arma discography; not only does it display the band's constantly evolving instrumental strengths, but it also stands as a unique lyrical work. From Paparo's political frustrations to his internal struggles, his words blend with the band's music and carry the listener on an emotional journey. Regarding his personal challenges, Paparo looks to music for guidance and meditation; with Sulphur English, he has helped to craft a record that represents the power of art: How it allows us to feel and explore ourselves.
"To me, creating music is necessary in the pursuit of my own sanity," he says. "I basically have a psychological need to create and play music at this point. Sometimes it helps with getting through depression and other things. Sometimes it doesn't. I use music as both a means of catharsis and a vehicle to explore and dissect what I'm feeling in the now."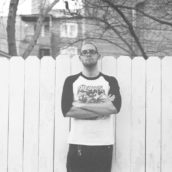 Michael Pementel
A graduate of Columbia College Chicago's Creative Writing Program, Michael Pementel is a published music journalist, specializing in metal and its numerous subgenres. Along with his work for Treble and Bloody Disgusting, he has also written for Consequence of Sound, Metal Injection, Dread Central, Electronic Gaming Monthly and the Funimation blog.