Interview : The Boy Least Likely To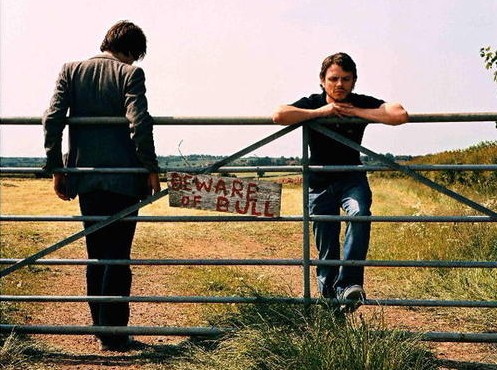 "We grew up in a little village in the middle of the English countryside called Wendover," says Jof Owen, describing the rural landscape in which The Boy Least Likely To was formed.
"It's very pretty and quite quiet. It's in a valley surrounded on all sides by the Chiltern Hills. Not that many people live here, but I still do. I tried living in London for a while but I didn't really like it. It's too noisy and too busy for me. I like to leave the house in the morning and to not see anyone except the postman and the lady that runs the hat shop, and it's nice to be able to hear the birds singing."
It is odd that someone who enjoys the countryside so much would venture into making records with worldwide appeal and tour as much as possible, but such is the case with The Boy Least Likely To. Back in the late '90s, multi-instrumentalist Peter Hobbs and singer Jof Owen came together and formed the Brit pop/rock duo The Boy Least Likely To in the countryside Hamlet of Wendover. Their music is not necessarily an escape from country life but rather a way to bring the music from rustic life to the rest of the world. Their story begins when Jof Owen's older brother had a roommate, Peter Hobbs.
Jof explains, "We met when we were still at school. Pete was a friend of my brother's, but then my brother got a girlfriend so we never saw him anymore. Pete and me started hanging out instead. We just used to go record songs every Saturday and then we'd go to car boot sales every Sunday and pick up cheap records."
Their interest in music was influenced largely by their families. Jof's mum and brother both played the piano and Pete played the guitar. He had been playing since he was ten years old when his grandfather had bought him one, and was lucky that he had his guitar to fall back on in those early days.
"I went to join the recorder club when I was seven," Pete explains, "because I wanted to learn to play the recorder, but when I got there the recorder teacher asked me to play and I didn't know how to, so she said I couldn't join. I thought the whole point of a recorder club was that you went there so you could learn how to play the recorder. I felt pretty stupid. I didn't realize it was for experts only. It still pisses me off. So I'm completely self-taught."
Jof's start in music was equally frayed with discouraging experiences.
"I tried taking piano lessons when I was eight, but it was rubbish so I stopped after a couple of months," he says. "My brother was always much better at playing piano than me and I suppose that put me off. That's why I started writing lyrics in the end, because I was crap at everything else. My mum played a bit of piano too and there were always lots of instruments in the house when I was growing up, but I couldn't play any of them so that was just frustrating."
For a while music was a peripheral outlet in Jof and Pete's world and not something that they pursued aggressively. Pete confides, "I worked in a prison just looking after the inmates accounts. That was quite weird and Jof and me had a painting and decorating business for a while, but because Jof was scared of heights, he would just hold the ladder and I would climb up and do all the painting."
Jof's work experiences early on were just as non-musically inclined as Pete's had been.
"I worked in the complaints department of a garden hose factory for a day," Jof says. "It was the worst job I ever had. I couldn't believe there were so many complaints. The phone didn't stop ringing all day. Their hoses must have been rubbish and I was Pete's mum's cleaner for a week. That was pretty embarrassing. Pete came home from work and I was hovering in his bedroom. I decided to get a proper job after that."
The rural life of Wendover gave Jof a lot of spare time to daydream. He recalls, "Until I was about eight I wanted to be a cowboy, so I used to listen to lots of country music. My first record was a Johnny Cash and Marty Robbins album of gunfighter ballads. I never dreamt of being a country singer though. I wanted to be a cowboy outlaw, like the ones in the songs. I used to dream of galloping through the school playground on a horse, saving my friends from all the bullies. I didn't want to be in a band until I saw Wham! on Top of the Pops when I was about eight years old. I thought they were amazing. George Michael had hair like princess Diana, and they were dressed all in white. After that I wanted to be a pop star."
Jof and Pete's initiation into the pop world was modest. "We were both in bands when we were at school," Jof conveys. "I had a band for a few years. It was me singing with my brother playing synthesizers and drum machines. Silly little songs about t-shirts and the (English) Channel Tunnel. We put an album out when I was thirteen. Nothing big. I think there were fifty copies available on cassette, but we sold them all so I considered it a big success. Everyone in the village used to just swap between bands. Pete was in the most successful local band. He was the best guitarist any of us had ever seen. I think we were only ever in the same band at the same time on one occasion though. It was at Christmas, in my school hall at lunchtime, and we played loads of Slade and T. Rex covers. The drummer and the bassist that play with us when we play live were in bands with me when I was at school as well. Things haven't really changed that much since then. Same silly little songs, same band members, and I still can't really sing."
The band's name, The Boy Least Likely To, hit Jof one night, as he was watching TV.
"I don't know where it came from," Jof says, "but it just seemed to suit everything that we were doing. We were recording songs in quite an unassuming way. We didn't ever expect it to come to anything. We just wanted to release a couple of seven inch singles on our own label and be able to go into the rough trade shop in London and see our single in there with all the others. So the name just seemed to fit with that. We never felt particularly likely. We still don't really."
It was when they began hanging out that they found a connection through their similar tastes in musical styles. Jof and Pete started composing songs that they would like to hear on the radio. They were making cuddly soft music textures with undertones of dance beats and a grassroots pop sound of banjos, glockenspiels, recorders and fiddles. The first songs the band worked on were "Paper Cuts" and "Be Gentle With Me."
"I gave Pete the words for both songs at about the same time so I can't remember which came first," Jof says. "We definitely started recording `Paper Cuts'' first. It was different to all the other songs we'd written before and so I sang it instead. Before that Pete had always sung the songs. But those two songs just seemed to suit my voice more. We just recorded them quite simply on an eight-track machine with a PC in Pete's spare bedroom. We just played around with different instruments and ideas until we hit upon something that made us laugh or smile."
From the start, the band's musical dialogue was natural. Jof details, "Pete plays all the instruments and writes all the music and I write all the words. It's always been like that. A complete split down the middle. Then we get together to record together, but we write quite separately. Sometimes I write the words first and Pete writes the music to them, and sometimes it's the other way round. But it's only ever us two making the records."
When playing live, The Boy Least Likely To expands to a seven-piece which may also include a recorder player, a keyboard player, a bassist, a guitarist, a banjo player, a drummer, and a fiddle player. The Boy Least Likely To's live band consists entirely of Jof and Pete's friends, and as such, their first gig with their friends Amanda Applewood on recorder and keyboards, Ben Chetwood on drums, and Ed Havard on fiddle. That moment reassured them that people outside of their community wanted to hear their music.
Jof recounts, "Our first ever gig was at a pub in north London on the Holloway Road. When we started the band, we'd never even thought about playing live because we didn't expect anyone to ever want to come and see us, but my friend was playing on alt-country nights every other Friday at this pub, and he asked us if we wanted to play. I was terrified. I just stood completely still for the whole show. But we seemed to go down really well, and people I didn't know had come up to me at the end and said how much they'd enjoyed it. We didn't play any covers. We could only just about play our own songs."
When it came time to compile songs for their debut album, which would become The Best Party Ever, Jof notes, "It seemed that the album did have a kind of theme or narrative running through it. I always feel like the album is almost caught at that point between being a child and being a grown up, if that makes sense. It's an album about leaving behind the safety of childhood and then dealing with the fears of growing up, and away from that it's about a friendship or relationship from childhood that's ending, and the way it feels to know that something like that is ending. And there's nothing you can do about it.
"It's about the little things that make you happy…or sad. The little things that most people don't notice or think anything of. The little things that frighten you, that keep you awake at night. And what it feels like to be small and lost in a big world. I take my inspiration from books. I try not to be influenced by other records when I write lyrics. At the moment, I'm reading a lot of Ted Hughes and Anne Sexton and Haruki Murakami and watching Buffy The Vampire Slayer and Freaks and Geeks a lot. And I'm watching a lot of the Studio Ghibli anime films. I keep watching my neighbor's `Totoro and Grave of the Fireflies' over and over again. I think they're so beautiful."
Jof and Pete produced the record themselves, and said that they wouldn't use a producer "unless it was someone who could bring something completely different to the sound of the records…like Kanye West."
The mixing and engineering of the album was also performed by the duo. "We just recorded in Pete's spare bedroom," Jof expresses, "on a dusty old eight track machine with the instruments. We just tried different things out until we hit upon something that fitted. We didn't really have any template for recording. We just wanted to do anything but make a rock record. We wanted to make a pop record, but use banjos and recorders and glockenspiels and keyboards. We wanted it to have a pastoral English folk feel and have a little bit of country in there, and a little bit of disco and pop too. We wanted it to be quite a quintessential indie pop album. We still record in our own studio."
Initially, The Boy Least Likely To tested the waters with an EP of songs, which included the singles "Paper Cuts" and "Be Gentle With Me," before releasing their debut album The Best Party Ever. They found a distributor in the UK for their EP and, to their surprise, people not only wanted to hear them but buy their synthesizer-pop, grassroots songs with a reminiscence of Dexy's Midnight Runners, Altered Images and The Galactic Heroes. UK audiences began buying the duo's EP in 2004 and since then the sky has been the limit.
"We've done a little tour of the UK on our own," Jof imparts, "and we've played a few shows in America on our own as well. We went to Sweden for a day once and then we've played about fifty shows supporting James Blunt in the UK and in the USA and Canada. Our audiences are always very nice to us. We have very polite fans. They never shout at us or anything. They always ask nicely if they want something."
When performing, it is more important to the duo to leave a lasting impression on their audience after a show then to simply re-create the songs on the album.
"We could never recreate perfectly the way the record sounds when we play live," Jof admits, "because there's so many different layers of sounds on the record so we don't even try. We just try to recapture the spirit of the album and we try and have fun. We don't really take ourselves that seriously. We want people to come and see us and smile and laugh and forget that they might be feeling sad or fed up, even if it's only for one moment."
Besides the live shows and music videos, The Boy Least Likely to have also found the Internet to be an indispensable source of launching their music to the public. Jof enlightens, "The Internet was where it all came from originally. We wouldn't exist without little fanzine sites and indie record shops writing about us. There are some good fan sites as well. My own personal favorite websites to look at, if I've got a spare few minutes, are tangents.co.uk and the Rough Trade shop website. That's where I go to find out about new things."
The Boy Least Likely To is becoming less of a new face in the crowd and more of a household name identified with childlike charm and infectious appeal donning their songs with twinkling chimes, shimmering tones, and bubbly rhythms. Their arrangements flow with melodious synth effects and harmonious streams decorating their soothing vocals. Their music awakens an innocence in people and taps into a new wave of artistry in the indie pop coterie.
Yet when asked about his rise toward being a pop star, Jof returns with humility.
"I'm still aspiring."
Bonus Questions:
1) What was the first live concert you ever saw?
Pete: Blur in Aylesbury Civic Centre. I don't remember much of it. Apparently there were a couple of people having sex in the front row, but I didn't see them. I just read about that in NME the week after.
Jof: I went to see Bronski Beat long after Jimmy Somerville had left. I wasn't very old. My mum and dad let me go because someone from the local tennis club was going as well. My mum told me to dress smart because it was a concert and I should look nice for it. So I wore a smart cardigan and a peach colored polo shirt and some smart silver trousers. I thought I looked quite normal, but when I got there and I stuck out a little bit. The venue was mostly full of Goths.
2) What is your favorite thing you like doing when not working with the band?
Jof: I sit in my garden and try to forget I'm in The Boy Least Likely To. It's quite hard to switch off. I like doing nothing at all. I just stare off into space. It makes a nice change from banging my head against a brick wall.
3) What is a nickname that family and friends call you?
Pete: Sorry. Nothing. My name is stupid enough already without needing a nickname.
Jof: Peter makes me call him sir.
4) Name one instrument that you don't know how to do play, but would like to learn some day?
Jof: Every instrument. I can't play anything except the most simple percussion. I'd like to be able to play guitar, just so I could pick it up at parties and surprise my friends with a belting rendition of "Thunder Road" or something.
Pete: harp and violin.
5) Name one place you would love to visit but haven't yet?
Jof: I don't really have any strong desire to get out and see the world. I'm not that keen on traveling because I hate flying and I feel like I've seen everywhere already on TV anyway. I suppose the only place I would like to go is Japan just because I like Japanese culture and I know that the band Shampoo were big over there and I like them.
Watch the video for "Be Gentle With Me"