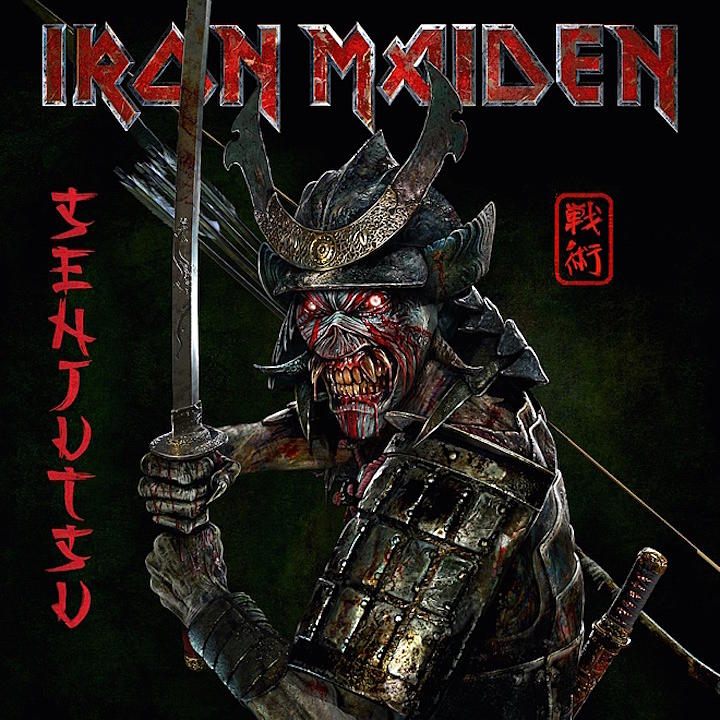 At this stage in Iron Maiden's career, if they're going to make fans, it's probably going to happen while they're onstage. Iron Maiden was my daughter's first concert when she was 7, and while she is not a daily listener, she walked away with a memory that she might very well carry the rest of her life. They are a band to be respected, given the fact they are one of the three bands from which all of metal has sprung.
Senjetsu was not necessarily made to draw in new fans, but it finds the group in top form more than 40 years into their career. With album number 17 now under their bullet belts, Iron Maiden seems to be upholding their legacy with the kind of consistency that most legacy metal bands would envy. Even Bruce Dickinson's mid-career replacement Blaze Bailey fronted a Maiden that stayed true to who they are as a band, and Dickinson even sings a Blaze song live. Not only have Iron Maiden come back strong after a six-year hiatus from the studio, but they've done so with another double album following the epic The Book of Souls.
With any Maiden album, the first question is always: What shape is Bruce's voice going to be in? At 63, he's been going for four-plus decades, and his operatic bellow is a defining part of their sound. Bruce belts it out spectacularly on the title track that opens the album, quelling any such concerns in this regard, while the guitar tone makes it one of the heavier moments we have heard from the band in a minute. The chorus is big and epic, and it's easy to hear how Maiden are the godfathers of power metal, though they have always had more of a ballsy edge. They still have that edge here, despite working with producer Kevin Shirley, known for working with less explicitly metal prog and rock bands such as Rush and Journey, and whose work often features compressed guitars and big synth sounds.
The bluesy rock 'n' roll swagger of "The Writing on the Wall," the first single released from this album, is really the only moment here that doesn't immediately feel like classic Maiden, but a left turn into something new. The lost art of guitar solos is finely honed here, done in a manner that complements the song rather than takes the spotlight for sheer masturbatory excess. "Lost in a Lost World" also ups the irons in a manner that could have come from 1988's Seventh Son of a Seventh Son, but there is no feel of  punching the clock or coloring by the numbers. Dickinson's voice coasts over the verse in a subtler manner, with another mandatory head-banging riff midway through the song, sure to pump up arenas.
While Iron Maiden might not attack the riffs with the same aggression of even a song like "Moonchild," when they do pick up the pace on a song like "Days of Future Past," they compensate with the scope of the dynamics. On "the Time Machine" there is more room for Dickinson to open up and give a more nuanced vocal performance. The throb of the verse riff is an interesting shift from the expected heavy metal tropes they invented, and they continue to divert from this going into the second half with "Darkest Hour," a moodier ballad-like piece that swells with a dynamic climax. It's another song with no clear cut DNA to be traced back to the band's earlier work, which while the same can be said for "The Writing on the Wall," is a bit more emotionally gripping.
Steve Harris proves why he is one of the greatest metal bass players with the melodic phrasing for "Death of the Celts." The folkish metal haunting the song is a throwback to the band's Piece of Mind-era prog musings, a reminder of how huge an influence Maiden had on folk metal. Things lean more heavily toward prog with "The Parchment," a song that at 12 minutes and 39 seconds is still shorter than "Rime of the Ancient Mariner." It's perhaps the first song since Janick Gers joined in 1990 that I have noticed all three guitarists playing distinct parts at the same time. It's a testament to the playing of all three guitarists as each of them shine.
The album closes with the gallop prog of "Hell on Earth," and there is a calm before the triumphant gallop Iron Maiden is known for kicks in. The guitar harmonies—another signature of their sound—are still present, but not confined to the '80s-era sound made popular through songs like "The Trooper." As a longtime fan of Maiden, I tend to personally hold the band to a higher standard, since they have such a legendary legacy to live up to—one that I tend to view with great scrutiny. Senjetsu more than lives up to their lofty legacy, living up to past glories while not leaning on them too much either. This is the Iron Maiden you were looking for.
---
Label: BMG
Year: 2021
---
Similar Albums: