Jamila Woods : Water Made Us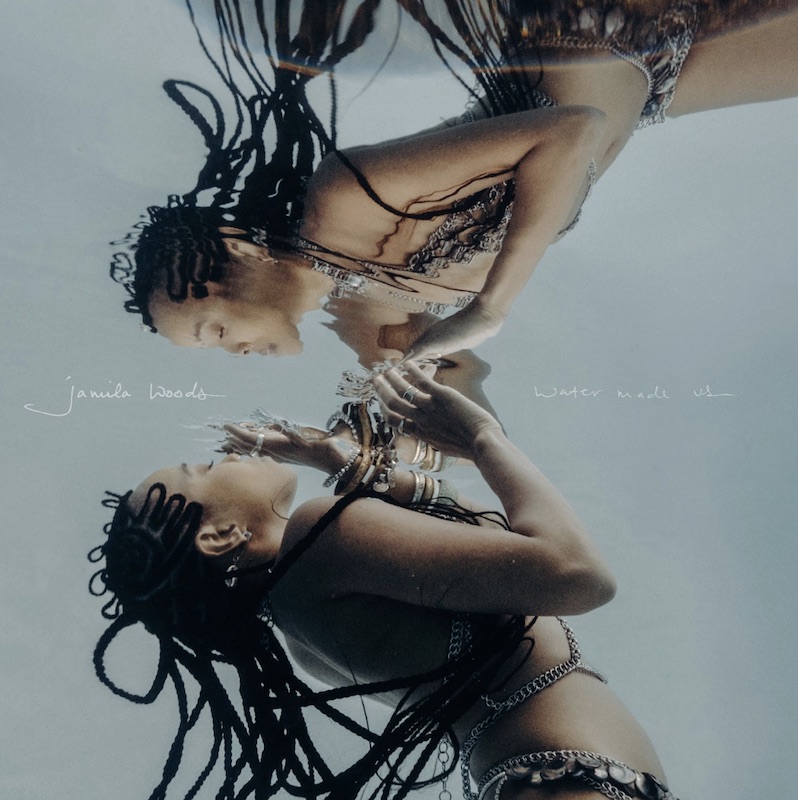 Jamila Woods, the formidable educator, poet, singer/songwriter and community organizer from Chicago, turns the microscopic lens on herself. This introspection leads to career highs and relationship woes, as she assesses what a functional partnership should look like on her vulnerable and personal album, Water Made Us. This inquiry on intimate sustainability, these yins, those yangs, built on a healthy dose of earthy acoustic folk, melantronica, and soulful dream pop, this album moves swiftly, with groove intact, past the cliché of "relationships are hard work" and delves directly into the complexities of navigating the love space.
From the jump, on the pull-the-curtains-back "Bugs," we get an earful on the non-sensical ways that love operates. And toward the end of the project, "Boomerang" the album's head bopper of a jam, declares a take-me-as-I-am posture with no games about the feeling "every minute is a season-changing with you" paints—that evergreen "are we gonna do this thing or what" type of vibe. That transparency elevates this project to typical Woods maestro status, independent of whether she's aimed at the right person.
A graduate of Brown University, Woods first gained national attention through her association with Chance the Rapper and then through the success of her impressive debut album HEAVN the following year. Her sophomore release LEGACY! LEGACY! was also highly acclaimed and appeared on many best-of lists in 2019. So with each new project, there are high expectations for her work, and rightfully so. She's right up there with her contemporaries in that realm of mental-emotional contemporary R&B. A thoughtful and talented creator, hailing from a city known for its avant-garde jazz scene, exemplified by the International Anthem imprint. Although not signed to that label, she easily could be, and (no disrespect to the mighty Jagjaguwar imprint) is just as deserving of that elevated type of recognition.
Water Made Us, with its 17 songs serves as Cliff's Notes in the book of partnership. Unsure, Woods dusts off that poetry pencil and begins to document the bejesus outta her observations and innermost revelations. Like any relationship, some aspects are thumbs up while others are meh, to way down. The question is: what's toxic, workable, and ultimately make her whole? Yes, that boils down to Woods doing the work, similar to the chopping and sculpting narratives for the 12 mavericks she dedicated scripted accounts about on a previous album. We don't necessarily need a conclusion here. Similar to a good Coen Brothers film, we see the voice, intellect, and candid turmoil move in waves throughout. The unresolved is resolved. That search is the answer, and closure is enough.
So many times in contemporary pop music, we have a lead protagonist who suspects something is wrong in a relationship and follows various clichés such as self-medication, infidelity, self-harm, getting the partner "back" and so on. Which often leads to an outcome that spells mess. Thank you, Jamila Woods, for once again gracefully embracing self-growth through innermost discovery as an antidote for a challenging yet clear answer.
---
Label: Jagjaguwar
Year: 2023
---
Similar Albums:
John-Paul Shiver
John-Paul Shiver has been contributing to Treble since 2018. His work as an experienced music journalist and pop culture commentator has appeared in The Wire, 48 Hills, Resident Advisor, SF Weekly, Bandcamp Daily, PulpLab, AFROPUNK and Drowned In Sound.