Janelle Monáe : The ArchAndroid
Janelle Monáe doesn't just think outside the box, she doesn't even acknowledge it. Though the Kansas City native could, on a very general level, be called a pop or R&B artist, her scope is far broader than either three-character tag would suggest. She takes a little bit of hip-hop, a little folk, some rock, some electro and a whole lot of funk, and mixes them together in a forward-thinking blend that recalls a slew of musical giants, from Prince to Funkadelic. And yet, even the chops and the diversity that Monáe had already displayed on her first couple of EPs were but brief teasers to her epic, unbelievably ambitious first album, The ArchAndroid.
If the title, Metropolis-inspired cover art and 70 minute running time didn't already give it away, The ArchAndroid is a sort of concept album, involving time travel, cloning, secret societies and a battle between good and evil. Yet, while this may very well sound like the makings of a Rush or Genesis album, the music that makes up this funky space opera is only occasionally indulgent. Not that there isn't a fair share of excess here-a few minutes here and there likely could have been spliced or smoothed down. But no matter how wide Monáe sets her scope, she successfully bangs out hit after hit of impeccably crafted, aurally stunning pop, graced with the artful confection of her dramatic and note-perfect voice.
A few months ago, Monáe treated listeners to the hot, hand-clapping funk of first single "Tightrope," which is easily one of the best singles to be released in 2010. With horns, strings, an irresistible click-clack rhythm and a guest verse from Big Boi, Monáe drops head-spinning, lightning speed one-liners like "I tip on alligators, and little rattlesnakers/ but I'm another flavor, something like a Terminator." On The ArchAndroid, however, "Tightrope" is just one of a long list of standout tracks that pack in hook after hook with groove after groove. The dreamy "Wondaland" finds Monáe adapting her delivery to approximate that of the titular android, sweetly cooing her effects-treated verses over a gorgeously danceable melody. Revealing her versatility even further is the trippy opener "Dance or Die," in which Monáe drops an octave to lay down some machine-gun lyrics that recall Andre 3000 circa Stankonia.
While Monáe never fails when following her funkiest instincts, some of the weirder tracks here are also the most rewarding. Having already revealed a penchant for pompadours and Elvis-style rockabilly swing in her fiery live performances, Monáe follows through with a pair of high-energy swingers in the appropriately titled "Faster" and the harder rocking "Come Alive (The War of the Roses)". "Sir Greendown" takes a completely different turn, veering into gorgeous baroque '60s balladry, while the folky "Oh, Maker" recalls Harry Nilsson's "Everybody's Talkin'," backed with hip-hop beats. And "Mushrooms and Roses" is somewhere between psychedelic rock dirge and torch song, complete with blazing guitar riffs and robotic vocal effects.
The album contains three two-minute segues that, while somewhat interesting, don't necessarily add much to the album as a whole, particularly the backward vocal exercise of "Neon Gumbo." And Of Montreal collaboration "Make the Bus" is strangely out of place, sounding more like a Skeletal Lamping outtake than an essential part of the album's flow. Still, the handful of indulgences Monáe includes here are forgiven when she delivers a badass anthem like the "B.O.B."-style blast of "Cold War," or the Michael Jackson/Stevie Wonder homage "Locked Inside." There's a lot of material to digest on The ArchAndroid, not to mention a fairly convoluted backstory, but it all flows so perfectly and with such pervasive grooves that those 70 minutes blow by surprisingly quickly. At only 25 years old, Monáe not only has a voice that could knock any listener flat, she also displays an impressive command over her art, and a deep well of innovation that doesn't seem to be running low anytime soon.
Similar Albums:
Santigold – Santigold
Outkast – Speakerboxx/The Love Below
Prince – 1999
Video: "Tightrope"
Download at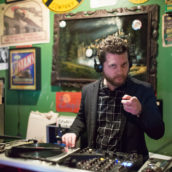 Jeff Terich
Jeff Terich is the founder and editor of Treble. He's been writing about music for 20 years and has been published at American Songwriter, Bandcamp Daily, Reverb, Spin, Stereogum, uDiscoverMusic, VinylMePlease and some others that he's forgetting right now. He's still not tired of it.