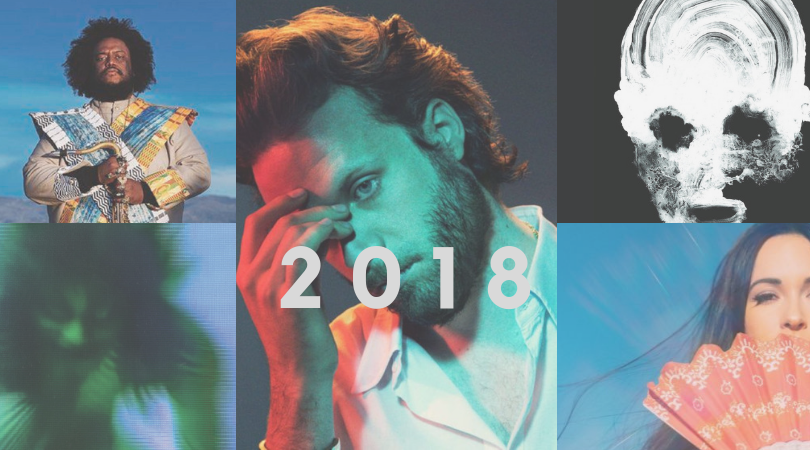 This is the part where we're supposed to talk about the overwhelming trends and themes that were prevalent in the music of 2018. About how this was a year in music about something. About how if we read the tea leaves of this batch of 50 albums, we'll see into the future of music.
But…we're not going to do that. Partially because we don't really think it means anything, and partially because the narrative of music in 2018 is chaos. And that's actually kind of exciting. There are still critical darlings and commercial favorites, there are still celebrities and underdogs. But ultimately, what 2018 was about was a lot of different artists pushing themselves to do something great in spite of both a shrinking industry and a world in perpetual turmoil. Who knows if any of that will get better, but there was so much music worth celebrating this year that we probably only scratched the surface. We don't know what it means, but here's our Top 50 Albums of 2018.
---
50. Adrianne Lenker
abysskiss
(Saddle Creek)
How did we get here? Adrianne Lenker, lead vocalist / guitarist for Big Thief, brings that very question to mind on her solo debut, abysskiss; Lenker's pensive folk ramblings export the folklore fetishism of Big Thief's most hushed moments, while her crowded guitar arrangements unfold and blossom into miniature segues into another universe, one that's dark, cloudy, and frigid. Lenker is that bizarre, out-of-place artist whose music never quite fits a proper definition—too hypnotic to be folk, too distant to be American primitive. abysskiss is its own wild universe, a neglected and far too eerie parable that grows more removed with each listen. – Timothy Michalik
---
49. Shame
Songs of Praise
(Dead Oceans)
Shame's members are all still quite young, so naturally they've encountered their share of "Get off my lawn" complaints from cynical listeners of older generations. You'd think avocado toast and putting off becoming homeowners were central to their sound considering the cynicism aimed at them. But seeing the band live and, y'know, actually listening to the 10 outstanding tracks on the UK band's debut Songs of Praise cures that. Onstage they're all flash and bluster, vocalist Charlie Steen often ending up shirtless and hanging onto chandeliers. But on record they're creating post-punk with the kind of immediacy, catharsis and depth that times like these demand. They're young, and goddamnit, they're great. – Jeff Terich
---
48. Yo La Tengo
There's a Riot Going On
(Matador)
Yo La Tengo's umpteenth album is 2018's comfort listen. There's a Riot Going On is familiar and inviting, soft around the edges and warm inside, offering just about everything you could ever want from the unwavering indie rock veterans. It may just be the most sonically comprehensive Yo La Tengo album yet—hazy hooks ("You Are Here"), soaring indie-gaze ("For You Too"), a token Bossa Nova cut ("Esportes Casual"), you name it. With Yo La Tengo rapidly approaching their 35th trip around the sun, Ira Kaplan, Georgia Hubley and James McNew continue to reach a new level of musical camaraderie on There's a Riot Going On. – Patrick Pilch
---
47. Fucked Up
Dose Your Dreams
(Merge)
The making of Dose Your Dreams apparently saw a schism form within the ranks of Fucked Up. Interviews with the band have indicated that the tension was between vocalist Damian Abraham—the band's more traditional punk element—and Mike Haliechuk, the primary songwriter who has long been focused on stretching the band's musical boundaries. The result is a sprawling album that features the band's widest range of influences to date, with disco, Krautrock, shoegaze, and dream pop all taking the reins throughout the LP's 82-minute running time, and with Abraham sitting long stretches of the album out, letting vocalists like J. Mascis and drummer Jonah Falco lead the band for a while. But instead of feeling fragmented, Dose Your Dreams miraculously holds together, with a scope even larger than its spiritual predecessor, 2011's David Comes to Life. It's the most ambitious record yet by a band that's been marked by unyielding ambition—even if it came close to tearing them apart. – Sam Prickett
---
46. Khruangbin
Con Todo El Mundo
(Dead Oceans)
Texas trio Khruangbin's second album Con Todo El Mundo is essentially chicken soup for dat ass. For real tho. By using elements of Thai-funk, surf music, and psychedelia, they've wrangled control of your booty. And for good reason. Sometimes when certain political situations—that's what we're calling it today—turn your dog-tired soul into the consistency of a slushy, you need feel-good booty frequencies that automatically bypasses any thinking process. 2018 has been one haunted house of a year and dammit sometimes you want—NEED—the audio version of home cookin'. No high-minded audio experiments, no blitzkrieg of textures or layers. Bump that noise. Gimme those breakbeat goosebumps, a side of Isley Brothers triggers, and the simplicity of a power trio that is unfuckwithable. Guitarist Mark Speer, bassist Laura Lee and drummer Donald "DJ" Johnson balance elements of ZZ Top (the grit and bump '70s version), The Meters, and the music by Iranian singer Googoosh and her hard-driving rhythm section, all in one seamless blend of groove. Khruangbin is giving the planet life right now. – John-Paul Shiver
---
45. Daughters
You Won't Get What You Want
(Ipecac)
Something weird happens on "Satan in the Wait," the third song and first single from Daughters' first album in eight years, You Won't Get What You Want. With little warning or suggestion, the track becomes unexpectedly mellifluous, Nick Sadler's guitars taking on a much prettier quality than the high-pitched abrasive riff squeals that defined the band's early material. This is a stunning new era for the Rhode Island noise rock group, one that marks an experimental sensibility and penchant for artful exploration of which previous albums only scratched the surface. Yet the age in which Daughters have re-emerged is also a lot uglier. The menace of the crumbling world outside is reflected in songs like "Long Road, No Turns" or "The Reason They Hate Me," aggressive yet immediate anthems for an impending, possibly inevitable apocalypse. When Alexis Marshall barks, "The world is opening up!" during that same, curiously pretty chorus on "Satan," he seems to almost beckon the lightning, flames and tribulations. These are the real hell songs. – Jeff Terich
---
44. John Coltrane
Both Directions At Once: The Lost Album
(Impulse!)
Given how nightmarish everyday existence has felt for the past few years (more so than usual anyway), it seems like the universe owes us a solid or two. A lost album of previously unreleased and unheard John Coltrane recordings? Not a bad start! Both Directions At Once, put to tape in 1963, is a piece of jazz history that yields a lot more than what the surface might imply. And considering the surface implies a high-energy, impassioned set of music from some of the greatest to ever do it, that's implying quite a bit. This is Coltrane and his ensemble caught between the standards and hard-bop improvisations of his early '60s material and the spiritual awakening of his later recordings, including A Love Supreme. The sessions here are at times effortlessly cool, sometimes frantic, and everything is preserved here—engineer talk and all. It's a fascinating relic, certainly, but more than that it's Coltrane caught in the middle of a crucial transition. The title says that he's headed in two directions, but we know exactly where he's going. – Jeff Terich
---
43. Flasher
Constant Image
(Domino)
Our list of the best albums of the year isn't overwhelmed by debuts, but rather heavy on breakthroughs, returns and stunning next steps from artists whose recognition is overdue. Not the case with Flasher, a Washington, D.C. band whose debut full-length Constant Image represented a bright spot for the future of indie rock. A playful, jittery post-punk album with both Dischord and TeenBeat running through its veins, Constant Image questions everything: power, authority, control, introspection and human connection, and the conclusions are rarely neat, no matter how clever and witty they make them sound, often in stunning, harmonic fashion. It's a short album that leaves a big impression—the kind of debut that often feels like a dance party but ends by asking the void, "What's the worst thing you've ever done?" – Jeff Terich
---
42. U.S. Girls
In A Poem Unlimited
(4AD)
Meghan Remy's latest work under the U.S. Girls moniker is her most accessible and pertinent yet. In the wake of the #MeToo movement, the corrupt agendas of predominantly white men have been thrown into the limelight, increasing social awareness on a global scale. Remy's art pop protest music has touched on these topics over the past decade, and are fully realized in tandem with 2018's political and social climate. In a Poem Unlimited effortlessly leaps and bounds in musical style and subject matter, tackling consumerism on "Poem," hitting a G-funk groove on "Rosebud" and expressing intense disappointment in US politics on the ABBA-recalling "M.A.H." – Patrick Pilch
---
41. JPEGMAFIA
Veteran
(EQT)
Jpegmafia is coming for everybody's necks. One minute he's satirizing the alt-right, but he just as quickly makes a biting remark about white liberals. You might call him a troll, but that label is reductive. There is reason to Barrington Hendricks' diverse insanity. Over experimental and faux-pop-rap beats, Peggy filters the hellscape of the internet into a compelling 47-minute listen. Everything from that Twitter account that called me a dumbass lib to trap rappers who prefer "bitches who look like Drake;" Hendricks embodies the many personalities we are forced to come into contact with online. If this sounds awful, Hendricks has gotten his message across. But Veteran is also extremely funny, and often bangs hard. Veteran is like the internet: sometimes painful and always weird, but you can't seem to break away from it. – Ben Cohn
---
40. Stephen Malkmus and the Jicks
Sparkle Hard
(Matador)
From the man who once skillfully rhymed Tennyson with venison, it's no surprise his latest album would sound like a twangy version of a New York Times crossword puzzle. Between adventurous wordplay, jangly musical interludes and noisy transitions, Malkmus brings his style of wound-up indie rock to more of a halt this time around. He slows things down a bit to reflect on tracks like "Solid Silk," but dares us to still jam out on the politically charged, unusually (and justifiably) angry "Bike Lane." Sparkle Hard is a rip-roaring collection of hard-working tracks, Malkmus pulling all the tricks from his sleeve to unveil a complex, socially aware album that happens to feel like an unadulterated good time. – Virginia Croft
---
39. Jon Hopkins
Singularity
(Domino)
Singularity, the point at which density and gravity become infinite and the laws of physics cease to exist. These are the grand themes Jon Hopkins explores on his fifth studio album. IDM, house, trance, dub—it's a record that does away with illusions of micro-genres within electronic dance music, the ambition on display here manifesting in a unique piece of work that stands alone as both diverse and captivating. From rich, dense house textures to gentle ambient piano lines, Singularity has individual moments of quality, but it does the album an injustice to isolate them as its meticulous development demands it be listened to as a whole. It's a rare, sustained musical trip that gradually takes hold and completely envelops, unlocking an emotional and spiritual journey of exploration—all with the infectious desire to simply dance. – William Lewis
---
38. Voivod
The Wake
(Century Media)
The 14th album from the Canadian metal legends finds them embracing all sides of their multi-dimensional sound. The opening takes you through a wide array of dark and melodic places, with a Nothingface-like drive rather than thrash aggression. This might not be the heaviest album that came out this year, but even this far from their heyday during the '80s thrash explosion these guys have stayed a step ahead of the game. Whenever Voivod re-emerge with new music, they are really only competing with themselves. The Wake has a bite, sometimes crossing over into a heady Killing Joke-like post-punk aesthetic, but with heavy metal guitar solos that can melt your face like a raygun. – Wil Lewellyn
---
37. Janelle Monáe
Dirty Computer
(BadBoy)
What a way to throw the veil down. After two albums of slinking, innovating, freeform electro-R&B-jazz from behind the mask of the Cindi Mayweather persona, Dirty Computer is the first album where Janelle Monáe is finally out and proud as her own true human voice. Most remarkably, she captures the full muddle of complexities and contrasts that make up any given human. Loosely separated into three movements, we hear Monáe reckon with her external perceptions ("Take a Byte"), before she wrestles with and ultimately celebrates her internal perceptions ("I Like That"), only to culminate with a universal entreaty for all Americans to reclaim the compassionate, positive nation that may or may not be slipping away. It is also a tiptoe into the mainstream playground, a carefully calibrated balance between her restless invention and the possibilities of crossover. It might suggest that the future may see further movement toward the latter, so savor this Monáe while we have her. – Max Pilley
---
36. Shopping
The Official Body
(FatCat)
The Official Body finds British post-punks Shopping cultivating a singular sound that draws from ESG, Orange Juice (frontman Edwyn Collins also produced The Official Body), and Au Pairs. The minimalism that supports The Official Body, however, is a characteristic that removes Shopping from their forefathers as their vivacious energy has boiled down to a perfect formula—tight, gritty rhythms, inordinate choruses, twirling, contorting guitars. The Official Body's identity is audaciously distinguished, an unmistakable collection of songs that pushes the boundaries of what a guitar, bass, drum kit (and occasional synthesizer) can do. In this case, it's pure magic. – Timothy Michalik
---
35. Jean Grae and Quelle Chris
Everything's Fine
(Mello)
The existential plight of the American hipster and millennial is well documented—members of Generations Y and Z worried about surviving the future of their world or feeling like they're just gonna pull out of it completely, The Big Lebowski-nihilist style. To hear this loving hip-hop couple tell it, adding a little melanin to the equation does two things. First, it makes things exponentially more complicated, as centuries of domination and exclusion dull the pain of new political, cultural, and climate concerns. Second, like the black stand-up comedy TV series of decades past, it allows for unique perspectives on these issues and observations of their results. Jean and Chris' album is all necessary side-eye and knowing screw-face. – Adam Blyweiss
---
34. Boygenius
Boygenius EP
(Matador)
If Phoebe Bridgers, Julien Baker, and Lucy Dacus' individual projects were any indication of the effect of immaculately written ballads, the collaboration of their three voices is essentially euphoric. It's almost baffling how heartbreaking but accurate their lyrics are, pinpointing the feeling of not really belonging, but yearning to so, so badly. "Bite the Hand" tackles pain and suffering, while "Me & My Dog" tries to just move past the hurt, and dream of better days. From start to finish, their self-titled EP is a flawless expression of angst, confusion, and the love that comes out of all of those experiences. – Virginia Croft
---
33. Bambara
Shadow On Everything
(Wharf Cat)
Bambara's music wouldn't be out of place in the Roadhouse from Twin Peaks—it's surreal, threatening, energetic as hell. It often feels like a punk equivalent of Southern Gothic literature, sketching portraits of characters who live in skeevy motels and hollowed-out churches where the only source of light is the yellow glow of a pickup truck's headlights. It's an album, in some ways, about the seductiveness of storytelling—the main character falls in love with a girl through her stories of her hometown—though the lyrics themselves are often luridly grotesque and the music jagged and dark. Shadow on Everything creates its own after-dark nightmare world, then dares you to enter. – Sam Prickett
---
32. Robyn
Honey
(Konichiwa)
In most pop genres there are artists who just plow their way through musicmaking, and a scant few of their comrades who float above the fray. These latter artists may not have the sales numbers or the chart activity, but damned if their sophistication doesn't stir fans into frenzies or earn all of the stars in all of the reviews. Sade in R&B, Kylie Minogue in pop, probably Radiohead in indie, and of course your mileage may vary—but real talk, does anyone have a bad word to say about Robyn? She's neither the first nor the last Swede to get dancefloors crowded, but if Honey isn't the whip-smartest straightforward techno-pop of the year then I'm stumped. And along with the sultry subtleties in its bass wobble and tightly wound synths, she then reveals that this is a concept album about loss and healing? Come on now, Robyn, that's just disrespectfully, unfairly well done. – Adam Blyweiss
---
31. The Internet
Hive Mind
(Columbia)
The story might be that the band's name started as a joke, but it feels like no accident that The Internet chose to share their name with the great global network of our times. Most would argue that the more ubiquitous Internet hasn't quite achieved the utopian hive mind many hoped it would, but the genre-spanning L.A. group's own Hive Mind has at least gone some way toward that. It's a record that feels truly cooperative, five creative minds coming together to create something both unifying and unique in the way each personality is absorbed into and builds the flow. Chilled but funky, smart but sexy, grounded but ambitious; the many and varied influences are clear, but evolve to create something greater than the sum of its parts. Hive mind indeed. – William Lewis
---
30. Thou
Magus
(Sacred Bones)
Thou have released few albums in their career that can be fully absorbed in a single listen. They favor a sprawling, intricate style of sludge metal that's labyrinthine—like a secret to be unlocked. And while Magus is perhaps not their densest, it's the album of Thou's that seems to reveal a new layer with each spin. Thou have never been a riffs-first kind of band, though they display more than their share of nimble guitar work to get lost in here, but Magus finds them delivering a maximalist package of consuming sound that's at once captivating and soul-crushing. There's devastation on Magus, but there's also hope. If it's not obvious the first time, keep listening—it's amazing what kind of surprises the band stacks between their moments of abrasive grandeur and austere beauty. – Jeff Terich
---
29. Tim Hecker
Konoyo
(Kranky)
Tim Hecker releases are usually defined by their thick, sludgy drones. There is no air to come up to in Ravedeath, 1972 or Harmony in Ultraviolet. But on Konoyo, there is copious empty space. Take "A sodium codec haze." Texture replaces texture, blanketing each other until we're covered. On some level, it sounds like a Rube Goldberg machine; like each sound triggers the next. The beauty in these tracks seems to happen almost accidentally; Hecker sounds effortless on Konoyo. His use of gagaku instruments makes his alien ambient music sound very much of this world. By bringing his music back to earth, Hecker has made his most human record. Even the choral Love Streams didn't sound this intimate. That's not to say that Konoyo isn't enigmatic, because it still is. No matter how many times I listen to it, Konoyo still surprises. – Ben Cohn
---
28. Sleep
The Sciences
(Third Man)
This album dropped on 4/20, and if that doesn't elicit at least a smirk, I really don't know what will. Stoner humor aside, what's important here is that Sleep wrote a mature album that only accentuates their legacy. Far from a simple retreading of their one-track epic Dopesmoker, this is a voluminous, doom tinged, riff-driven affair. The riffs, and I mean the riffs, are tasty, big and at times clumsy in the best ways, where the weight of the note matters more than the technique in which it's delivered. The album benefits from a clear and crisp production heard best on the richness of "Sonic Titan" and the moody elongated riffs of "The Botanist." Full of warped analog textures with signature big soundscapes, The Sciences is a collision of years of writing head-warping doom tracks clad in green smoke and channeling it all into a lean, sharp, follow-up album that may not have developed a new identity, but rather refined it. – Brian Roesler
---
27. A.A.L. (Against All Logic)
2012-2017
(Other People)
Under his own name and in projects like Darkside, Nicolas Jaar typically makes electronic music on the darker, more abstract end of the genre's spectrum—generally quite funky, but not always the most dancefloor-filling shit. The same can't be said of Against All Logic, which is sometimes downright celebratory (albeit probably not in any sense that translates at misbegotten morasses of juvenalia like EDC). On standouts from 2012-2017 such as "This Old House is All I Have" and "Know You," Jaar blends his own vocals and live instrumentation with crisp samples to create rich tapestries of sound. Well-recognizable elements of house, disco, dancehall, funk and soul are all there, but the stew Jaar makes of them is something only he could create. – Liam Green
---
26. Saba
Care For Me
(Self-released)
It's hard to be articulate about grief. It's such a heavy, consuming feeling, and it's one that sits with you, that colors your life even when you've forgotten that you're grieving. So to put it into words, to explain what hurts and why and how, feels impossible sometimes, or even futile. And that's part of what makes Care for Me so special. Chicago rapper Saba's second record is so thoughtful and considered and aware of the feelings around grief, and it manages to do so in a way that's both introspective and empathetic. That heaviness I mentioned—on "Calligraphy," Saba describes how it feels for him after the death of his cousin, John Walt, writing, "I'm not mad at God; I just can't get out of bed / My best friend obituary really hang on my wall, by the dresser / I'm tryna see it as life lesson / No time for mourning in my schedule." He knows that pain. He feels it. The whole record is beautifully rendered, both lyrically and sonically, rapped and sung expertly and composed intricately and organically. It's so hard to be articulate about grief. But no one wrote more affectingly or understandingly about grief this year than Saba. – Ben Dickerson
---
25. Yob
Our Raw Heart
(Relapse)
"Dwelling too much in what happened two years ago, it's starting to feel like old news." Yob vocalist and guitarist Mike Scheidt can hardly be blamed for being a little wary about Our Raw Heart's reputation as the bands "rising from the ashes" album. Before it was recorded, he had a severe health scare that required hospitalization, and that no doubt left a massive impact. But as doom metal's reigning spiritualists, Yob have always sought to channel vulnerability, grief and soulfulness in their sound, even as the thunder they conjure is much more vast than any fragile human suits could contain. Our Raw Heart is, in many ways, a continuation of everything Yob's always done and in many ways it's an entirely new path: tender, beautiful and hazy, and still able to craft the most impressively gigantic metal sound in the Pacific Northwest. – Jeff Terich
---
24. Kacey Musgraves
Golden Hour
(MCA Nashville)
The music of Kacey Musgraves is just as likely to contain ribald lyrics and enough weed references to give Willie Nelson pause as it is moments of sincerity so warm they feel almost like a put-on. She's a special presence in country because all of those things are equally genuine in the way Musgraves presents them. Golden Hour is certainly her most popular work to date, and it's arguably her best. The country-disco rave-up "High Horse" (trust me, it works way better than that description indicates) is one of 2018's best songs by a considerable margin, exemplifying the sharp sass that ranks among her best qualities. "Velvet Elvis" takes a similar approach, marrying a soul drumbeat and vintage Stax/Volt organ stabs to her country foundations with fantastic success. But equally effective are anthems of love's twists and turns like "Butterflies," "Slow Burn" and "Happy and Sad" and that a more polished and lesser Nashville starlet would coat, likely at a producer's behest, in sappiness and slick-compressed production. Musgraves still sometimes leans heavily on too-clever lyrics, but she's surpassed the occasional hesitance that characterized some of the songwriting on Pageant Material and Same Trailer, Different Park (which has my favorite song of hers, "Blowin Smoke") and no longer fears musical risks. I feel full-blown stardom is around the corner for Kacey Musgraves, which is good, because she ought to be a goddamn national treasure. – Liam Green
---
23. Kurt Vile
Bottle It In
(Matador)
Just like its album cover, Bottle It In sounds like Vile recorded its contents with a bit of a smirk on his face, sort of a loving taunt to his loyal audience. Throughout its tracks, Vile allows his stream of consciousness to flow out like the airplane wine that aided him in the writing of "Hysteria," a track that finally captures the innermost thoughts every panicked passenger wants to scream at the pilot. The crux of the album becomes clear: Grapple with the impossible head on and the unbearable isn't so bad after all. Vile's brand of twangy, jangly rock paints a lighter shade over its distorted forefathers of Dinosaur Jr. and Sonic Youth, working away the harder edges to welcome a bit of lo-fi melancholy. – Virginia Croft
---
22. Anna Von Hausswolff
Dead Magic
(City Slang)
Anna Von Hausswolff is ambitious. Not simply content to lead her listeners into a dark drone, Von Hausswolff builds songs with a more adventurous feel to their arrangements, her colossal creations often having more in common with Dead Can Dance than Chelsea Wolfe. Yet hers is a much more experimental spin on neoclassical darkwave as she is prone to go off into a grandiose, dreamy atmosphere. There is a fucking lot going on here, but it's dark and very beautiful. Throughout Dead Magic are moments that feel as if they could have easily come out on a label like 4AD back in the '80s, and for her to be able to fit comfortably alongside that illustrious catalog cements her as the stuff of legend. – Wil Lewellyn
---
21. Sumac
Love In Shadow
(Thrill Jockey)
Sumac extended their fusion of the more feral ends of hardcore, doom metal, post-metal and prog rock with a healthy injection of free jazz following their last record, a collaboration with acclaimed Japanese free jazz guitarist Keiji Haino. The three players know each other well now, moving in uneasy symbiosis through these four extended workouts, recalling more often the loose-limbed punky prog of groups like Can or Magma at their heaviest. If the thesis of this group compared to all the others the players are in is freer, more improvisational playing, it is a testament to their near-boundless creativity and ability to generate emotionally rich and textured and deeply progressive materially seemingly out of thin air, standing toe-to-toe with the best records in any of their lengthy resumes. – Langdon Hickman
---
20. Tribulation
Down Below
(Century Media)
Down Below hews largely to the same formula as its predecessor, The Children of the Night. But it's a formula that seems to effortlessly generate evocative stretches of metal that sits somewhere in the haunted realm between goth rock, glam rock, death metal, black metal and prog. Each song feels anthemic, a ready-made single for a world where classic rock grew evermore blackened in the wake of Metallica, a mirror universe where Tribulation are the world's biggest band next to Ghost as the biggest pop group. Tribulation handed themselves the world with their last record; all they had to do was not mess things up. Given the strength of Down Below, it seems that the well is far from dry, either. – Langdon Hickman
---
19. Vince Staples
FM!
(Def Jam)
Vince's modus operandi has changed a bit since his last record. He still prefers records lean and business-oriented rather than spacious and atmospheric, but he's traded in the avant-gardeism and Detroit techno vibe of Big Fish Theory for bars and beats. The album plays like one continuous 22-minute mix, joyous and bouncy, rolling through flow after flow after flow as the bars never stop coming. In a better world, these would be big pop singles, but Staples seems comfortable straddling the pop rap and backpacker worlds, demonstrating in one moment his ability to construct compelling arthouse hip-hop and then in the next his ability to drop a hype mixtape with a plethora of beats, flows, bars and energy. FM! will likely cinch itself as a minor work when the curtain is called on Vince, but as an extension of the hot streak he's been on since Summertime 06, it's a standout work by a young contemporary rapper in his prime. – Langdon Hickman
---
18. Yves Tumor
Safe In the Hands of Love
(Warp)
Sean Bowie's well hidden back catalogue showcases the bafflingly extensive stylistic reach of the multi-faceted artist. Brooding ambient pieces, caustic noise collages and left-field flirtations with pop and R&B populate compilations and his pre-Yves Tumor records. Safe in the Hands of Love is the culmination of all previous efforts, with Tumor skipping and twisting genres in dizzying fashion. It's Bowie's clearest image of a scatterbrained creative process, mapping out spacious UK-dub inspired contours across "Economy," hauling disorienting maximalist noise on "Let the Lioness In You Flow Freely" and breaching pop boundaries on "Noid" and "Licking and Orchid." – Patrick Pilch
---
17. Parquet Courts
Wide Awake!
(Rough Trade)
The Danger Mouse-produced Wide Awake! finds New York-via-Texas art punks Parquet Courts escaping their whip-smart slacker-rock for something groovier and more scatterbrained than anything in their six-album discography. Danger Mouse's fingerprints are all over Wide Awake!, but frontman Andrew Savage's social commentary is the most notable attribute, backed by an exceptional concoction of dance-punk and throbbing, pulsating funk rhythms. But in an era where political discourse is both transient and overwhelmingly useless, Savage and company keep it brief and poignant on "Total Football," noting that marginalization is overshadowed by anti-patriotism and conservative hysteria: "Can an institution / Be dismantled / It is dishonest / Nay a sin / To stand for any anthem / That attempts to drown / Out the roar of oppression." As far as politically-fueled music goes, Wide Awake! find a comfortable balance of recognition and solution. – Timothy Michalik
---
16. Gas
Rausch
(Kompakt)
In Wolfgang Voigt's native German, "rausch" loosely translates to "intoxication." As Gas, he has consistently released his unique brand of ambient techno that could be described wholeheartedly in that way. He puts a name to it here, the seven untitled tracks of Rausch gradually overwhelming, leaving the listener stilted and blinking for focus at this newly affected world. The underlying techno pulse that characterized his previous work remains, but this is altogether slightly harsher and more piercing music. The drones feel like warping metal more than ocean swells and the result—while no less immersive—certainly cuts to the core with less gentle treatment. – William Lewis
---
15. Father John Misty
God's Favorite Customer
(Sub Pop)
God's Favorite Customer comes on the heels of Father John Misty's last album, Pure Comedy, and somewhat corrects its biggest problem—that Josh Tillman's awareness that he'd disappeared up his own ass didn't diminish that he was ensconced up his own ass. Here, he aims the razor-sharp mockery of that album squarely at himself, which makes sense: Customer was written and partially recorded during a months-long separation from his wife. "Just Dumb Enough to Try," a midtempo chamber-folk-rock song the Beatles would've admired, is among the most genuinely affecting songs Tillman has written, as he drops his snark-armor, acknowledges his failures and begs for forgiveness. Meanwhile, "The Palace," "The Songwriter" and "Mr. Tillman" excoriate his self-pitying behavior, particularly the piano-led dirge of the first two tunes. Customer isn't the blackly humorous experience of Comedy or Tillman's near-masterpiece I Love You, Honeybear, but it was the album he needed to make, a work full of razor-sharp honesty that achieves a strange kind of grace. – Liam Green
---
14. Idles
Joy As An Act of Resistance
(Partisan)
If you don't know what you've got til it's gone, then do you not know what you haven't got til it's there? Certainly it's hard to imagine how British music culture was getting by without the vitriolic, satirical anger of the likes of Sleaford Mods and the Fat White Family stable of bands just a few years ago. Headlining the scene now are Bristol's Idles, who followed up their incendiary 2017 debut this year with Joy as an Act of Resistance, an equally fearsome and wry anthology of conscious punk, as scabrous about their own shortcomings as it is about the malicious austerity-driven politics that governs the band's homeland. The great British stand-up Stewart Lee recently described Idles as "snowflake oi" and that about covers it. – Max Pilley
---
13. Mount Eerie
Now Only
(PW Elverum and Sun)
Mount Eerie's Now Only is a hard listen, a diary entry of unrelenting, profound grief. Phil Elverum's wife Genviève Castrée died in 2016, shortly after giving birth to the couple's first child. The sudden absence and shock of her death was captured on 2017's A Crow Looked at Me, a devastating, raw album. Released less than a year later, Now Only is a look at that same grief less as a shock and more as a constant fact of life, a dull ache marked by sharp spikes of pain. But there's a sort of hope there, too—moments in which Elverum finds some peace in the idea of death as a natural process, or when he finds morbid humor in the fact that his job as a touring musician is "to play death songs to a bunch of young people on drugs." But with Now Only, Elverum has made one of the most sobering records of the year. – Sam Prickett
---
12. Julia Holter
Aviary
(Domino)
After Have Me In Your Wilderness, Julia Holter seemed to have been heading toward a more commercial sound (whatever "commercial" means for baroque pop). But with a left turn in a career full of left turns, she instead gifted us Aviary, her most experimental release yet. There are strands here of everything that Holter has done up until this point: weirdo vocal jazz, dainty synths, roaring chamber music. It may take many listens to even begin to wade through the layers of sound, but Aviary is a rewarding record worth and at times demanding revisits. Because even though its experimental moments are deeply compelling, it's the tracks in which all her sounds cohere into a towering pop song that Holter demonstrates her unwieldy power. – Ben Cohn
---
11. Iceage
Beyondless
(Matador)
Iceage have shed almost every last facet of the band that they once were. The Danish post-punks once barrelled their way through a lo-fi punk destruction course in 20 minutes. Now they collaborate with conceptual artists on flower-covered stages, sing harmonies with alt-rock divas, invite horn and violin players along with them on tour, and that's before we get to them being stylish and good looking. And on Beyondless, they've released the best songs they've ever written. It's not just that they've slowed down and matured, however. They've honed the fine art of the perfect rock song, the way the Stones did it, the way Roxy Music did it, and with the Cophenhagen quartet now taking the reins. Those are lofty standards to live up to, yes, but with songs like "Catch It," "Hurrah," "The Day The Music Dies" and "Pain Killer," Iceage are essentially offering proof that there's not much farther to go. – Jeff Terich
---
10. Kamasi Washington
Heaven and Earth
(Young Turks)
I often ponder: What would the titans of jazz from years past make of Kamasi Washington? And furthermore, would it be possible for Washington to create such dense, compositionally intricate jazz without those aforementioned forefathers? Possibly not, but how will we ever know? Heaven and Earth, the bandleader's fourth album, is a breakthrough document of modern jazz that seamlessly incorporates a stunning blend of Afro-futurism with elements of contemporary jazz. And, regardless of influence, Washington proves himself to be one of the finest bandleaders and jazz artists of the 21st century. Every minute of Heaven and Earth sounds like a celebration of the music that came before it and the music that will come thereafter. Long live Kamasi Washington. – Timothy Michalik
---
9. Sons of Kemet
Your Queen is a Reptile
(Impulse!)
Goddamn, "relentless" is a fucking understatement to describe this album. The flagship band of young London jazz lion Shabaka Hutchings drench their third LP in compositional energy and historical anger. It's a series of gleefully rude musical gestures directed at imperialism and its spectres of racism, sexism, and classism. His unique lineup—his sax and clarinet backed by tuba and two drummers—pulls performance elements from Afro-Caribbean dance forms and Continental avant-garde ensembles to make jazz with an ecstatic politicized bent lost since Max Roach, Sonny Rollins, and Charlie Haden. Walk away from this music for a few days, I bet it will still ring in your ears. – Adam Blyweiss
---
8. Nine Inch Nails
Bad Witch
(The Null Corporation)
Bad Witch is carefully crafted for addictive unsettlement: An initial listen to the ninth Nine Inch Nails studio album creates enticement with the scorching apocalypse-rock of the two opening tracks, "Shit Mirror" and "Ahead of Ourselves," both of which feature barnburning shout-along choruses. But the bottom drops out immediately afterward, and no light returns aside for a few scattered moments of beauty in "Over and Out." Yet you keep coming back to the record. It's the gruesome horror-film scene you rewind when no one's home to question your behavior.
About half of Bad Witch's 30 minutes are instrumental (two entire songs, plus the lion's share of "Out"), precisely because the expressiveness Trent Reznor and Atticus Ross create with machines is every bit as communicative as Reznor's words. The specifics of Bad Witch's story—the realization that, having grossly failed on a civilization-wide scale, we now exist in a simulated alternate reality, through which signs of our actual wretched world occasionally intrude—are intriguing, paying off hints from ADD VIOLENCE and Not the Actual Events as this thematic trilogy comes to a close. But they're not essential to appreciate the record's channeling of industrial, jazz, rock and ambient electronic into a blend unlike any other NIN work.
The conclusions Bad Witch draws about human society are not encouraging, and, in many ways, incisive in a manner that Reznor's angst hasn't always been; he's only improved as a lyricist with time. The more substantive nature of his observations hammers home their ugly truths: we are walking a hideous and ignorant path, horrors beyond our imagining are on the horizon if we continue, and societally, we may well deserve to fail. – Liam Green
---
7. Emma Ruth Rundle
On Dark Horses
(Sargent House)
Rock music's on dialysis, waiting for a new liver or wheezing up blood, or so the tired, familiar retorts go. But guitars had a pretty good year, creativity-wise, and nobody's guitars sounded more stunning than Emma Ruth Rundle's. The singer/songwriter's fourth album is at once her heaviest and prettiest, with a wall of sound and traces of unexpected optimism built up since her heartbreaking 2016 album Marked For Death. She knocks out rock anthems ("Dead Set Eyes"). She crafts epic, inspirational shoegaze ("Darkhorse") and finds a new, impressive foil in life/musical partner Evan Patterson of Jaye Jayle and Young Widows. On Dark Horses is an album that shows its scars and doesn't sugarcoat the darkness, but it's also always reaching toward something brighter and bigger. – Jeff Terich
---
6. Low
Double Negative
(Sub Pop)
A haunted record within a haunted discography. Low have taken their methodic and sparse art-rock and allowed it to disintegrate almost entirely thanks to the integration of ambient synths and loops. Their first foray into this style, Ones and Sixes, was a promising but incomplete sketch of how to incorporate electronics into the core of their sound, a problem they seem to have solved on Double Negative. They are a group that works well on the tender, painful edge between the fleeting brightness of joy and the terrible swallowing darkness that surrounds it, a balance they maintain beautifully here. The songs feel like the wheezing of a hospice patient on through a breathing apparatus, gorgeous and painful, saddening not by explicit sorrow but by juxtaposition, tenderness, fragility. It is this last element, the fragile, that dominates this album, pairing it keenly against other records such as Hospice by The Antlers or the last Sufjan Stevens record, positioning it comfortably within that masterclass of uneasy, unearthly post-gospel mortal beauty. – Langdon Hickman
---
5. Deafheaven
Ordinary Corrupt Human Love
(Anti-)
Deafheaven simply refuse any attempt at categorization. Melancholy, but not prone to the same depressive annihilation that gripped their prior endeavors, Ordinary Corrupt Human Love feels at ease with itself. Tracks like "Glint" feel exceptionally strong, with George Clarke's vocals feeling immense while the band writes some of the most affecting melodies in their career. "Night People" breaks new ground entirely as a moody clean-vocals-only duet with Chelsea Wolfe that feels arresting. Vulnerable and transcendent, Deafheaven's stride toward searing, intimate lyrical revelations encapsulated in demanding and at-times ruthless posturing has reached new heights of expression, and a tempered depression that feels confident, adventurous and free.- Brian Roesler
---
4. Noname
Room 25
(Self-released)
The self-professed "lullaby rapper" Noname may have sold herself short, and quite a bit at that. Room 25, Noname's incredible, slick, and complex debut album, is a masterwork of hushed, artsy hip-hop that relies on occasionally jumpy, jazz-influenced compositions. But Chicago's Noname is a lyricist first, and that is quickly proven on Room 25. Noname's witty observations and deeply articulated prose is felt within the first bars of Room 25's opening track, "Self": "Fucked your rapper homie, now his ass is making better music / My pussy teachin' ninth-grade English / My pussy wrote a thesis on colonialism / In conversation with a marginal system in love with Jesus." Noname has nothing to prove, as just about everything she touches turns to absolute gold, but Room 25 reflects an artist in a position that can't help but constantly prove how much of a wordsmith she really is, slam-poetics matched with dense production. Noname says it best herself: "And y'all still thought a bitch couldn't rap huh?" – Timothy Michalik
---
3. Beach House
7
(Sub Pop)
2018 saw Beach House get back on track. After their largely underwhelming double header of LPs in 2015 and their b-sides compilation that followed, it was time for action. For one, they opted not to work with longtime producer Chris Coady, with psych guru Sonic Boom drafted in to assist in his stead. Out too went their customary whirlwind recording process, with the duo choosing to allow time for passions and inspirations to formulate. What results is their most cohesive and enjoyable release since Teen Dream, a suite of shimmering, underwater pop bliss with a delicious aftertaste of experimental freedom to remind us why Victoria Legrand and Alex Scally have been such big movers in 2010s alternative music. They have their mojo back and the 2020s better watch out. – Max Pilley
---
2. Pusha T
DAYTONA
(Def Jam)
The third studio album by Pusha T—the erstwhile "Grand Wizard of the almighty blizzard"—is a lot like life: "nasty, brutish, and short." At its core, DAYTONA is just 20 concise minutes of polished rhymes over mean, ugly beat-breaks, and it works because of that simplicity, and because of Pusha's commitment to concept and character. Pusha's almost like a great crime novelist at this point, and he's turned himself into this grand, mythologically bloodthirsty drug dealer just on the strength of vignettes and images: He was there "when Big Meech brought the tigers in," he's "the pot calling the kettle black / where there's no brake pedals at." Listening to this record is like checking in on a supervillain comic book series to see that they're still doing supervillain shit. On top of that, DAYTONA is the only musically coherent project that Kanye had a hand in this year, a collection of pseudo-psychedelic samples and hard drums that cohere into a perfectly druggy complement for Pusha's precision. A month before DAYTONA came out, a fan on Twitter joked that Pusha would still be "rapping about moving kilos" on the new record; Pusha replied, "Indeed I am." Long may it continue. – Ben Dickerson
---
1. Mitski
Be the Cowboy
(Dead Oceans)
Be the Cowboy is an intensely disciplined album. There's not a track on it longer than four minutes, with most hovering between 90 and 150 seconds long. What Mitski is able to accomplish in those short spans of time—the angry spiral of "Why Didn't You Stop Me?" or the loopy, fading singsong of "Blue Light"—is often stunning, and that's without getting into her lyrics. It's a mistake to consider the album as entirely autobiographical (it's not), but a recurring theme is the cost of such discipline. On "Geyser," she presents her music career as a priority that makes her "(turn) down / every hand that has beckoned me to come," and she contends with that sense of loneliness on "Nobody," an upbeat, catchy track documenting a bout of loneliness brought on by touring life. Her character portraits are similarly compelling, particularly on tracks like "Lonesome Love," the portrait of someone who can't bring herself to let go of an emotionally distant partner. "'Cause nobody butters me up like you / And nobody fucks me like me," she sings, a wry contender for lyric of the year. That sense of economy extends throughout the entire album. There's not a wasted word, a note out of place. If such discipline has a high personal cost, at least it can also yield one incredible album. – Sam Prickett