Jay-Z : American Gangster
Jay-Z could have easily left well enough alone. Had he actually retired when he said he was going to, his recording career would have closed with The Black Album, thus ending his legacy on a high note. But I'm sure many, like myself, never actually believed that that would be the end. Less than desirable collabs with R. Kelly and Linkin Park were released soon thereafter, and sure enough, in 2006, Jay-Z made his own official comeback with Kingdom Come, a lackluster affair that raised doubts about whether he was right to quit when he did. After all, as head of Def Jam records and one of the most successful rappers and businessmen in America (not to mention his relationship with Beyonce), he could have easily enjoyed his early retirement and let another emcee have a shot at reaching the top.
In spite of selling more than 2 million copies of Kingdom Come, Jay-Z still had something to prove after its lukewarm reception. Record sales are fine, but fiscal success is no replacement for artistic legacy, and Jigga makes that perfectly clear on American Gangster, his best album since 2001's The Blueprint. Though Jay-Z's career has a good share of both peaks and valleys, he's never quite juxtaposed the two so dramatically in such a short period of time. Even with an "Apartment at the Trump" he's only slept in once, Shawn Carter sounds hungrier than ever.
Supposedly, the inspiration for American Gangster came when Jay-Z viewed an advance screening of Ridley Scott's Frank Lucas biopic of the same name. Novel marketing moves aside, as a tie-in it works on an aesthetic level more than a thematic one. Jay name drops Frank Lucas, adds a few bits of Denzel dialogue here and there, and maintains a strong `70s soul sound on several tracks courtesy of producers such as No ID, Jermaine Dupri, and Diddy and the Hitmen (Pharrell and Toomp divert into their own niches on "I Know" and "Say Hello," respectively). Still, the narrative is a loose one, not necessarily based on Lucas, nor Jay himself, but perhaps a little bit of both. More importantly, it escalates the Jay-Z mythology. Just as Michael Corleone and Tony Soprano have surpassed John Wayne in the American pop culture canon, Jay-Z revisits drug dealer narratives while sounding both inspired and inspiring. As he states in a tossed off shout out in single "Roc Boys," "this is black superhero music right here, baby."
American Gangster most certainly is heroic, offering a mighty 14 tracks (and an intro), with a level of power and intensity that rappers ten years his junior aren't able to sustain so consistently. Starting off with "Pray," Jay rushes headfirst into an adrenaline-pumping tale of drugs and America, rhyming "Berry Gordy" with "sorry my jewelry's so gawdy." Jay divulges, "everything I seen made me everything I am/ bad drug dealer or victim, I beg/ what came first/ moving chickens or the egg" before dropping the heavy hitting line "I'm trying to beat life because I can't cheat death." In one song, Jay goes from innocent child to hardcore hustler, with his own conscience weighing heavy throughout. Over a Marvin Gaye sample, "American Dreamin'" merely furthers the narrative, while "Hello Brooklyn 2.0," with a guest spot from Lil Wayne, is a complete 180 in both lyrical and musical content, offering deep bass and 808 handclaps rather than strings and classic soul textures.
"No Hook" offers a clever contradiction in its barely there chorus, Jay declaring "I don't need no hook for this shit" between vocalizing the internal conflicts and consequences of the drug trade lifestyle. "Roc Boys" offers a completely different sort of ride, a joyous and upbeat single that's impossible to resist. Catchy yet still thematically relevant, its horn-heavy hook punctuates Jay's opening dedication: "thanks to the duffel bag/ the brown paper bag/ the Nike shoebox for holding all this cash." As the second album takes a turn toward the eventual protagonist's downfall in "Fallin'," the intensity only becomes amplified, particularly in the thick, greasy organ hooks of "Success." Of course, after the story arc's close, there are two `bonus tracks'—"Blue Magic" and the title track. Both are highlights, the former featuring some of the most complex rhyme schemes on the album ("this '87 state of mind that I'm in/ in my prime, so for that time, I'm Rakim/ if it wasn't for the crime that I was in") and a laid back club bump, while the latter is merely a vibrant, high-speed closer that stands among the best songs Jay-Z has ever recorded.
As a concept album, American Gangster doesn't adhere strictly, though the themes are definitely there. Bits of Hollywood imagery and autobiography interweave with amazing production (Diddy's cred has been restored in my book), though Jay is quick to point out in wittily contradictory fashion "believe half of what you see/ none of what you hear, even if it's spit by me/ and with that being said, I will kill niggas dead." Like the greatest of storytellers, Jay-Z blurs the lines between fiction and reality, enhancing his legacy with an album built on his own legend, which only grows with an album as solid as this.
Similar Albums:
Nas – It Was Written
Jay-Z – The Blueprint
Kanye West – The College Dropout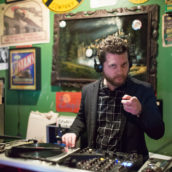 Jeff Terich
Jeff Terich is the founder and editor of Treble. He's been writing about music for 20 years and has been published at American Songwriter, Bandcamp Daily, Reverb, Spin, Stereogum, uDiscoverMusic, VinylMePlease and some others that he's forgetting right now. He's still not tired of it.