When Jay-Z unleashed "D.O.A. (Death of Autotune)" as the first single to his highly anticipated 11th album The Blueprint 3, it appeared that the mighty Shawn Carter was making a statement. He drew a line in the sand, setting himself apart from rap's Class of 2009 by declaring the death of one of its most oft-overused effects, while dropping a few insults about tight jeans and "T-Painin' too much." As silly as it might have seemed, making a villain out of an effect, Jay seemed to be taking rappers to task, returning just in time to school the youngsters. Never mind the fact that it wasn't nearly as vicious a throwdown as "Takeover," or that it brought attention to Jigga's age (he's almost 40, gasp!). Just the mere suggestion of a good, old-fashioned schooling was enough to raise anticipation for The Blueprint 3, even if the single itself was probably worthy of a B.
So it was all the more confusing when Jay-Z released second single "Run This Town," a pop rap number featuring a guest verse by Kanye West and a chorus vocal from Rihanna (touched up with autotune no doubt). Kanye West and No I.D.'s beats are hot, for sure, but Jay just sounded lazy. And Kanye, for the love of god, is just awful: "it's crazy how you can go from being Joe Blow/ to everybody on your dick/ no homo." Couple this with a tracklist loaded with guest spots (including no-good youngsters like Drake and Kid Cudi) and it was beginning to look as if The Blueprint 3 wasn't the epic masterpiece that Jay-Z originally released back in 2001. Though, to be fair, The Blueprint 2 wasn't much to celebrate either.
It may come as surprise to everyone and no one, then, that The Blueprint 3 is a fun, and even quite good effort by Jay-Z, but by no means a masterpiece. It's flawed record, one that attempts to be too many things, sometimes without the requisite follow-through to actually be many of those things. But 70+ percent of the time, it's damn good. The first two tracks alone are reason to get one's hopes up. "What We Talkin' Bout" finds Jay going electronic, with the help of Empire of the Sun's Luke Steele, of all people, and it's a new direction that works well, synthesizers blazing vapor trails behind Jay-Z's opening verses, laying out the direction of the record with his grown-up meditations on adulthood. Meanwhile, "Thank You" is pure feelgood hip-hop, with a hook reminiscent of Camp Lo's "Luchini, a.k.a. This Is It," and just a genuinely cool track.
By "Empire State of Mind," the album's most soaring, glorious track, it appears that whatever baffling tracks Jay-Z may have handed over prior to the album, they're far from representative. Here, Jay celebrates his hometown of New York City as Alicia Keys belts out a chorus that belongs on every radio station, like, right now. From there, The Blueprint 3 goes through a series of ups and downs, though Young Jeezy's guest spot on "Real As It Gets" and the amazing beat loops courtesy of Swizz Beatz in "On to the Next One" maintain that high for a few tracks longer. But Jay loses momentum with the dated sounding Timbaland production "Off That." While it would be forgettable enough on its own, Drake's chorus hook is pointless and boring.
More autotune abounds (did Jay get his own memo?) on "A Star is Born," which features guest vocals from up-and-comer J. Cole, and a song's worth of kudos from Jigga toward his contemporaries, from Nas to Wu-Tang Clan, and his toast is certainly worthy of a few clinked glasses. Another disappointing Timbaland beat, a lousy hook and lines like "I'm a mac(k)/ she's a PC/ she lives in my lap" make "Venus vs. Mars" another one to skip. Thankfully, "Already Home" picks up the pace again, as Kid Cudi makes up for Drake's lackluster performance with a four-star hook of his own. Uh, but then there's "Hate," which basically just sucks. And fuckin' Kanye: "how much they hate it?/ very/ `cause girls like Katy Perry." I don't even know where to begin with that.
"Reminder" is another snoozer, but "So Ambitious," continuing the roller coaster ride, is another solid, laid back standout with some motivational piss `n' vinegar from Jay-Z and a fun, bouncy beat from The Neptunes. Alphaville's "Forever Young" provides the backdrop for album closer "Young Forever," a schmaltzy but nonetheless likeable track that sends off the album on neither a high note nor a trainwreck. It's a nice even keel, a mellow and enjoyable end to an album with some stellar highs and some head-scratching disasters. By and large, The Blueprint 3 is another worthwhile record, a testament that Jay-Z, a bit older, wiser and a lot more comfortable, can still kill it when he wants to. It's got clunkers, and some awfully hefty ones at that. But whatever taste is left after listening to "Hate" is cleansed and made pleasurable again with a few more spins of "Empire State of Mind."
Similar Albums:
Kanye West – Graduation
T.I. – Paper Trail
Lupe Fiasco – The Cool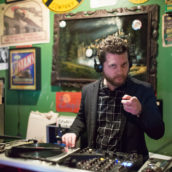 Jeff Terich
Jeff Terich is the founder and editor of Treble. He's been writing about music for 20 years and has been published at American Songwriter, Bandcamp Daily, Reverb, Spin, Stereogum, uDiscoverMusic, VinylMePlease and some others that he's forgetting right now. He's still not tired of it.