Jens Lekman : Night Falls Over Kortedala
Somewhere, a producer in Hollywood is just waiting to nab Jens Lekman to write the soundtrack to his new romantic comedy. Jonathan Richman and The Magnetic Fields' Stephin Merritt, two songwriters to whom Lekman is most frequently compared, have both taken on the silver screen. Richman provided a narration style song cycle to the infamous There's Something About Mary while Merritt wrote the soundtrack for the less widely screened Pieces of April. Likewise, Belle & Sebastian provided the music for Todd Solondz's Storytelling, Badly Drawn Boy composed the music for the adaptation of Nick Hornby's About A Boy, and most recently, Sondre Lerche took on the responsibility of writing the soundtrack to Steve Carell's latest film, Dan In Real Life. One would think that if all of these artists could pull it off, certainly Lekman could. In fact, listening to his latest album Night Falls Over Kortedala, I would even go so far as to say he could do it better.
Night Falls Over Kortedala is something of a romantic comedy in and of itself. It's not so much that it's a funny album, but Lekman has a particularly poignant knack of sounding very real while being extremely clever. Though his subject matter may be no laughing matter, he'll throw in a line that warrants a chuckle or two. In "A Postcard to Nina," a lush and beautiful highlight, finds Lekman posing as a friend's boyfriend to hide her lesbian relationship from her father. It has a sense of ironic hijinks, while displaying a sort of divide between generations: "your father is a sweet old man, but it's hard for him to understand that you want to love a woman." The chorus becomes bigger and more frantic, Lekman's voice raising to compete with the swelling horns, coming to a climax when he sings "hey you, stop kicking my legs/ I'm doing my best, can you pass the figs?" And in the midst of his amusing rhyme scheme, he displays amazingly the awkward sadness of the situation.
The romantic aspect of the album is by far the most prevalent theme, beginning with the majestic opening strings of "And I Remember Every Kiss," in which Lekman sings "I would never kiss anyone/ who doesn't burn me like the sun/ but I remember every kiss/ like it was the first kiss." Lekman transitions beautifully into the lush disco of "Sipping on the Sweet Nectar," in which he intones, "do you remember the first kiss?/ well how can I forget/ my hands still shiver from the very thought of it." It's one of the most beautiful and heartbreaking songs in Lekman's catalogue, and a strong contender for year-end honors, among a few others here (I'll get to that, sit tight). The heartbreak only escalates with the El Perro del Mar-like "I'm Leaving You Because I Don't Love You," while "Your Arms Around Me" finds the romance blossoming with one of the sweetest love songs I've heard in years. Opening with the phrase "I was slicing up an avo-ca-do," Lekman takes a beautiful and sublime journey to the emergency room after slicing his finger, but his lady is there by his side once he regains consciousness. While Jens' intricate lyrical details make this song so wonderful on its own, his gorgeous falsetto during the chorus only heightens the emotional resonance of this standout track.
When Lekman steers away from topics of love and relationships, however, he can be every bit as touching and funny, as evident on "The Opposite of Hallelujah" and "Friday Night at the Drive-In Bingo." The former is another song bound to end up in my year-end list, a super-catchy song involving a conversation with Lekman's sister. His narration perfectly displays his down-on-his-luck charm, as he frustratedly croons, "I picked up a seashell to illustrate my homelessness/ but a crab crawled out of it, making it useless/ and all my metaphors fell flat/ on the rocks where we sat," just before the triumphant singalong chorus. The latter is old-timey rock `n' roll, portraying his smalltown neighbors with hilariously spiteful descriptions: "I want the people in the country to be open and kind/ but most times I've met those with a narrow mind/ with a big black dog to bite your behind/ if they ever find out you're not one of their kind."
In his own beautiful way, Jens Lekman has written the perfect set of short stories in Night Falls on Kortedala, leaving one to wonder how he could best it with a Hollywood budget (though the paycheck would certainly be nice). With a suitcase full of obscure samples, the jangliest of guitar riffs and elegant orchestration, these 12 songs find Lekman reaching a new peak in songwriting—the melodies are sweeter than ever and his lyrics are charming as always, furthering the case that Jens may be not only one of the most talented, but also the most likeable guy in pop music.
Similar Albums:
Magnetic Fields – The Charm of the Highway Strip
El Perro del Mar – El Perro del Mar
Andrew Bird – Armchair Apocrypha
MP3: "The Opposite of Hallelujah"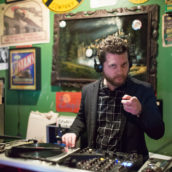 Jeff Terich
Jeff Terich is the founder and editor of Treble. He's been writing about music for 20 years and has been published at American Songwriter, Bandcamp Daily, Reverb, Spin, Stereogum, uDiscoverMusic, VinylMePlease and some others that he's forgetting right now. He's still not tired of it.