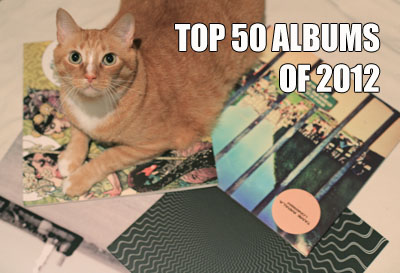 Treble's coverage of our favorite music of 2012 continues today with our Top 50 Albums of 2012. It's been an astonishingly good year for a lot of different realms — R&B, metal, punk, hip-hop, psychedelia, lo-fi, singer-songwriters. And usually, when there's not one dominant trend overshadowing everything else, it means that we all are richer for having been gifted with such an abundance of excellent and varied music.
We begin the list today with Nos. 50-21, and tomorrow, will post the top 20. Make sure to check out our Top 50 Songs of 2012, Top 10 Metal Albums of 2012, Top 10 Hip-Hop Albums of 2012, and lastly, 10 Under the Radar Albums of 2012.
We won't be posting any new reviews until January, but we hope you've been enjoying our year-in-review, and in 2013, we'll have even more great stuff to share with our readers. On with the list!
---
50. Metz – Metz
(Sub Pop)
Is rock dead — really? Last year, Fucked Up blew everyone's brains away with David Comes To Life, and now there's Metz, a three piece, also from Toronto, and ready to tear down the walls. From beginning to end, the band's self-titled debut album rips every piece of your ears apart. The guitars crunch, the drums bang and the bass throbs. The band takes all the right notes from punk and hardcore greats from Hüsker Dü to Drive Like Jehu, and form a whole new set of destructive tunes out of a similar aesthetic. Metz is as hard as anything gets circa 2012. By the time you're done listening, it feels like a semi-truck just ran you over. – Giovanni Martinez
Video: Metz – "Wet Blanket"
---
49. Lambchop – Mr. M
(Merge)
Kurt Wagner's discography with Lambchop is, in gestalt form, a widely underrated and extremely rewarding series of works. Tracing its arc, through early albums How I Quit Smoking up to 2012's Mr. M, demonstrates an increasing depth of sound (although perhaps that's just Wagner's voice), and continuing expansion of their initial sound palette. On Mr. M, a well-nigh unclassifiable album, these developments are all on showcase, along with Lambchop's pathological sense of subtlety and the oblique, fleeting poeticism of Wagner's lyrics. Like most of Lambchop's work, it doesn't demand your attention, but if you lend it, there's a substantial payoff. – Connor Brown
Stream: Lambchop – "Gone Tomorrow"
---
48. Crystal Castles – (III)
(Fiction/Casablanca/Universal Republic)
Much has been made about how "bleak" Crystal Castles' third album is, but darkness and hopelessness aren't necessarily new things for the duo to explore. In fact, were (III) to include some modicum of optimism, that would be a much more drastic change of course. That said, Alice Glass and Ethan Kath do bottomless pits of despair better than any other electronic act in the business, and on (III), their end-times disco translates into a much more accessible form. "Plague" is almost operatic in its ominous largesse. "Wrath of God" is a lullaby from the depths of hell. And "Sad Eyes" is the sole situation in which the "E" in EDM stands for "exorcism." Anybody can do darkness and make it work; having the same darkness make you want to dance is another story altogether. – Jeff Terich
Stream: Crystal Castles – "Plague"
Review
---
47. Melody's Echo Chamber – Melody's Echo Chamber (Fat Possum)
It's rare that a band's name is an accurate representation of their music, but in a strange way, Melody's Echo Chamber is pretty apt. Or at least the "echo" part is anyway. While with most albums, the songs are in a strict order, with a specific stop and start, the tracks on this self-titled debut ebb and flow into each other, with just a few seconds allowed for a listener to breathe before they find themselves plunged headfirst back into the music. The aforementioned echo comes from lead singer Melody's voice, which is so thin and delicate that you can hear each syllable echoing after she's sung them. When it comes to melody, this may not be the most conventional of albums, but each song (particularly stand-out singles "I Follow You" and "Endless Shore") will be almost definitely be rippling through your head for days after you've listened to them. – Grace Barber-Plentie
Stream: Melody's Echo Chamber – "Endless Shore"
Review
---
46. Ty Segall Band – Slaughterhouse
(In the Red)
Unlike Ty's other two albums of 2012, as well as his five previous eponymously released LPs, Slaughterhouse is credited to the Ty Segall Band. The 39 minutes of untethered, spontaneous and always-badass jams completely warrant the distinction — this offering is about as far away from a bedroom-produced, solo mission as an artist can get. Slaughterhouse's guitar-rock/sludge-fuzz aesthetic will inevitably leave some listeners with the been-there-done-that type feeling, but Segall isn't concerned with going completely off the map or ditching his classic rock influence. The game he's playing may be familiar, but when the only rules are "kick ass" and "don't look back," Segall's perfectly fine with putting up a new high score. – Donny Giovannini
Stream: Ty Segall Band – "Wave Goodbye"
Review
---
45. Jens Lekman – I Know What Love Isn't
(Secretly Canadian)
When Jens Lekman sings, "You don't get over a broken heart/ You just learn to carry it gracefully" in I Know What Love Isn't highlight "The World Moves On," he isn't just passing on the sage wisdom of someone on the wrong side of too many crumbled relationships, he's effectively giving his entire career a neat summary in the form of a lyrical couplet. Now in his 30s, Lekman is no less at odds with life and its inevitable cruelty, but he's able to make his peace with it as best he knows how — through charm, humor and some unforgettable songs, which on I Know What Love Isn't rank among his prettiest and most elegant. In the grand scheme of things, the album is a continuation of the same themes explored on Lekman's previous two, but where those were about trying to figure it all out, I Know What Love Isn't is finding comfort in knowing that some things can't be figured out. – Jeff Terich
Video: Jens Lekman – "Erica America"
Review
---
44. Burial – Kindred EP (Hyperdub)
At this point, there is only so much to say about Burial. And with two marked successes in his first two albums, there's not much to doubt, but — in music, as in anything — silence breeds uncertainty. In the five years since Untrue, that's exactly what has happened. Anyone who listened to Kindred isn't doubting, though. Yes, it's only an EP, but its three tracks are undeniably sharp and among the best work he's ever done. Burial sounds newly invigorated, too, with more power and a heavier production. Is it the beginning of a new chapter in his career? That remains to be seen, but it's certainly more than enough for the time being. – Connor Brown
Stream: Burial – "Ashtray Wasp"
---
43. Jessie Ware – Devotion (Island-Universal)
Every time R&B and indie worlds cross into each other's orbit, an angel gets its wings, or at the very least, Sasha Frere-Jones has a wish granted. South London chanteuse Jessie Ware sings R&B of the most sleek and sophisticated variety, harkening back to the halcyon days in which "No Ordinary Love" topped the charts. Yet Ware's list of collaborators, which include Dave Okumu of UK art rockers The Invisible and Florence & The Machine collaborator Kid Harpoon, put a gorgeously abstract and atmospheric spin on Ware's sultry jams. The vibe is undeniably soulful yet understated, an afterparty chaser to Katy B's club-oriented bass jams. But for Ware, restraint doesn't equate to emotionless — what "Night Light" and "Wildest Moments" remove in the way of melisma, they more than compensate via subtly affecting performances that touch the soul. – Jeff Terich
Video: Jessie Ware – "Wildest Moments"
Review
---
42. Four Tet – Pink (Text)
There's something to be said for intensity in electronic music. Clubland dubsteppers channel it into songs loud and punishing enough to drown out the sound of being murdered. The witch house movement transforms it into the digital R&B atmospheres behind love sought and lost. Rare is the artist who can make intense music for everyday life, but Kieran Hebden seems to have done so on his collection of Four Tet singles and sides, Pink. "Pinnacles" deserves to be the default soundtrack for your favorite racing game; "128 Harps" is for high-energy dinner parties; "Peace for Earth" is centering music for the boudoir as well as the yoga class. As excellent as There is Love in You was in 2010, Pink feels even more consistently upbeat. Hebden's jazzy breaks go on for days, resulting in a set of music that feels likes it's mutating within songs and not just between them. – Adam Blyweiss
Stream: Four Tet – "Jupiters"
Review
---
41. Purity Ring – Shrines (4AD)
Here's the elephant in the room: Grimes' Visions wasn't the only 2012 album that sounded that way. There were a few releases that tracked down childlike vocals among the electronic mists, the cries of digital damsels in distress. (Oh yeah, Black Moth Super Rainbow did it too.) Claire Boucher's work as Grimes positioned herself as playful and sensual, an elusive Lolita. Megan James and Corin Roddick, meanwhile, chose to burn off a little bit of the musical fog through clearer production and vocals. The results in songs like "Lofticries" and "Belispeak" have more mystical, gothic-music sensibilities. As 4AD labelmates, these acts bookend chillwave in much the same way as they do Canada's provinces. Grimes may have gotten more ink, but Purity Ring's Shrines might be the more satisfying listen overall. – Adam Blyweiss
Video: Purity Ring – "Fineshrine"
Review